Two Stroke Needs Home, Please Help: 1996 Suzuki RGV250 SP (VJ23)
Update 8.26.2012: It's back! Buy-it-now shows $10150. I've also included the most recent seller description which is much improved. Good luck to buyers and seller! Links updated. -dc
Update 4.29.2012: According to the seller in the listing, this will be the last time this bike is offered before going back into the collection. Buy-it-now is listed as $10.5k. I believe this post has the most comments ever on one of our writeups and the conversation is very informative for those wondering where to start when considering a bike like this. Links updated. -dc
Update 1.18.2012: Normally I wouldn't bump a post this soon after it's been relisted, but the price has been dropped significantly again to $8950. Judging from the comments below, sounds like it should sell this time. -dc
Update 1.2.2012: Originally listed in late November 2011 with a buy-it-now of $13.5k, it is back on eBay with a buy-it-now of $10.5k. Thanks for the heads up on the relist Dale! Links updated.- dc
Updated seller description 8.26.2012:
Perhaps the rarest two stroke motorcycle of its kind with less than 8 known to be registered in the US.

These bikes are very rare as they were only produced for one year and never imported to the US.

This low mileage gem ( 3700 miles) is up for offer and would make a fine addition to any serious collectors collection or ride it on sunny weekends.

Have never seen one with less miles !!!!!

Bike is in exceptional condition and is in stock form. Runs perfect – shifts perfect with no issues.

Runs strong and shifts smooth / much smoother than its older brother ( the VJ 22).

Total HP is simular to the VJ 22 but comes on different with more torque and low end.

The VJ 23 behaves great on the street and from what I am told , on the track as well. A true GP frame / chassis that handles like no other bike I have ridden.

Boasts a Dry clutch , electric start , performance air filter . Iridium plugs , newer Pilots front and rear , carbon cans and clean and clear Connecticut title currently registered in connecticut.

The flaws — Left side lower bottom plastic pc has a 4 inch crack ( repairable) – Left side panel has superficial scratches ( look close or you will miss them) , The left and right grab rails have been removed.

Extra's that will come with the bike ( approx value $2200.00) are —

Set of Sugaya chambers and cans in excellent condition / big bucks if you can find them and I have never seen a set with cans that have no dents except these.
Derestricted airbox
SRAD guages.
Extra set of new dry clutch plates.

If you choose to derestrict you will need the required SAPC to complete the derestriction package. I chose not to derestrict although very tempted after reading clips on how the bike performs once derestricted. 72 hp in a 280 lbs chassis — comparable performance to todays modern sport bikes ………..
I guess we will see what the market says an average VJ23 should go for these days. I know the price for a full power Lucky Strike model hasn't come down a bit but this isn't a collectors sort of RGV250SP. This bike isn't thrashed by any stretch of the imagination but there are a few things that caught my eye.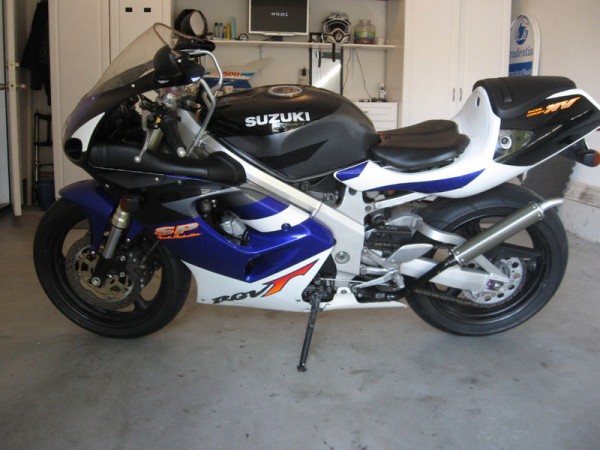 First just a bit from the auction:
Low miles – newer tires and loads of two stroke power ..

No Issues: Runs strong – shifts solid – body parts in great shape..

Title in hand and clear… matches 11 digit VIN.

Buyer responsible for shipping arrangements – will assist shipper at pick up..

Bid with confidence and please feel free to ask questions…

100% positive feedback
Obviously the big deal there is the title and that makes any two stroke more valuable.
Below are a few things that caught my eye that differ from stock.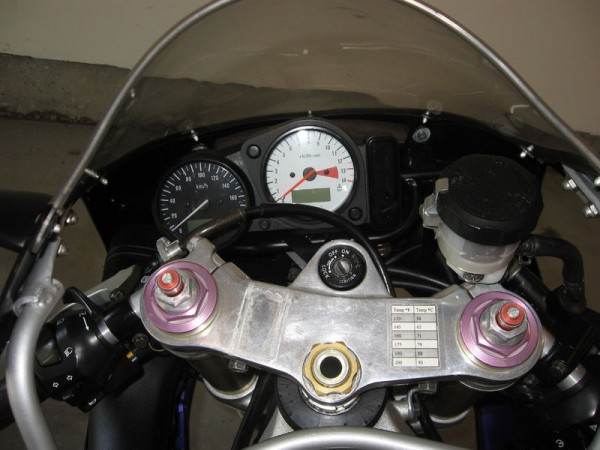 The triple clamps have been stripped of paint and the steering stem nut has been changed. Odd, in my opinion.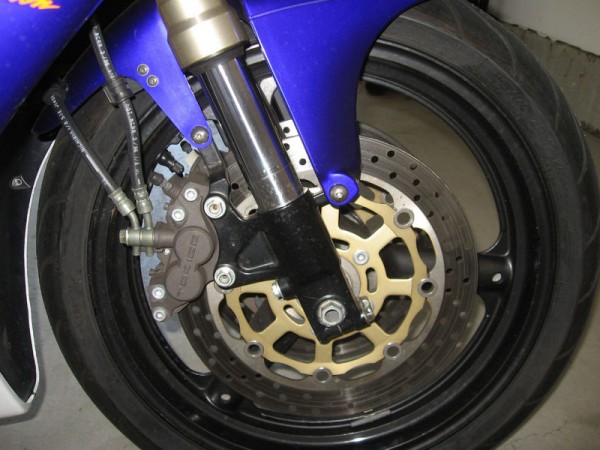 Calipers have been off and been painted. They should be black.
If you look closely, the head has been painted the same color as the calipers. It should be the same silver as the cylinder. The power valve cover looks a bit different but I'm not 100 percent sure.
The sub frame should have some ugly extensions hanging down to attach bungee cords to. They have been cut off. Rear passenger pegs are removed and some nice carbon cans have been added. Heel guard on rear master cylinder has also been painted, it should also be black.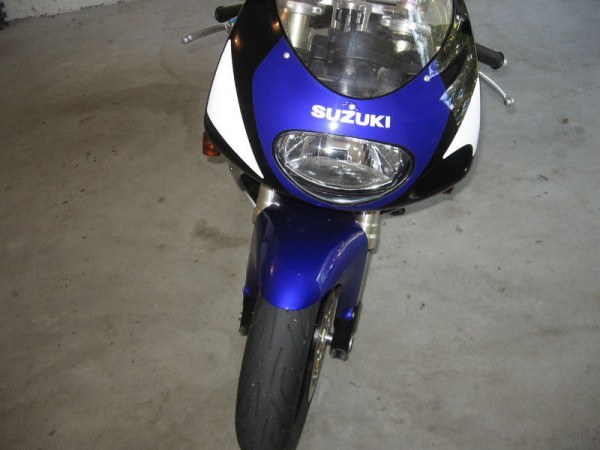 So you are probably thinking I'm down on this bike. Not in the least. I'm just pointing out the bits that are different from stock for someone who might not have obsessed over these bikes like I have. When purchasing a machine like this, look at the mods and look at the mileage and see if it adds up. If you are comfortable then I say go for it. These are still extremely rare bikes and are not for sale everyday.
The seller has an auction going as well as a BIN of $13,500. See it all here.
Ian