Location: Basking Ridge, New Jersey
Mileage: 2,700
Price: $14,500 BIN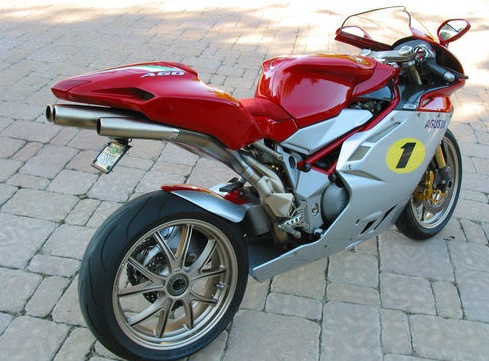 If your thing is exquisitely designed sportbikes, then you have to be a fan of MV Agusta. Some of the best looking bikes ever sport the MV name. In the universe of Italian motorcycles, there a many beautiful rides. Ducati and Aprilia have also produced some great machines, but it seems like MV is playing on a higher level. Take that beautiful design and match it with the winningest GP racer of all time, and you have this – The MV Agusta F4 Ago. This is number 170 of 300 made worldwide.
Here's the seller's description-
This is one of the alltime great motorcycles. Has frequently been described as the most beautiful motorcycle ever made. The rare (only 300 ever made) and most classic of MVs, the 2005 MV Agusta F4 Ago (named after the legendary Giacomo Agostini). This is #170 of 300 and in absolutely immaculate condition. As all F4s it is an inline 4, producing 166 hp. Only 2,450 garage kept miles on the bike. Never down, never treated any other way but with great care and attention. Upgrades include the tasteful and perfect for this bike Gilles rear sets, color matched rear hugger and more. Fresh oil and filter. Touchless gas cap mount tank bag installed, but never used. This model came with forged Marachesini wheels and Nissin gold line calipers as well as all the carbon parts. RG3 high performance exhaust which sounds amazing. The paint and all parts on the bike are exceptional! Never down, never dropped. It comes with the original soft cover as well as the MV plaque. Just a gorgeous bike. Surely the most classic MV made in the last decade, if not ever. Remember there were only 300 made for the world. Great, rare bike. I don't think you'll find one in better condition.
And pics-
So it looks like the bike is in excellent condition with low mileage, so a solid choice for all you MV collector's out there. Seeing as there were only 300 made, collectibility is definitely the name of the game with this bike. It looks like the documentation is included along with the nice matching cover. The seller notes in the Q&A section that this bike was for sale in California three months ago, when the seller purchased it. It is now again for sale. You can get more details in the auction.
This bike isn't going to go cheap as the seller is looking for $14,500 to take it home right now. Doesn't seem all that bad considering what it is. If you want to give this beauty a new home and have the means, then go check this auction out!
-RN