Not far into Suzuki's water-cooled era, Ram Air Direct became a way to extract just a few extra ponies from 748cc, and were a nice success combined with the new-to-96 alloy twin-beam chassis.  This second-owner Gixxer looks worthy of a little TLC.
After many years of air/oil-cooled engines, the 128 hp SRAD engine had tighter cylinder spacing, crank-end camshaft drive, and even tilted forward to straighten the intake path, presented a very compact package.  Magnesium covers for the head, starter and clutch helped contain dry weight to under 400 lbs.  The frame and alloy swingarm were an eclectic mix of stampings, extrusions, and castings, and must've give the production welders fits.  Multi-adjustable suspension was in place front and rear, and wind-tunnel tested bodywork smoothed airflow.
After an owner who seems to have been focused on performance, this GSX-R might respond to a rolling restoration.  Complete and not much in the way of external mods, it has been kept running to a high standard.  Especially the not-so-intuitive brake modification of going to a four-pot caliper to improve feel.  A nice list of mechanical improvements from the eBay auction:
-Wiley Co. Slip-on with larger main Jets Carburetor rebuild kit.
-Steel braid lines front and rear.
-Valve adjustment is done less than 100 miles ago. 
-New Throttle cable  
-New Spark plugs 
-Replaced New fuel pump, filter, complete petcock, and base gasket.
-Replaced the OEM front six-pot (wooden feel) stock calipers for a set of newly rebuilt Nissin 4 pot with new EBC pads (100x better-stopping power over the OEM calipers).
-Replaced the OEM automatic (CCT) cam chain tensioner (known recall issues) with an APE manually adjustable one.
-Replaced the OEM Charging system, with a new stator, Regulator/ Rectifier, and battery. Charging at 14.5 volts now.
-Rebuilt rear caliper with new pistons.
-Rebuilt front forks, new seals/oil, also new bearings for the steering head.
-Racetech rebuilt rear shock new spring and cart; fully adjustable preload, compression, and rebound damping. I have added adjustable rear links for ride height adjustment.
-K/N Filter for the Ram Air.
-Battlax S21 Front and Rear tires
-Front and rear wheel bearings replaced.
-A new chain and sprocket.
-Rear solo seat cowl and passenger seat.
-The seat has been reupholstered with a back pad.

-Undertail fender eliminator.
-New Brembo 19mm RCS Radial Master Cylinder and Clutch lever
-New set frame sliders.
-Stomp Grip traction tank Pads.
-New battery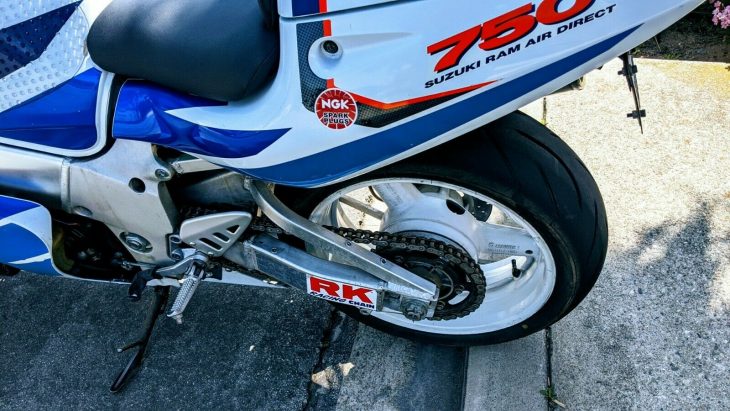 In a segment where lightness never goes out of style, Suzuki injected a bunch into the SRAD models and combined with popular pricing, had a hit.  Hopefully fans will see around the cosmetics of this example and know that the hard work of helping this '97 survive has been done.
-donn