Go figure, but these Aprilia RS125s are extremely popular on RSBFS. Nowhere near liter bike territory, the little Rotax-powered chicken chaser is the grey-market equivalent of a Honda Grom – only much, much cooler. With a single cylinder two stroke motor, lights and turn signals to make it almost legal in most states and a reputation for handling, this Aprilia will let you take the fight to those pesky Ninja 250Rs and Honda CBR250s for top title in the small bike class. Got a local track that is tight and twisty? Here is your answer. Addicted to anything that requires premix? Here is your answer. Got a few bucks laying around and hankering for a new toy? Here is your answer.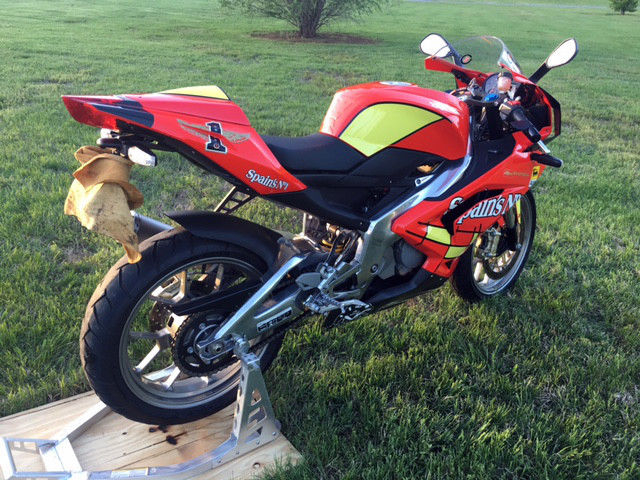 The world is changing, and we are drawn along with it – willingly or not. Gasoline and diesel are the targets of EV automobiles. Our beloved two strokes are already in their graves; four strokers have taken over everything from GP machinery to scooters. What is left but the past? This RS125 is a perfect reminder of the past. Conjuring up the glory days before Moto3, the RS125 hearkens back to an era of 125cc, entry-level GP racing. This is where pimply-faced teens cut their teeth before becoming heroes: Rossi, Biaggi, Criville, Capirossi, Locatelli, Pedrosa, Dovizioso, Luthi, Bautista, Di Meglio, Marquez. I mean, what do these guys know?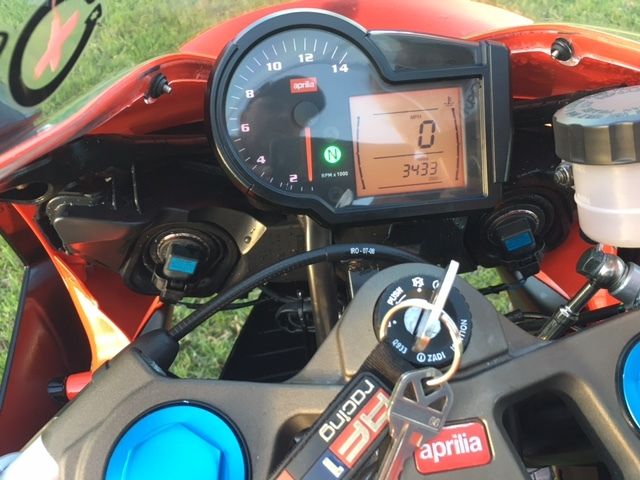 From the seller:
2009 Aprilia RS125. Purchased new, all original except tidy tail, exhaust bracket and solo seat. Factory wiring harness with no cuts/splices. Street legal, licensed and titled in my name (17 digit factory vin number). The solo seat was a factory Aprilia part (fiberglass). Bike has clear title in my name, never down or dropped, needs nothing.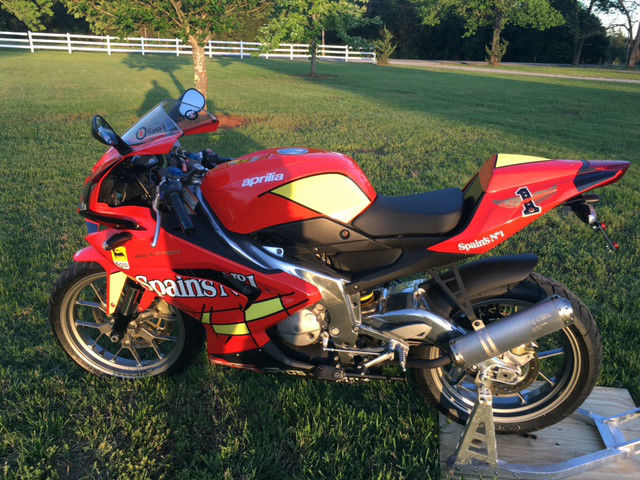 Aprilia made the brave move to bring the RS125 into the US for a scant few years. Those individuals that purchased them bought well, as these are wonderful (if not small) sporting motorcycles. Keeping one on the pipe can be a mental exercise, but isn't the mental aspect what we we really seek when riding or racing? Gone is the basement torque you may expect from your Ducati. Gone is the safety net of big horsepower when you blow your corner entry and get dogged on the following straight. Small bikes are all about focus, corner speed and planning. The RS125 plays this game well with a rev-happy motor, strong brakes and decent suspension. This is a viable trainer for the younger set, and a noteworthy toy for the, uh, more mature riders (and readers) among us. If, when you step on the scale, you double the displacement of this little scoot, you will be forgiven if you pass. But you're still missing out.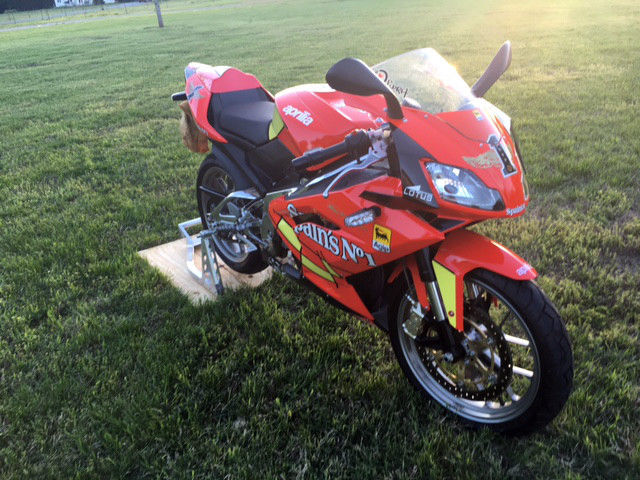 Located in Tennessee and with 3,433 on the clock, this US titled bike looks to be in great condition. The seller is asking for some pretty big dollars, and already has a few bids on the hook; This RS125 is up to $4k with more to come. Check it out here, and then jump back to our Comments section for the real test: would you be able to ride a RS125, or is something, er, a little "larger" more preferable? This is a great bike for some – check it out and Good Luck!!
MI