For a while, World Superbike rules favored v-twins, thanks to the… um, influence of Ducati. Soon everybody wanted to get in on the act: Honda switched from a V4 to a twin for their RC51 and Aprilia's first big bike fit a Rotax v-twin into a revised version of their gorgeous aluminum twin-spar beam frame. Unfortunately, their efforts to distance themselves from Ducati also extended to the new bike's styling and, while the hyper-modern techno looks of the RSV Mille were certainly different, it's definitely not a classic design.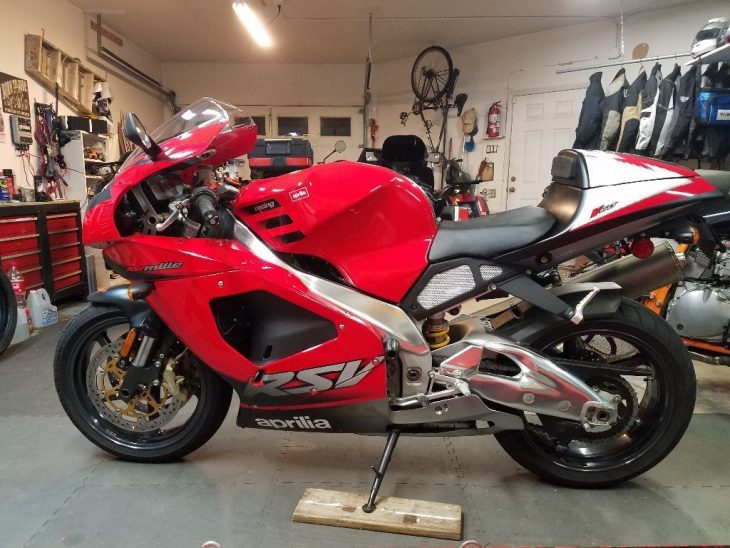 Instead of a 90° v-twin that is generally pretty hard to fit into a modern sportbike chassis, since it's very long front-to-back, Rotax used a much more compact 60° configuration for their 998cc twin and kept the increased vibrations in check with a pair of balance shafts. The result was a bit more "agricultural" than Ducati's engine, but it had plenty of character to go with its competitive power output, along with famous reliability.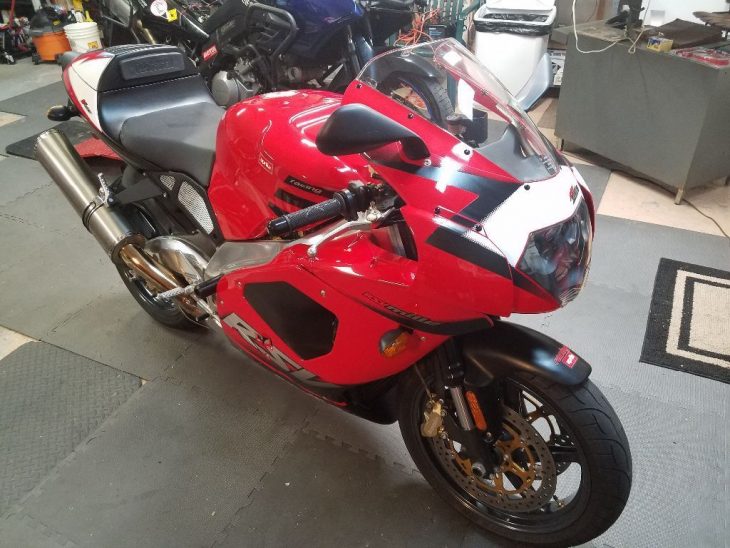 Ergonomics of the RSV were a nice change from Ducati's race-track serious riding position, and the new Aprilia was an all-around more user-friendly machine. It's got character to spare though and, combined with the bike's reliability and currently very affordable prices, has made the Mille something of an oxymoron: an affordable, reliable Italian superbike. Which means today's example is particularly odd, since it has just 2,000 miles on it.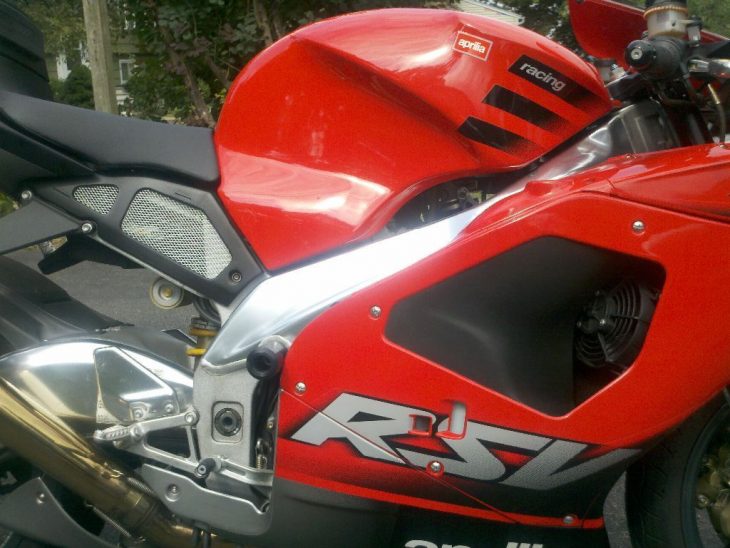 From the original eBay listing: 2002 Aprilia RSV Mille for Sale
Selling my 2002 Aprilia RSV Mille. I acquired this through any estate sale with only 300 miles on it. The engine was properly broken in, raising the rev limiter according to mileage, and it currently only has 2k miles on it. This is essentially a brand new bike wearing the original tires that still have the nubs on them.

I changed out the starting circuit with a more robust starter, starter relay, and wiring, replacing weak OEM setup. It comes with factory racing exhaust and race chip installed, and OEM street pipe and chip as well. Perfect, showroom condition.

I purchased this bike because of the bullet proof Rotax 60° V-twin engine in that beautiful Italian GP frame, intended to convert this into a track bike, but its just too pristine. I've seen these engines raced hard with 70k miles on them with no rebuilds!

There are NO prefect condition RSV Mille bikes left out there.
This is a cash only sale and I do not need any assistance in selling it.
"There are NO perfect condition RSV Mille bikes left out there"? That's a pretty bold statement, and one I'm sure we can trust, since he's trying to sell a bike… It is pretty unlikely that there are all that many with miles this low, but I'm sure there are at least a few out there, particularly the R version, bought by people with an eye towards future values. And that's the real issue here: this RSV in basically perfect condition, with a couple of nice, factory extras, but it's not a collectible version of the bike. It's a supremely competent bike, even in stock form, but not especially valuable yet: these regularly trade hands for far less than the $5,750 the seller is asking. If you're a collector willing to pay premium dollars for an RSV, I'd think you'd hold out for an R. If you're a fan of funky, budget exotica… You'll probably just pick one with more miles up for less money.
-tad