Update 7.19.2016: No longer being offered. -dc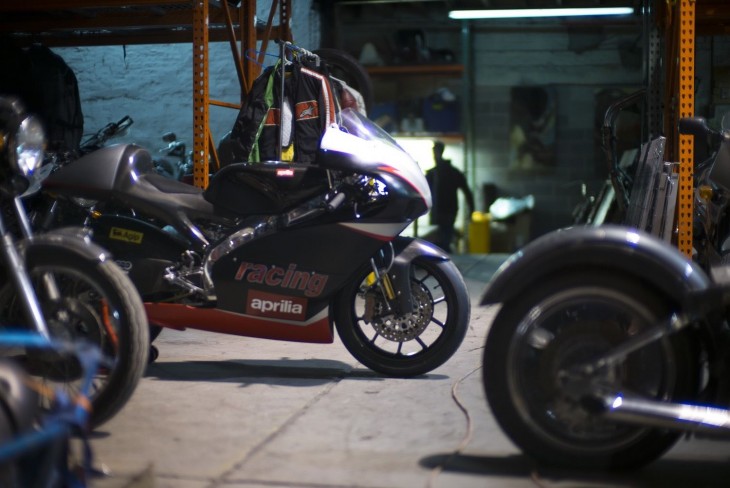 Built from 1991-2007 the Aprilia RS 250 is a rare sight, except on RSBFS – but an RSV or RSW – the factory race machines are exponentially more exotic.  Over its long run the model has been ridden to championships by Moto GP stars such as Max Biaggi, Valentino Rossi, Marco Melandri, and Jorge Lorenzo.  A factory test mule, the 2001 RSW 250 offered here has been treated to a lot of factory upgrades, and would make a great start to a race effort.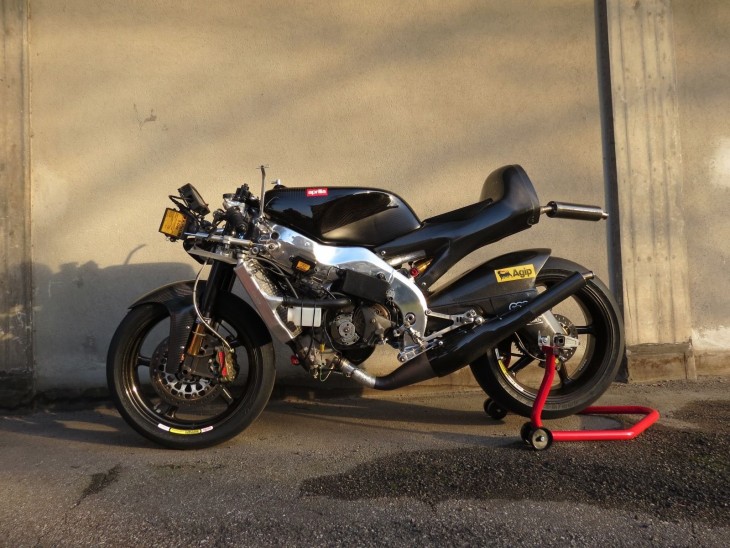 Though power isn't claimed for the 249 cc 90-degree two-stroke twin, it should be around 90 hp  at 12,000 rpm.  Aluminum-framed but with carbon fiber bodywork ( including seat console ), swingarm and wheels, with fuel this bike should weigh less than 300 lbs.  Ohlins and Brembo equipped front and rear.  Expansion chambers are titanium.
Brought over from an Italian shop that had done a pristine restoration, this RSW 250 has turned only 200 miles since.  A nice collection of spares is included, including a rare set of carbon-carbon brakes.  The owner attempts list everything in the eBay auction:
Complete ATR carbon fibre bodywork including tank, self supporting seat unit
Carbon fiber swingarm that an A Kit part typically only available to factory teams
Carbon fiber wheels that were designed by Aprilia (and ATR) but manufactured by Ferrari (these wheels are effectively irreplaceable so the bike also has a set of magnesium Marchesinis if you actually want to ride it)
Brembo monobloc calipers
Ohlins front and rear suspension (and steering damper)
Full data acquisition with all sensors active (e.g., suspension travel, EGT, etc)
Titanium expansion chambers with DLR end cans
Motor has various magnesium A Kit parts (water covers, etc)
Motor was built about 200 miles ago with fresh pistons less than 20 miles ago and transmission is completely fresh
It is set up to run on VP Q16
520 chain and sprocket conversion to avoid snapping chains (which was a frequent issue with the lightweight racing chain) but lightweight factory chain and sprockets includes along with a small selection of 520 sprockets
Carbon fiber battery (but like the wheels effectively irreplaceable so aluminum version also included)
Battery charger included
Spare titanium expansion chambers (not really spare but if you know anything about these bikes you already know that there were a litany of expansion chamber types that could be used to vary the power delivery)
Spare pistons and gaskets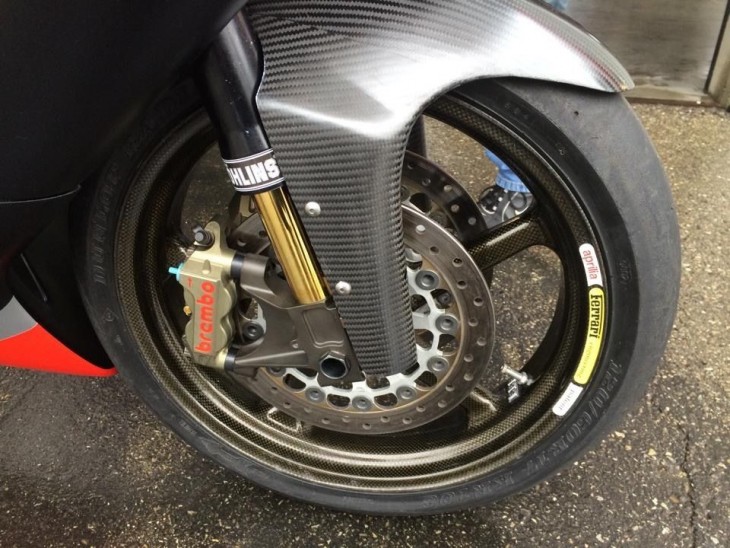 Whether you were an up-and-coming rider or a skilled club racer, finding a bike like this could make a career.  Appearing ready to load in the trailer and head south, this RSW 250 looks prepared for competition and has adequate spares to at least get rolling.  Details and contact information can be found on the eBay auction or at the Racing Bikes For Sale facebook page.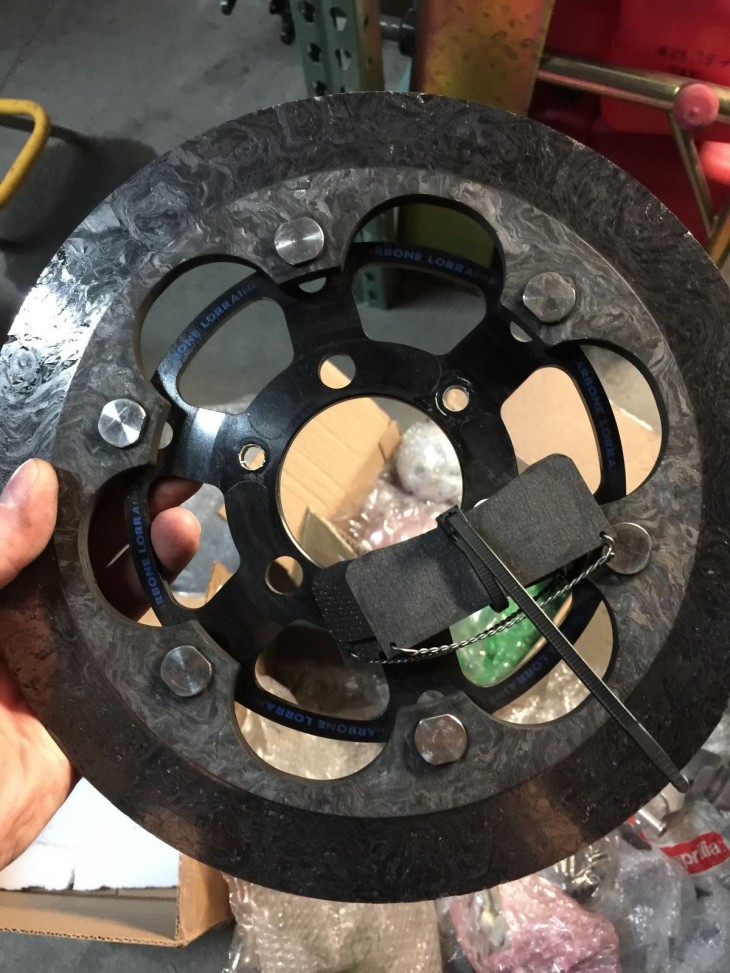 The owner also has a 2002 RS 250 Cup available with significant spares available, which could also be a less exotic but exciting alternative.  See the eBay auction or Racing Bikes For Sale page.