Given a clean sheet of paper and nearly unlimited resources, it's no surprise when major manufacturers come up with good motorcycles. In fact, when you consider those factors, it's shocking how often they get it wrong… But Buell had neither advantage in building his motorcycles and still managed to come up with some very interesting motorcycles. In fact, many of the most striking innovations in his early bikes like this Buell RS1200 were workarounds for the tall and heavy Harley powertrain he was using.
Too heavy? Save weight everywhere you can. Bulky non-unit engine and transmission? Centralize mass with a shock mounted under the engine. Vibey powerplant? Mount it using innovative heim joints that works like Norton's "Isolastic" system to isolate the worst of the vibrations and allow a stiff package that doesn't try to rattle the rider's teeth loose. Worried about losing your girlfriend off the back? Don't worry, the passenger seat cover doubles as a backrest!
Much of the bike's detailing honestly looks custom up-close. If you didn't know better, you'd swear those heim joints mounting the engine to the frame were aftermarket bits, but no, they were there from the factory, a measure of the quality components used to build these. Performance Machine is a brand often associated with Kustom Kruizer Kulture, but they make quality stoppers.
And if the styling of this early Buell is, um… unconventional, the complete package exploits the antediluvian engine's inherent power, torque, and character for a uniquely American take on a sport-touring motorcycle.
From the original eBay listing: 1991 Buell Westwind RS 1200/5 for Sale
I am the original owner of this Beautiful Red California RS 1200/5 Westwind. Purchased in 1991 From Fremont Harley Davidson in FremontCalifornia, it has 5289 miles on it and is in very good condition. It has a small scratch on the tank and fender. It has a small crack on the fairing. It needs to have the fork seals replaced. It is bone stock expect for the screaming eagle Dyna ignition. It fires right up and runs like new. It has been garaged and covered since new.


I take for granted that most of you know this is one of the hand-built, low production models, before they were mass produced and cranked out by the thousands on an assembly line. This was when Erik Buell owned the company. It has a unique 5 digit VIN number acceptable to the DMV. Most vehicles have a 17 digit number.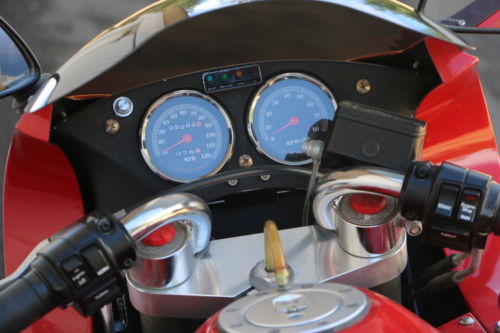 There are no takers yet with a starting bid of $5,500 but plenty of time left on the auction. Whether you love his motorcycles or hate them, Erik's obvious passion for motorcycling and innovative mind shine through in all of his bikes, and it's a shame he's had so much trouble. But it's a testament to his talent that people keep trying to give his ideas a home, so let's hope this new guy in Asbury Park can give Buell the stability he needs to keep making interesting machines.
-tad