Warning!
This post is in our archives. Links in this post have been updated to point to similar bikes available to bid on eBay.

Join us in the comments for a discussion on what criteria should be considered for bikes to appear on RSBFS. Thanks for the post Marty! -dc

Let me say up front that I struggled a bit with submitting this bike, given the fact that its big, slow, is powered by a 1200cc air cooled engine more appropriate for a paint shaker than a sportbike and the comments on the last one of this brand posted weren't exactly positive.  But if this site is truly about rare sportbikes then it shouldn't really matter if they are first generation survivors like the GSX-750 LTD, unobtainum dreams like the Ducati Supermono, or weird techno efforts that missed the mark such as the Bimota V-Due or BMW K1.  The qualifications are whether it was trying to be a sportbike and whether its rare.
Here is the bike, a 1991 Buell RS1200 with only 111 miles.  The saga of Erik Buell and Harley Davidson is pretty well known but for anyone not familiar it can be summarized as the following: decide to build an American sportbike (in this case using a Harley Davidson engine), achieve some success, sell a large portion of the company to Harley, struggle in the Harley "image-comes-first" structure, get shut down during the financial crisis and finally restart all over again with a new company.
The RS1200 used a compact. lightweight and extremely clever chassis to hold the big HD V-twin from the Sportster range.  Also,the  forks had Buell's devised anti-dive system which uses solenoid valves operated by the front brake lever to cut the forks' air volume, effectively increasing the springs' rising-rate just when it is most needed.  A full techno review of the bike can be read here.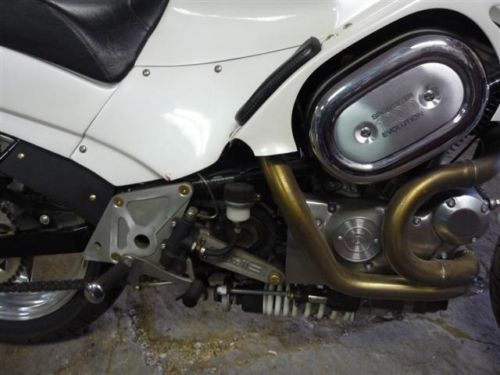 So does it belong here on RSBFS?  Well it was an expensive, small-volume sportbike that  didn't sell in great numbers but lots of bikes on RSBFS are like that.   Perhaps most importantly, the RS was a truly professional attempt at building an American sports bike and it  was the machine that laid the foundations for Buell Motorcycles' success in subsequent years.  It can even be considered to be part of the evolution of Buells excellent new 1190 EBR models.
This particular model has insanely low mileage which the seller seems to think will justify a price quite a bit above KBB values. Personally, I think this bike will only move to a collector who wants to build out a bit of his american sportbike collection…I can see it parked next the VR1000 and Roerh perhaps…
Note:  The seller is also selling a very nice 1975 HD RR259 Daytona Road Race Bike  and a 1974 Ducati GT 750 so perhaps a deal could be struck.
-Marty