Location: North Hollywood, California
Mileage: 14,971
Price: Auction, $11,500 BIN
MV Agusta isn't a bike you're gonna see on the road all that often regardless of the model. This company is high end Italian and production numbers are not gonna be that big. They also build some of the best looking, coolest, exotic sportbikes you'll find. So, when it comes the rare sportbikes, MV is kinda there by definition alone.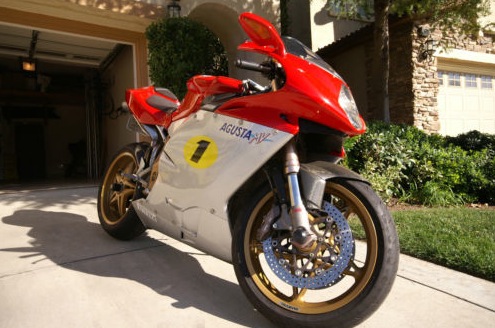 So when MV busts out a limited production model like the Oro, then it is something beyond their standard production. For the Oro, you got a nice share of magnesium to go with the rest of your exotic Italian bike. The F4 750 Oro was introduced in 1999 with a total of 300 bikes built. It appears that this model is a F4 750 with upgraded Oro parts.
Here's the info from the seller-
IT PAINS ME TO BE SELLING THIS BUT I AM A CLICHE… JUST HAD A NEW BABY AND THE BIKE HAS TO GO. I ABSOLUTELY LOVE LOVE LOVE THIS BIKE AND DO NOT REALLY WANT TO SELL IT BUT MY PRIORITIES HAVE CHANGED AND THIS ART PIECE MUST GO.  THE BIKE RUNS AND PERFORMS FLAWLESSLY. I JUST REPLACED THE FUEL LINE CONNECTORS AND BATTERY. I RIDE IT A FEW TIMES A WEEK AS IT IS A SHAME TO HAVE THIS JUST SITTING IN THE GARAGE. IF YOU WANT ATTENTION…. THIS IS THE BIKE.  I HAVE NOT SEEN ANOTHER ONE ON THE ROAD AND WHEN YOU PULL UP TO BIKE MEETS OR EVEN JUST AT A TRAFFIC  LIGHT… PEOPLE STARE AND GIVE YOU THE "THUMBS UP". AS YOU CAN SEE FROM THE PICS.. THE BIKE IS A STUNNER… THERE ARE A FEW MINOR SCRATCHES AND NICKS HERE AND THERE FROM RIDING BUT IT HAS NEVER BEEN DOWN… THE BIKE HAS PLENTY OF CARBON FIBER ACCESSORIES ON IT  AND HAS MARVIC WHEELS ($3500 UPGRADE) AND COMES WITH THE TRICKLE CHARGER. 

EMAIL ME WITH ANY QUESTIONS… THIS WOULD MAKE A GREAT GIFT UNDER THE TREE… EVEN IF IT'S A GIFT TO YOURSELF!!! THANKS FOR LOOKING AND YOU CAN EMAIL ME WITH ANY QUESTIONS. 
More photos-
Why an Oro upgrade and not a factory Oro? The Oro model from MV is a numbered limited production model (again, 300 made) and the seller does not list the number which would appear on the bike. Plus the original Oro bikes were produced in 1999, not 2002. Finally, the bike is priced at $11,500 BIN, which would be an extraordinary deal for a factory Oro (orginally a $50k plus bike). So essentially here you can get a bike with Oro-like-looking upgrades without paying the Oro price. And an MV F4 750 is going to be a killer bike regardless.
The bike appears clean and well cared for with decent mileage. And as said above, and by the seller, you're going to to get a rare machine with looks that will turn heads. I suspect it's also going to be a blast to ride. So, if you are inclined, treat  yourself to an early present and make the jump!
-RN