Honda introduced a V4 superbike just a year after the 750's intro, but then made significant changes and didn't refer to it as an Interceptor in 1985, making the '84 a rarity.  Here's an Ohio example which has low miles and looks quite good.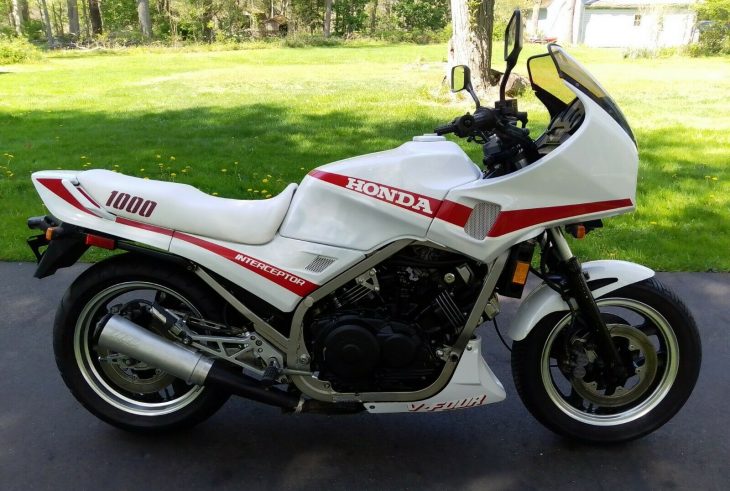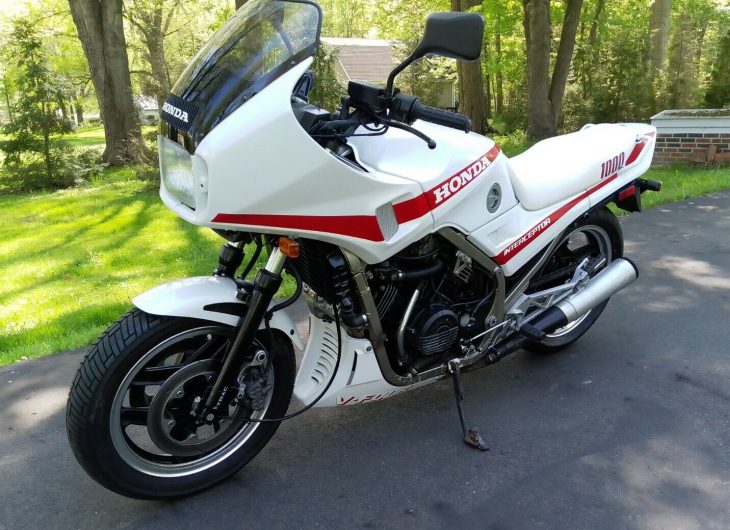 Honda bored and stroked their 750cc engine, pressed steel liners in and claimed 122 hp.  The four overhead cams were chain-driven, and torque was such that a five-speed trans was considered a better choice than six lighter gears.  The double basket chassis was crafted of steel tubing, with selectable adjustments on the air forks and Pro-Link monoshock.  Triple 276mm disks seem undersized for a liter these days, but not in 1984.  The bodywork had a nice flow accented by a racy engine scoop.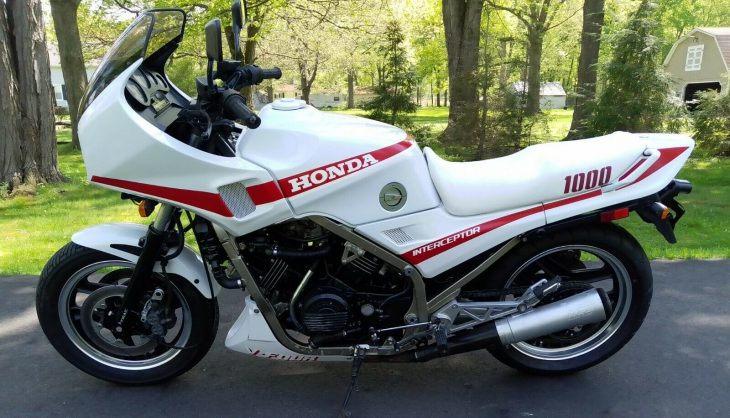 This Interceptor looks very clean, and seems to have just a pair of SuperTrapps as mods.  The white fuel cap pretty much confirms a re-paint, but the striping is faithful to the original, and even the "1000" on the white! seat is accurate.  It wouldn't take much to push this VF1000F over the goal line – add the blue field on the tank and sidecovers, find a better license plate bracket, refinish the forks and black out the mufflers.  Might have to sacrifice that bright seat for a stock cover.  Comments from the eBay auction:
With title and only 14,207 miles. This is one of the coolest and fun bikes Honda ever made. This 1000F Interceptor was made in only 1984 before it became the 1000R which makes it very rare. Bike runs and rides great and is fast. Anyone whoever rode one will tell tell you how fun and cool sounding they are. It has  very nice pearl paint on it. New rear tire and the front is like new. Everything works like it should.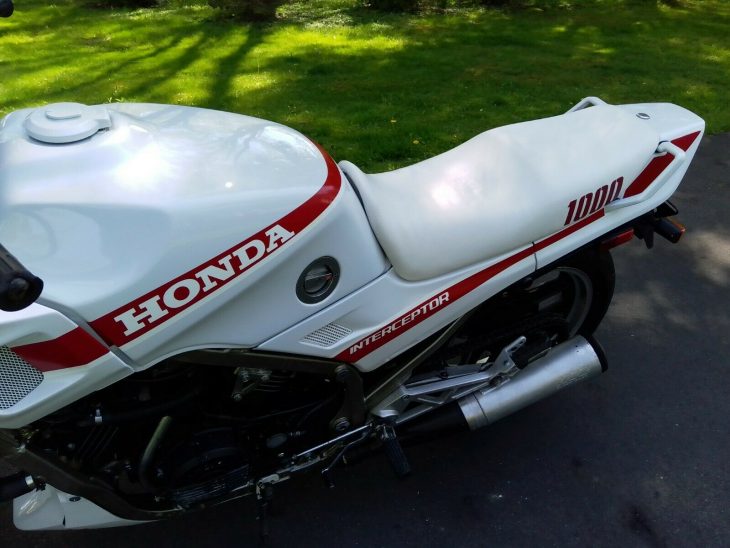 The compact V4 could do just about anything, except repeal the law of gravity.  Quite a few of the early engines succumbed to a cam oiling design deficiency, and Honda re-designed the cam drive with gears in 1985.  But at this point a survivor is unlikely to be affected.  The succeeding VF1000R had an endurance racer's full fairing, but hid the big V4 and was no longer an Interceptor.  This one should give a lot of capability for the buck, and marks an interesting page in Honda history.
-donn