Location: Westlake Village, CA
Mileage: 10,708
Price: Currently $4,051 with Reserve in place
There is something about the late 80's GSX-R's that is inherently cool to me. And this one is a prime example of that. I was able to swipe this bike off of Rem's desk while he had run out to check an RC30 parked outside the RSBFS Corporate offices. Sorry buddy.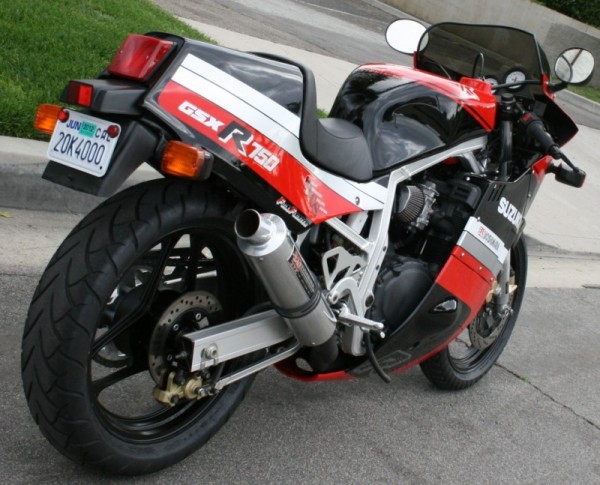 Before the flamethrowers come out, let me say that this is not an "original" bike in the traditional sense. It's got an LE tail section and solo-seat, '85 tank and fairings, as well as a fresh paint job. Because of this, I wouldn't classify it as a museum piece. However, I would say that it has been very well put together and definitely looks the part.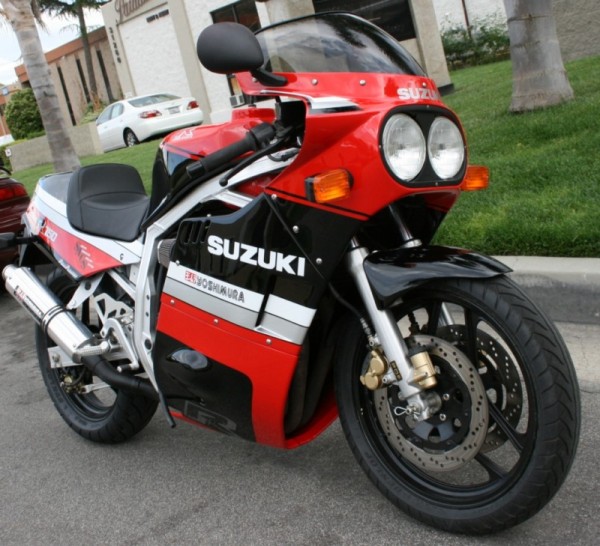 From the seller:
WELL ITS TIME TO SELL ONE OF MY SUZUKI'S . I HAVE ONLY RIDDEN THE BIKE ABOUT 300 MILES , IT JUST SITS WITH THEBATTERYTENDER ON IT . I HAVE PUT A NEWBATTERY, CHAIN , REAR SPROCKET , SPEEDO CABLE

1987 GSXR 750

THE BIKE HAS SOME VERY COOL FEATURES , LIMITED EDITION TAIL SECTION WITH SEAT AND TAIL LIGHT , LIMITED HEEL GUARDS , LIMITED CHAIN GUARD . 85 FLAT TOP TANK , 85 UPPER , MIDS AND LOWER

VERY NICE FRESH STOCK STYLE PAINT YOSH PIPE , STOCK BLINKERS , THIS BIKES GET ATTENTION EVERY TIME I RIDE

, THE SAT FOR 6 MONTHS , AND IT RUNS GOOD , BUT NEED THE CARBS CLEANED OR TUNES AGAIN . CURRENTCALIFORNIAREGISTRATION AND TITLE . THE BIKE IS BEING SOLD AS IS , YOU ARE WELCOME TO COME INSPECT IT , OR SEND SOMEONE TO SEE IT
I think the beauty of this bike comes from the fact that it can be ridden with out fear of racking up miles on an original survivor or if you love the looks of a Limited Edition GSX-R but can't afford one. Its non-originality doesn't bother me in the slightest and I would be happy to own such a good looking bike. If you agree, then check out the auction here and place your bid!
-JS