For Sale: 1999 Aprilia RS-250 Challenge Cup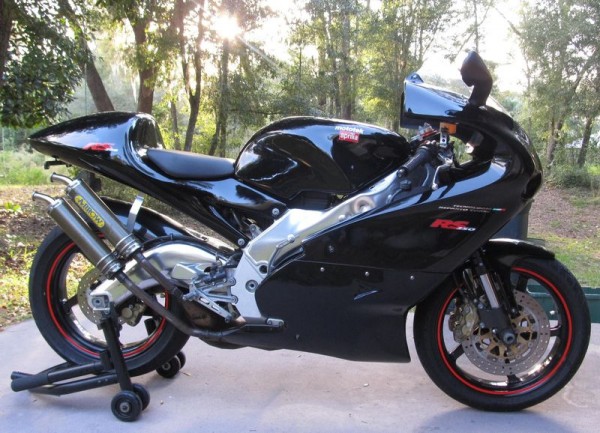 Located in sunny Florida – home of year-round riding weather – is a titled RS250 converted Cup bike. And as the pictures show, this one is as clean as you might hope to find!
Intended for the RS250 Challenge Cup, these bikes were prepped without the road-going legal bits such as head lights, tail lights, turn signals, mirrors, etc. With the proper harness plugged in, however, the bikes can be converted for street use and have represented another avenue for those looking for a street worthy two stroke ride.
The auction for this bike lists it as a '99 model in some places, and a 2000 in others. That might be a difference between the actual model year and the road going title (you did see that it was titled for street work, right?!). Aside from that, the seller indicates that this particular example has seen approximately 3,300 miles since new – which is really not a lot for such exotica.
This RS250 appears to be pretty spotless (which is very difficult to maintain as two strokes are notoriously dirty and forever spitting up oily goo on the shiny bits), and includes some nice add-ons including the Arrow carbon/kevlar silencers. These bikes have tremendous potential (check out the Aprilia Forums for info on how to produce 70+ HP from these little 250s!), but smokers are particularly picky about matching modifications up carefully – real power is usually the result of compression, porting and pipe together along with a matching ECU. Fortunately, a tremendous amout of information is available on these bikes and the engine can share parts with the Suzuki RG 250 series, from which it was derrived.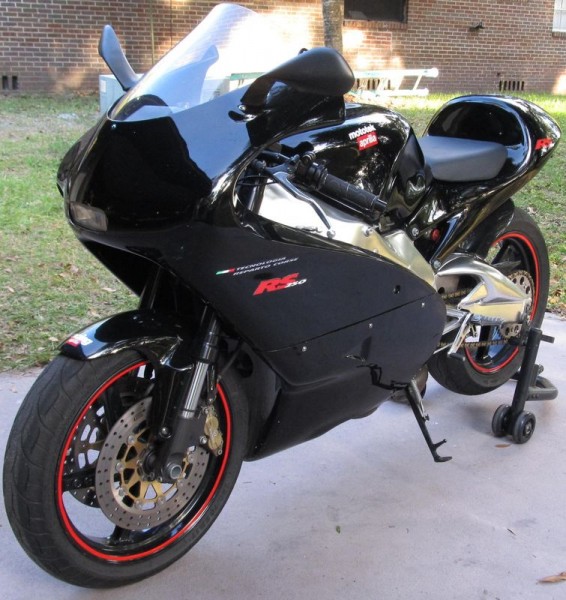 From the seller:
2000 Aprilia RS250 Cup bike
I have a clear Title in hand. RS runs and rides Excellent!

It's the closest thing you'll find to a genuine Grand Prix racing machine on the road, be it two wheels or four. Its 250cc two-stroke motor produces in excess of 60 brake horses, giving it a specific output of 240 bhp per litre – more than the fastest MotoGP bikes and on a par with competitive Formula One engines. And it's the last one – the fire-breathing two-stroke racer-roadster is about to become extinct. The next batch of Aprilia RS250 road bikes will be the last – as the last bike of its type, it's the last chance to own one new. Ever!!!!

In 2003, Aprilia's 250 race bikes won 14 of the 16 world championship races, with five different Aprilia riders standing atop the podium. Significantly, the speed traps often showed the fastest ten riders were all Aprilia mounted. Not surprisingly, the roadster bears a very strong visual relationship to Aprilia works racing bikes which won the World 250 title last year in the hands of Manual Poggiali.And riding it was a HOOT!

Funnily enough, while the motor kicks hard over 8000rpm, it is not the motor that is most likely to catch the RS250 rider out – it's the brakes.

With a dry weight of 140 kilograms and two 298 mm diameter floating disks on the front wheel, with two Brembo twin-piston callipres on each (with four differentiated diameter pistons), the front brake has more power than you'd have thought possible. Though it has loads of feel, it warrants immense respect because once you've become comfortable with the RS around the roads, you'll find yourself getting into corners with the back wheel OFF THE GROUND!!!

So precise is the steering that it feels like you can claim any spot on the road just by willing the machine over it, regardless of the speed or camber of the bend.So it is a roadbike, and it can be ridden on the roads every day without the motor filling up with gunk, but the road is just not its natural habitat.

The RS250 is a racer first and a roadster second. Though it has pillion pegs, don't even think about trying to carry a pillion unless there's absolutely no alternative – it's painfully uncomfortable for both, the bike is unbalanced and walking might be a better solution.

The RS250 is ideally something to buy to put in the garage and stay there except for track days. It is a motorcycle to be oggled for its craftsmanship – next time you get near one of these babies, take a bit of time to check out the swinging-arm, the effort that has gone into wrapping those expansion chambers around the motorcycle so NOTHING scrapes (this is a motorcycle upon which you'll get your knee on the ground before something else touches), and just behold the attention to detail, all the way down to the race computer with adjustable redline and lap timing which nestles inside the fairing.

It is the finest example of a breed of motorcycle which is about to become extinct. It is also the final example – the point at which evolution stopped after 50 years of refinement and development of the roadgoing two-stroke.
Even with a clear Florida title in hand, Californians need not apply here unless they only want an offroad (i.e. track day) toy. There may be other states that are equally restrictive on such matters, but for most other states the hard work has already been done by the seller. Nothing left to do but run it hard and try to keep it clean!
This auction is underway right now with very limited interest. The opening ask is set at $6,000, which might be the reason. While converted Cup bikes have been near this range before, the price is edging in on the pricing for a clean factory edition streetbike. Alas, the converted Cup bike will always be the bastard child in that group. Still, any street going two stroke is definitely "thumbs up" in my book, so you will have to wrestle with that one on your own.
For more information and pictures, click the link and jump over to the auction!
MI