It's not an ultra rare CR93 and it's not dripping with parts from one but damn it, this thing has just enough 'cool factor'. From the sound of it, it's not even a finished project so you can still have a little say.
A couple of years ago I had zero interest in vintage bikes but I'm beginning to see the light.
Here is the story on the project:
This CB160 based 175cc CR93 Roadrace Replicia is in Showroom Condition, difficult to distinguish from the Original Honda Factory Race machines of which only 140 approx where Produced.

Only Top Quality items were purchased to complete this 175cc CR93 Replicia, it has never been Raced or Track Day'd and was stored in my Rec room for the past 9 years.( a trailer Queen if you will ) It will require final race setup if desired. The Ignition system has never been completed so the Machine has never been started.

Can be viewed at my Michigan location by appointment only. Shipping is the responsibility of the Buyer. Pickup only at my location, but will work to assist loading etc.

Contents :- Frame # B160-1020907 Engine # B160E-102139 Spare Parts Sloper Engine # CL175-1012449

CB160 based engine with CB175 Cylinders and Cylinder Head

Lightened Crank, Magacycle Cam #122X4, 5 Speed Transmission set at 1 down 4 up.

New Pistons, Rods Bearings & Seals installed

New Carbs Keihin PE24 Race Carbs.

New Custom Alum Tank & Seat, Seat covered in reverse leather

New Avon Roadrunner Race Tires 90/90 H18 rear & 3.10 H18 Front with Alum Valanced ( dropped) Rims .

Stainless Steel Spokes

Original CR93 Style Race Fairing Fiberglass Painted in Original Honda CR Colors

New Torozzi Alum Rearsets

Honda CR93 Type Steering Dampner

ikon (Koni) Rear Shocks

Supertrap baffles installed on Mega's.

Some spare Pistons, gaskets,Cables etc.

This is a Roadrace Motorcycle, it does not have a Title only a Bill of Sale

Please ask any Questions i have tried to give a complete description
I know, this isn't as bonerific as a CR93 engine. The real deal made under 20HP and had a red line of 13,500.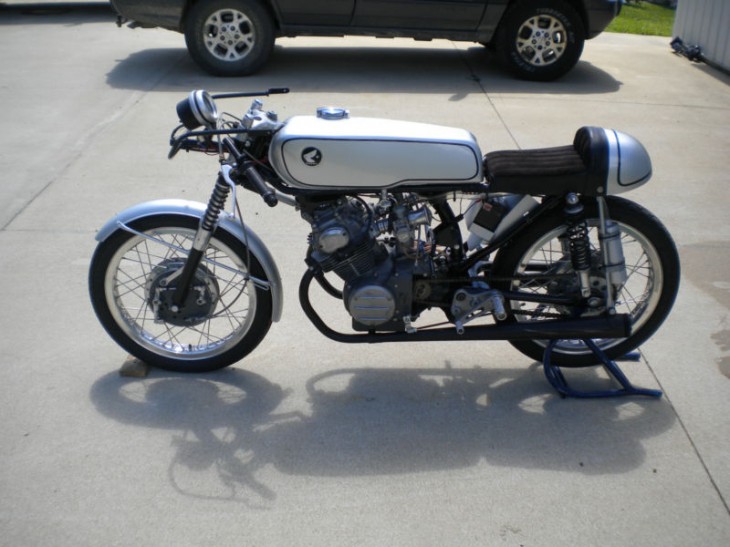 It sounds like the Holy Grail for collectors of the CR93 is the street version. Known to few people at the time, they made 20 street versions.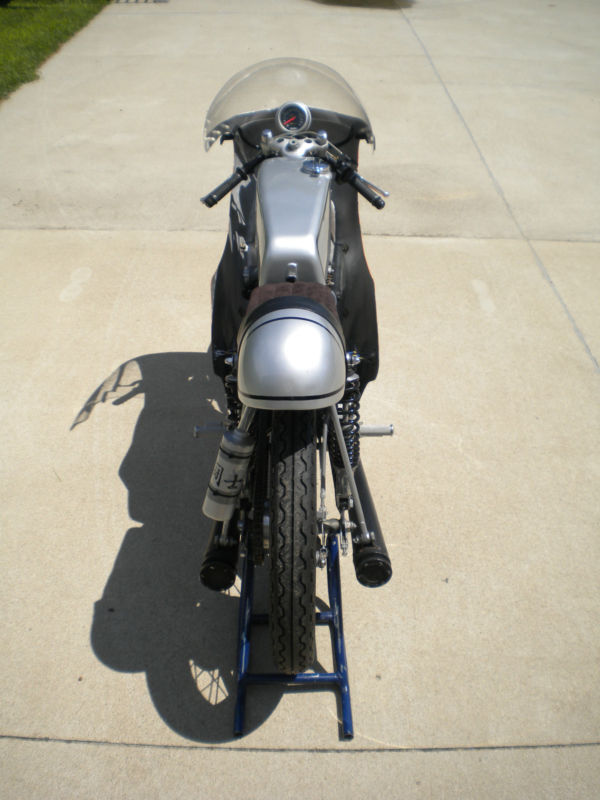 The auction is up and running here.
Ian