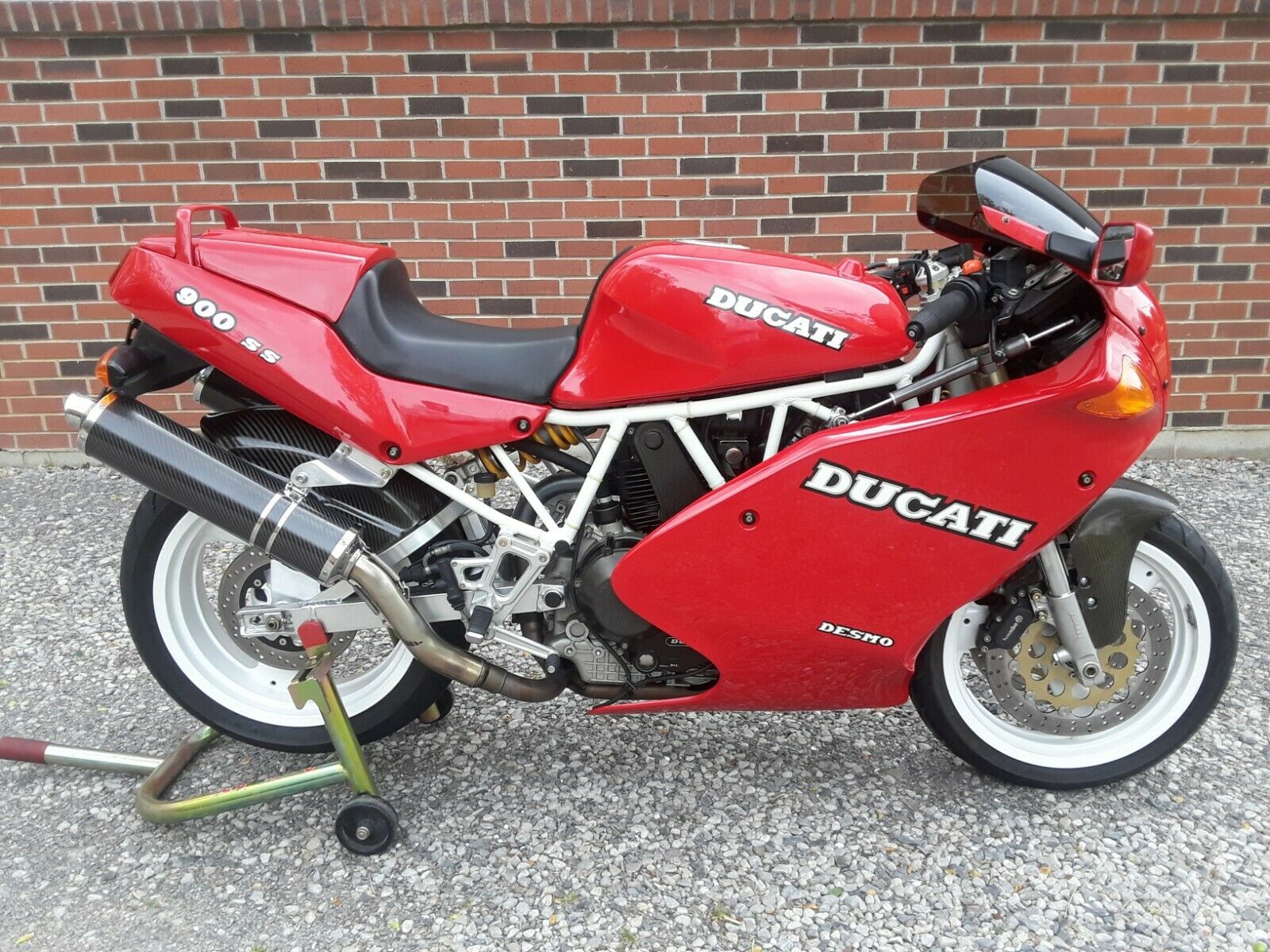 The Pantah-powered Ducati 900SS is a stalwart icon in the sport bike world. Devoid of the sewing machine, turbine-like windup of the Japanese inline four competition, the air-cooled, two valve L-twin grunts and booms to a relatively low RPM redline, riding a wave of torque. The trellis chassis is stiff, aiding in handling. Ducati took a page from the dominant 851 and used some of the same components on the Supersport, such as the massive Brembo brakes. The riding position is not too extreme, and the whole package looks timeless. That is a good thing, given that by appearances the 900SS remained relatively unchanged over the model run from 1988 – 2000, even though some tech did change under the covers.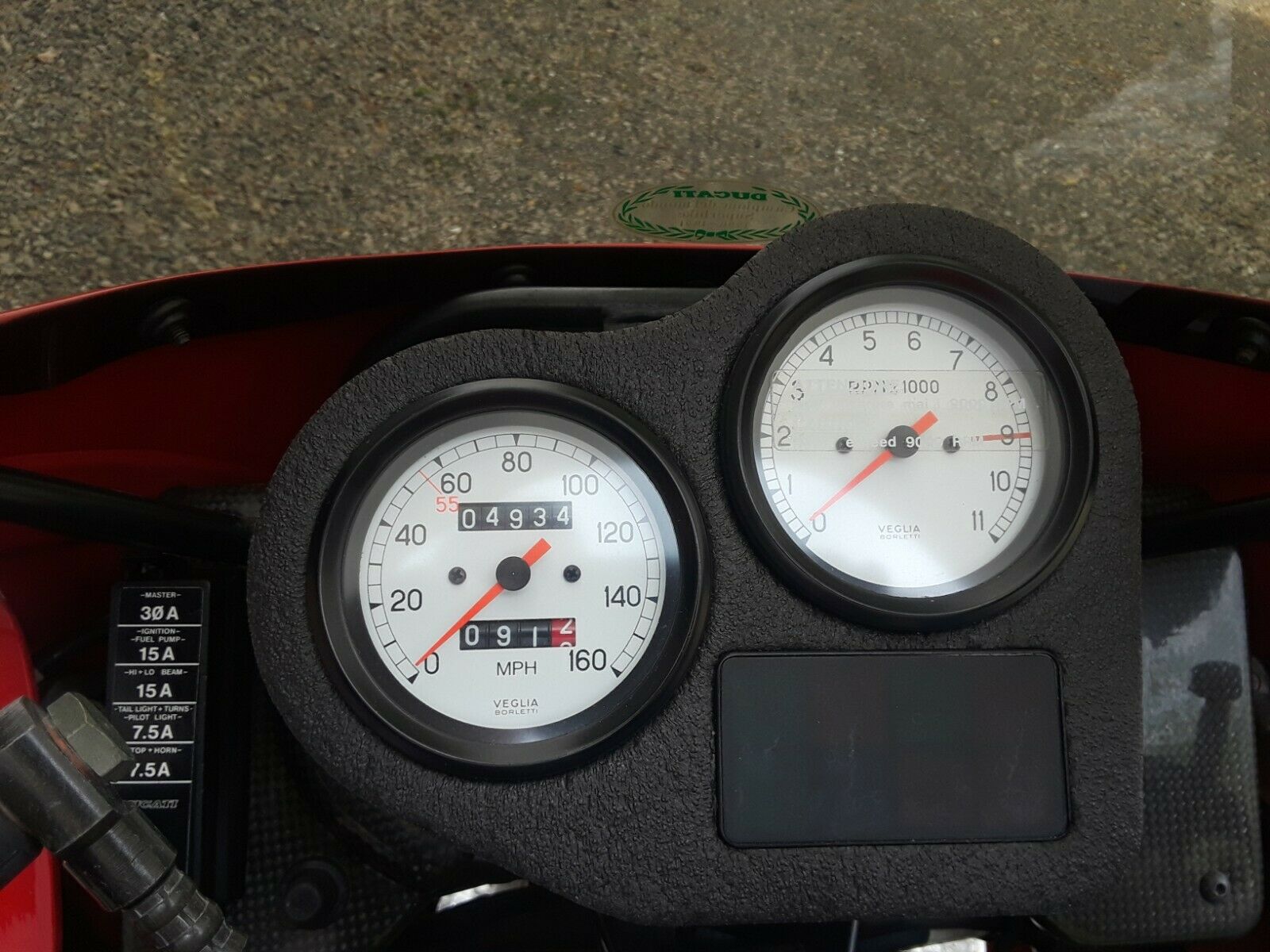 By the 1990s the Supersport had been solidly supplanted by the mighty 851, however the SS remained true to its original form and intent, providing a lightweight, torquey and simplified (read: raw) riding experience. There is not much in the way of creature comforts on these machines, and while the 80-ish HP is plenty of motivation, it is the lower RPM torque that really shines when riding. Gear selection becomes much less critical than on a two stroke or even a high-strung inline four, and driving off the corners is the Supersport's forte.
From the seller:
I am relisting this due to an error in the listing on my part. 1991 Ducati 900 SS. This is the first yr for this bodystyle 900, and only yr w/white frame and wheels. It has all the features of the later model 900ss SP model. (Aluminum swingarm, 5.5″ rear wheel and adjustable forks). I bought it 10 yrs ago from the original owner and have put about 500 miles on it only riding to bike nights and shows. In my opinion, this was almost too nice to ride so I bought another and started gathering parts for this one.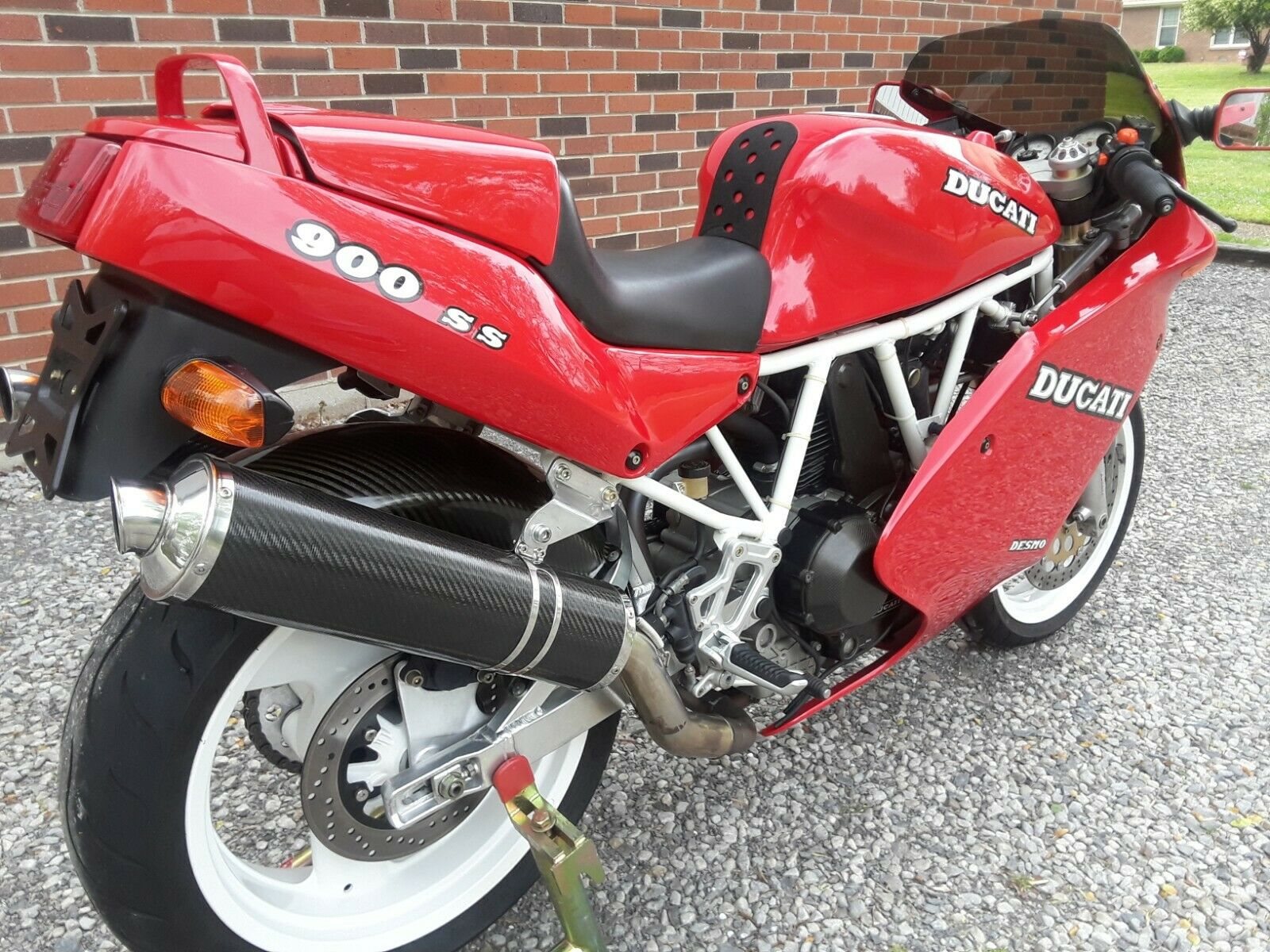 More from the seller:
Bike has never been down, painted on or damaged in any way. Upgrades include: Carbon fiber upswept exhaust, K&N air filter, Other Carbon Fiber parts include: Inner rear fender, Clutch cover, Belt covers, Dash surround and front fender. Also added preload adjusters for the forks, steering dampner and tinted windscreen. BIke has been rejetted for filter/pipes and runs perfectly. Also 41t rear sprocket. I also have a Corbin seat for it as well as a solo tail section that has been painted but never mounted and all removed stock bits. Valves adjusted <500 miles ago as well as replacing belts. They still look good but would recommend replacing them before riding much because of their age.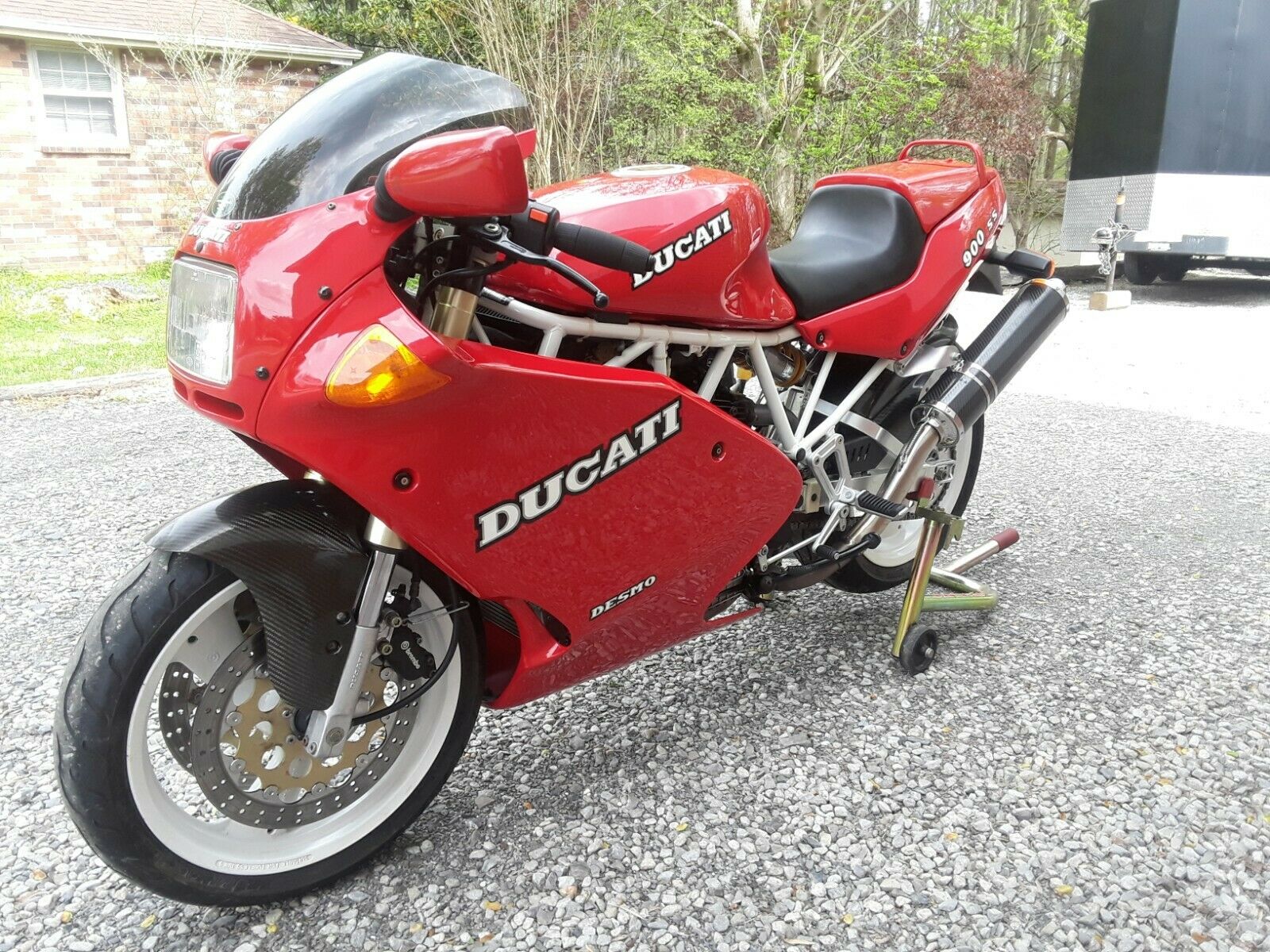 The seller claims a scant 4,960 miles on this beauty, which is a bit of shame. These are great bikes to ride, and as with most things mechanical regular usage helps to keep everything in working order. The seller does note some maintenance that has been completed, but readers should understand that cam belts on Ducatis are a time-based item just as much as miles. This bike does have some performance related farkles added on, which are all reasonably correct mods for the model. The rear sprocket is an especially beneficial upgrade; the factory gearing is way too tall to be useful on the street.
This listing was open for a period of time, and then it was pulled and relisted with the text noting corrections. There are double-digit bids already at the time of writing, and pricing is in the bargain basement territory. There is a reserve in place, so let's see where this one takes us. The Ducati 900SS has the bones to be one of the all-time greats. It may not be as fast as later Superbikes, it may not be as exclusive as homologation machines, but it remains a fantastic platform and a capable dancing partner. This one looks great and needs a new home. Check out all of the details here, and Good Luck!!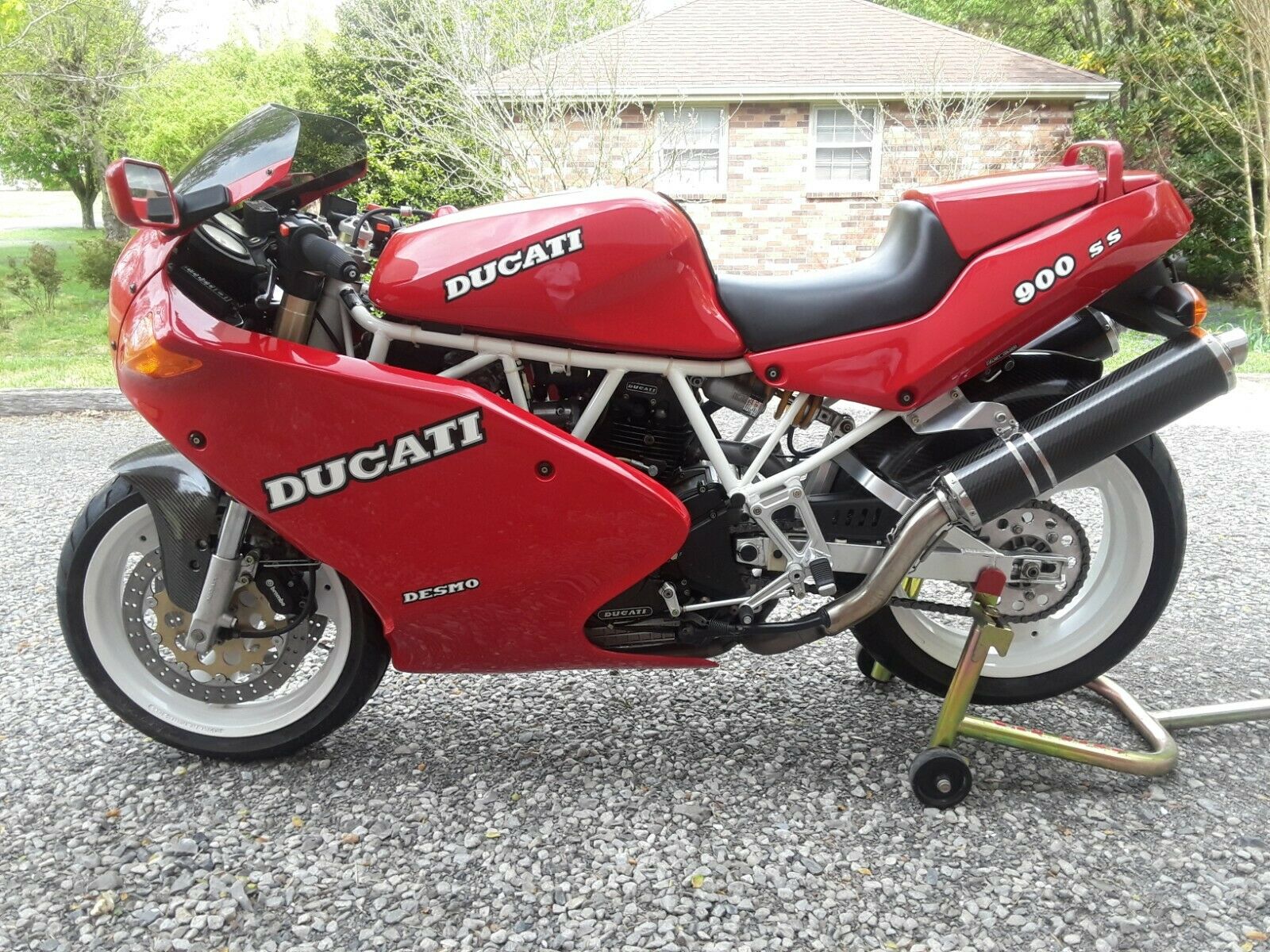 MI