After lagging slightly behind throughout the '90s with a host of beautiful-but-dated or comfortable and fast-but-heavy steeds, Yamaha came out of its corner swinging in '98 with the all-new R1. It was covered in decals advertising age-old Yamaha marketing terms like Genesis and Ex-Up, but the new machine was a beast the way the CBR900RR had been five years earlier.
With the gearbox slammed on top of the output shaft, the R1 had a tiny wheelbase, weighed nothing and made in the neighborhood of 140 horsepower. There were few superlatives at the time to do it justice, and the line it spawned continues to set the benchmark for sportbikes.
This 1998 Yamaha R1 wears the distinct red-and-white livery, which I much prefer over the blue and silver that was also on offer. It is clean enough to eat your dinner off of, and has turned in just shy of 10,000 miles.
From the eBay listing:
1998 Yamaha YZF-R1

Quite possibly the most sought after collectible production Japanese Sport Bike of the last 25 years. No sportbike collection is complete without one and they are becoming very hard to find.

This is a wonderful example of a one owner 1998 Yamaha R1 in the coveted Red & White. Is it perfect? No. Is it super clean and probably the nicest one for sale in the country today? Yes.

A true 9993 miles, runs like new and everything works perfectly. This R1 has spent its whole life in an air conditioned garage.

The R1 has a couple of period correct mods that include an under tail eliminator and flush mount turn signals. The bike could easily be reconfigured to completely stock as the parts are all still available from Yamaha for around $300.

The amazing thing is that it still has its factory exhaust, windscreen, levers and the paint and decals are in exceptionally fresh condition. The only blem is a small crack in the paint on the tank that just appeared when it was about two years old.

As the magazines of the time dubbed it "Twitchy Bitch" it of course has an Ohlins steering damper.

Now for a couple of very cool and rare bits. Along with the R1 comes the original dealer large vinyl showroom marketing poster, original brochure and a genuine Yamaha accessory seat cowl. As a Yamaha dealer for the better part of twenty years, I had never seen another poster or brochure.

This is a "no reserve" auction and the bike will sell.

Bid strong as this may be the last best chance to add this to your sportbike collection.

If you have any questions don't hesitate to email or call.

Happy Bidding!

Jason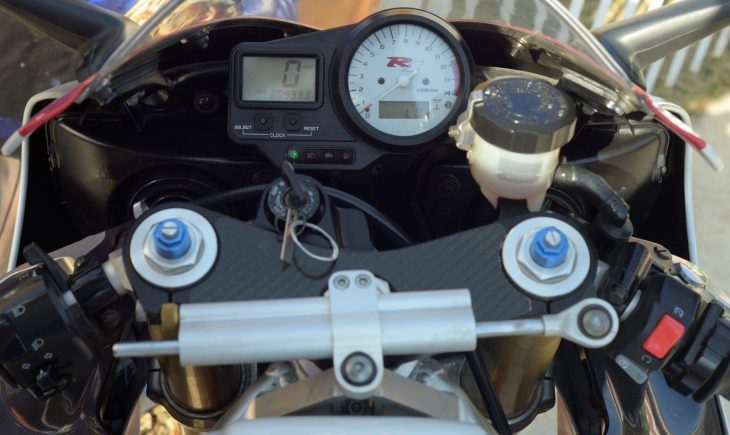 It will not be long before these beasts start seeing their values climb, much the same way slab-side Gixxers have of late. This one is offered with no reserve, and yet is north of $5,000 with a healthy chunk of time left in the auction. We'd jump on this one while the jumping is good.