Ducati took a page from the UJM chronicles and came away with a do-it-all smash.  Today's Monster was the top of the range in 1999, and has been farkled to a fare-thee-well, but barely used.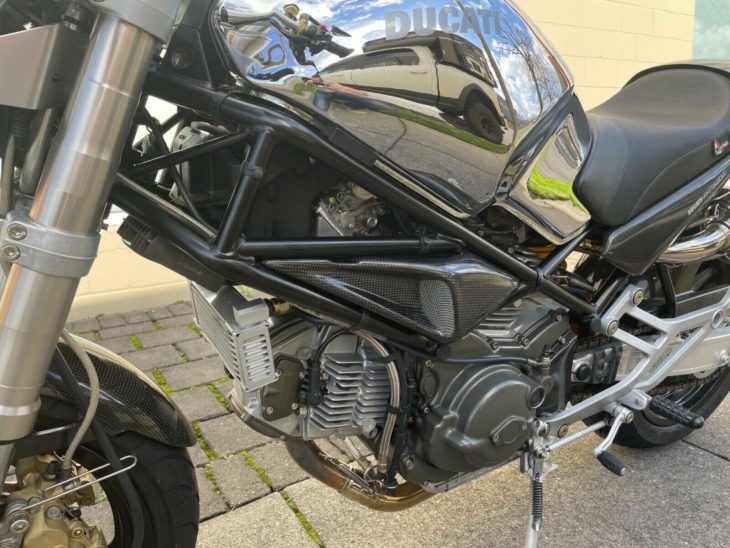 Il Mostro was a bit of a parts bin affair, saving on development costs compared to an all-new machine.  The 904cc desmodue was tried and true, the last year for Mikuni carbs and 80 hp.  The overhead trellis frame shared the company DNA, with a snappy wheelbase and popular low seat height.  The Cromo got better Showa forks and an Öhlins monoshock, along with 320mm dual puck brakes.  Compromises are part of the multi-purpose design, and with the enjoyable upright ride, there wasn't much to deflect the wind.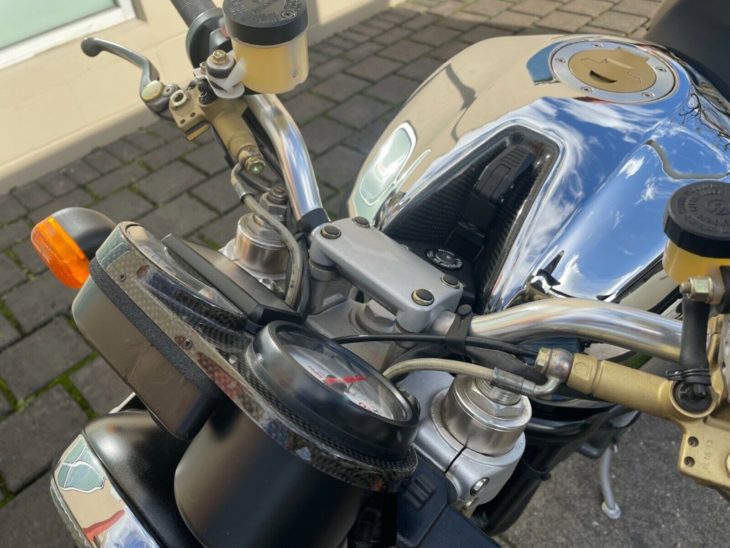 One of the Monster paradigms was to provide owners some blank canvas to paint their own way, and the aftermarket provided inspiration galore.  Cromo's came with carbon fenders, sidecovers, and seat cowl, but a sharp exhaust system has been added here, along with clutch cover, air scoops, and tail tidy.  Condition looks impeccable and recent heavy maintenance is listed in the eBay auction:
Only 101 were brought into the US
The last of the true and original Ducati monsters.

You will never find another like this. I purchased this from the original owner. 
When he purchased it new he added at the Ducati dealer all the extra 
Ducati Performance upgrades: 
Carbon performance gauges
Carbon high exhaust system,
Carbon air runners
Carbon front fender
Carbon clutch cover
Carbon fiber sprocket cover
Carbon mirrors 
CORBIN seat 
Only 3,640 miles !!!
Everything is Perfect.
Just had full inspection done at Cheshire Motorsports. Everything is new:
Tires, Belts, fluids, battery, services, carbs tuned and jetted.
All keys and books
Monsters have come a ways since 1999, with four valves, fuel injection, even racy limited editions.  But the carburetted 900 still has that certain something.  Carbs don't call for a fuel nanny, and the 1999 charging system was a big improvement.  If the reflective tank doesn't suit, it would be easy enough to source a carbon model and change the M900's personality, outwardly at least.  If displayed indoors though, that chrome could never do such a number on the blue sky.
-donn