Since I started blogging sport bikes for sale early in 2006, I don't recall seeing a silver Walter Wolf RG400 for sale. Naturally this example caught my eye when I saw it on eBay. It smelled of the sweet 2 stroke oil but also had such a dapper appearance that I wasn't sure what I was looking at was original. Thankfully the RSBFS archives revealed that silver models were produced and I bring you this RG400 today.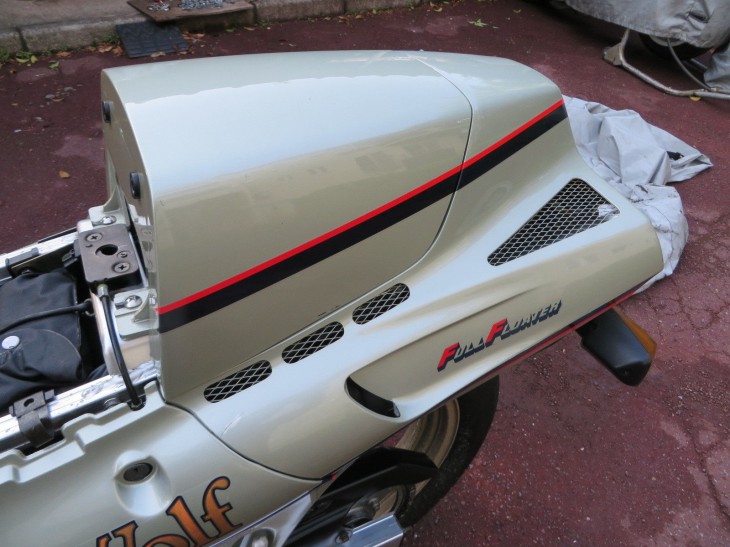 The CSI reference is because this bike is in Japan and while the written description is thorough, there are only 4 pictures as of this writing. The seller notes new pictures will be uploaded soon and will certainly assist in helping to ascertain what is available for sale in this auction. That said he seem very forthright about the condition it's in so bid accordingly.
dc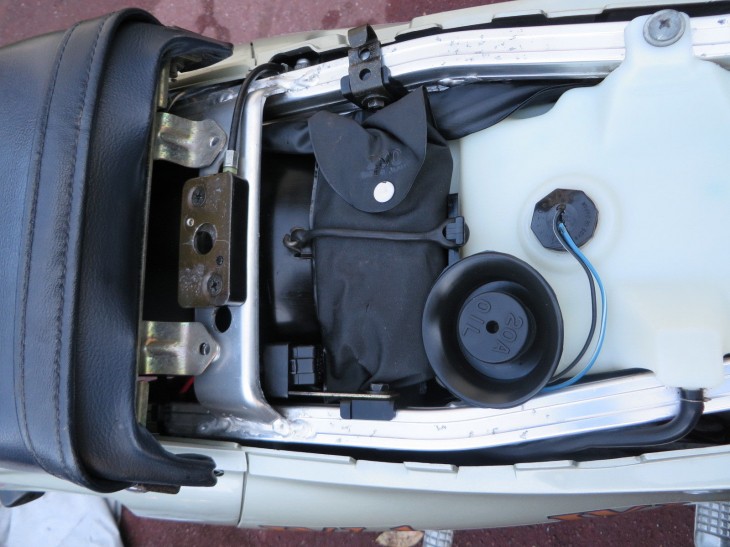 from the seller:
With only 1,400kms being done since new the engine is still in very good condition and should be treated as still needing to be " broken in "

Unfortunately, it's previous owner didn't take much care in storing it and over the years, it has received scratches, scrapes, dents (very small at front of tank ) and some cracks mainly around the mirror mounts . I also think it was kept either in a shop window or a lock up with large windows as some decals show signs of UV attack. The wheels also have surface corrosion in places – I have made no attempt to clean or cover this up as the next owner will likely have them powder coated to the same colour to keep them in standard trim. Inside of the tank is clean , all locks are one key.

Detailed photos to follow – as soon as I got the cover off the heavens opened up and now thunderstorms prevail , sods law !!

OK, the good stuff:

The bike has been serviced to be used , the carbs are as clean as the day they were made , fuel lines and delivery pipes have all been replaced as have the heat shield springs. In-line check valves fitted to stop the notorious two stroke drip , BT45 tyres front and back have done around 200kms so plenty life left in them , chain & sprockets all good , running on Suzuki CCIS two stroke oil , good pads and discs. Gearbox oil is Suzuki , airfilter is OEM and good condition. Some parts are brand new as I keep an OEM box of bits at hand for when I am working on my pack ( I have eight of these bikes ).

It starts with ease and gets up to running temperature as normal , I received the bike when under 1,200kms so have used it to check condition and just to have that experience of riding a bike with such a low KM engine. I have been running it on 100 octane gasoline.

I have removed all panels and checked over the bike thoroughly for any under laying faults, without fully stripping down the bike I can't be 100% it doesn't have any but nothing was evident to me. You may want to remove the swingarm and suspension linkage to check the condition of the grease in them as I haven't done this. Same applies to the headstock bearings, under inspection and use none of these components have any issues.
With this in mind, I am happy to give the bike a cost price parts warranty for 6months after arrival. Should any non serviceable part fail within this time period and providing it is still available from factory I will supply at absolute cost ie: What it costs me to get is what it costs you.

Ask me for a link and I can show you it running.

When replacing the panels I have used stainless steel fixings , I will also include the originals I removed boxed ( it may or may not be complete ) , cowl screen has been replaced with an original used tinted screen with trim. I can see no problem with you using it on arrival after you have got registered for your country. It would however, benefit from a full strip down just to go over some of the things I have pointed out above. Having several of these bikes it really is surplus to needs and someone else should get the joy out of using it daily.

If you intend to strip it down for a full restoration I will be happy to help out sourcing genuine OEM parts – there is still a huge range of factory stock. Your list is going to be small though.

Included in the sale:

Port to port shipping by crate
New clock foam bracket with trip reset and cushion dampers.
New Fork stanchions and oil seals, there are some minor pits on the originals, but nothing that is currently causing an issue.
Rear Blue seat – original (used)
Original tool kit
Document holder

Shipping :
Shipping is from port to port only.
You are responsible to find out the import laws for your country , the bike will be shipped to closest port as possible to your location for you to then collect. It will be well crated ( You can ask for photos of previous bikes being sent out ) and covered. Although bike will be in full running order you will need a van or trailer.
You will be responsible for all import / port fees of your country and delivery costs from your port to home.
If you need to apply for permission to import this bike contact me as soon as possible.

Shipping time:
On completion of payment bike will be crated ready to go to port for customs clearance and to be loaded onto next available ship. This can take 1 to 4 weeks depending on how busy port/shippers are and is completely out of my hands, you will however be well informed on what's happening each step of the process. Sail times vary between 4 to 12 weeks depending on your location.