Warning!
This post is in our archives. Links in this post have been updated to point to similar bikes available to bid on eBay.
Every post will be sent right to your inbox every morning when new posts are made. We will never sell our list or spam you. Plus you can click links to bid or buy right from the email and skip the site entirely. Subscribe to Rare SportBikes For Sale today!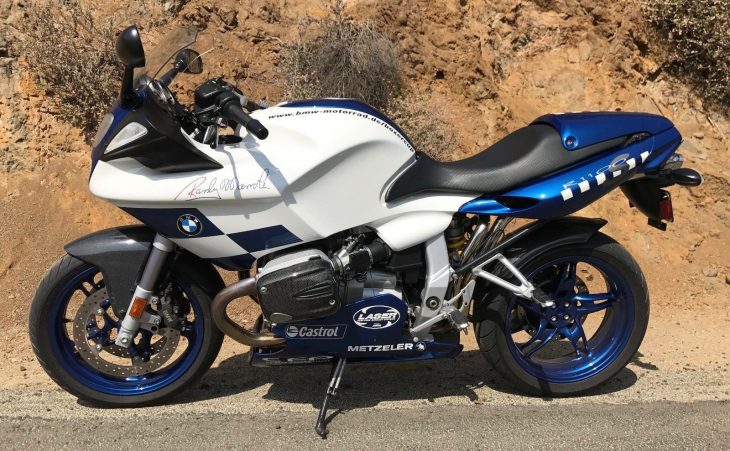 Before the BMW S1000RR rocked the sportbike world, fans of Germanic sportbikes had to make do with stuff like the BMW R1100S Boxer Cup Replika. Not that this is a particularly bad thing: the Boxer Cup Replika is a pretty great roadbike, although it wouldn't really hassle a GSX-R or R1 or even a Ducati 1000SS on track. But does a ZX-10 have heated grips and ABS? I think not.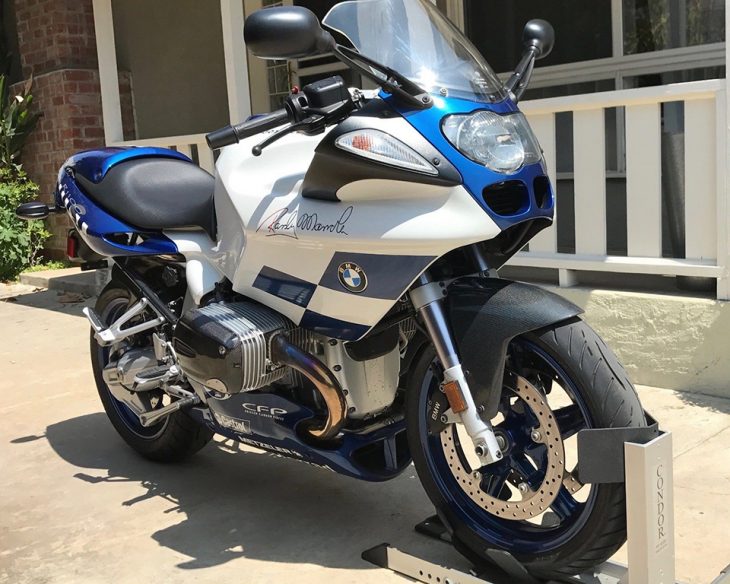 Handling was very good: the Boxer Cup had an increased ride height for improved cornering clearance, the Telelever front's usual lack of dive helped the bike under braking, and the upgraded Öhlins shocks at both ends helped to dispel the forkless system's sometimes vague feeling at the limit. The biggest issue with the R1100S is the sheer mass of the bike: the sportier S saved a lot of weight over the older RS, but the Boxer Cup was still pretty heavy compared to more aggressive rivals at 505lbs wet.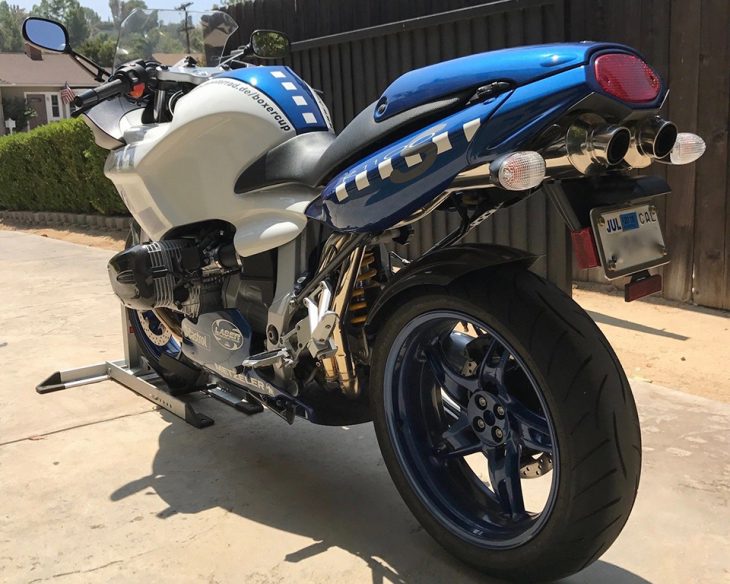 The other problem is the engine. The updated flat-twin incorporated plenty of modern technology but, at the end of the day, you're still dealing with just two cylinders lugging all that weight around, a sport-touring engine tuned for a bit more sport. Engine width is kept to a minimum by eschewing overhead cams: the pair of cams actually live in the heads, and operate the engine's eight valves via a set of short pushrods. A clean burn of the fuel-air mixture is helped by the twin-plug heads, and the cylinders themselves are cooled by air passing over them, while oil-cooled heads allow the bike to make pretty decent power and, presumably, help the bike meet ever-rising emission standards. The twin's displacement of 1085cc means great bottom-end torque and a strong midrange with a 98hp peak, but it does run out of breath pretty early.
Although the R1100S was the sportiest BMW at the time, it didn't really look all that competitive when pitched head-to-head against rivals. So to promote it, BMW sponsored a one-make race series, the Boxer Cup, as a support race for MotoGP at the time. The series managed to attract such luminaries as Kevin Schwantz and Randy Mamola, whose signature adorns the Cup Replika, and was supposedly plenty of fun to watch, with the close racing you'd expect with everyone riding the same machine.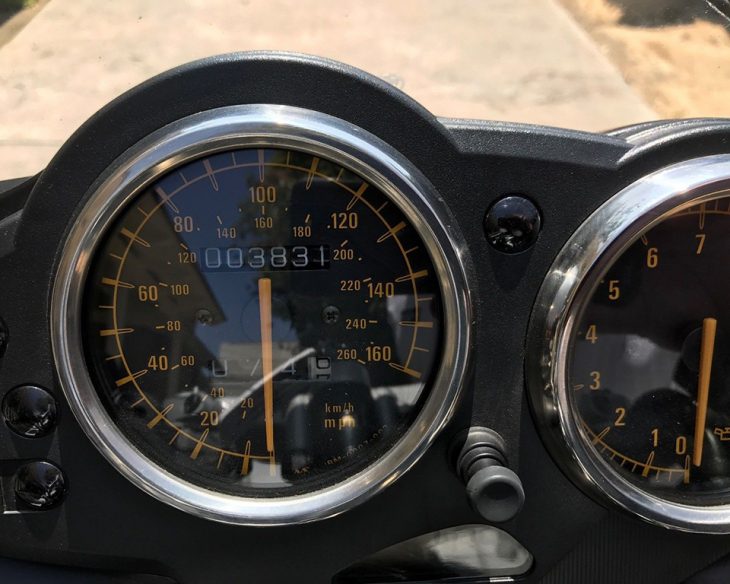 From the original eBay listing: 2004 BMW R1100S Boxer Cup Replika for Sale
After long deliberations, I am putting my 2004 BMW R1100S Boxer Cup Replika #245 on the market.  In 2004, just 300 Boxer Cup Replikas were offered for sale in the US, making this a very rare and collectible motorcycle. With less than 3900 miles on the clock (not a typo) this is one of the lowest mileage and cleanest BCRs that can be ridden daily or shown at events.  Currently registered in California until July 2019 with a clean California title in hand. 

The oil head Boxer twin engine powering this bike is legendary for its reliability (will easily cover 100k miles with just regular maintenance). The Cup is one of the rare collectibles that can be ridden as much as desired without worrying about breakdowns or high cost of maintenance.

Boxer Cup #245 is a non-ABS, non-heated grip model which equates to lower maintenance costs (ABS service at the dealer will cost over $400 by itself) and increased reliability (ABS are prone to malfunction over time). Deleted equipment also contributes to overall weight saving.

It is equipped with a very desirable and hard to source full Remus exhaust system. The sound is amazing compared to stock exhaust. Ilmberger carbon fiber rear tire hugger is another desirable upgrade.

Up until 2016 this bike was part of a collection and was not ridden. It was recommissioned in June 2016 with 3076 miles on the clock by San Diego BMW and included the following:

Gel battery
Replacement of entire fuel system including fuel pump, lines, etc.
Spark plugs
Tank professionally cleaned
Front Metzeler tire 120/70R17
Rear Metzeler tire 180/55R17
Oil service
Safety inspection

TOTAL $2631

Detailed service receipt from San Diego BMW will come with the sale.  Bike is garaged in upright position (not on side stand) and is never ridden in rain or adverse weather conditions. There are few tiny rock chips on the belly pan, the largest is in the photo gallery. Otherwise this Boxer Cup looks a like it just rolled off the showroom floor. Bike comes with keys and books. I will include a BMW Front Pit Bull stand at full asking price.

This is a rare opportunity to buy perhaps one of the lowest mileage Boxer Cups in the US.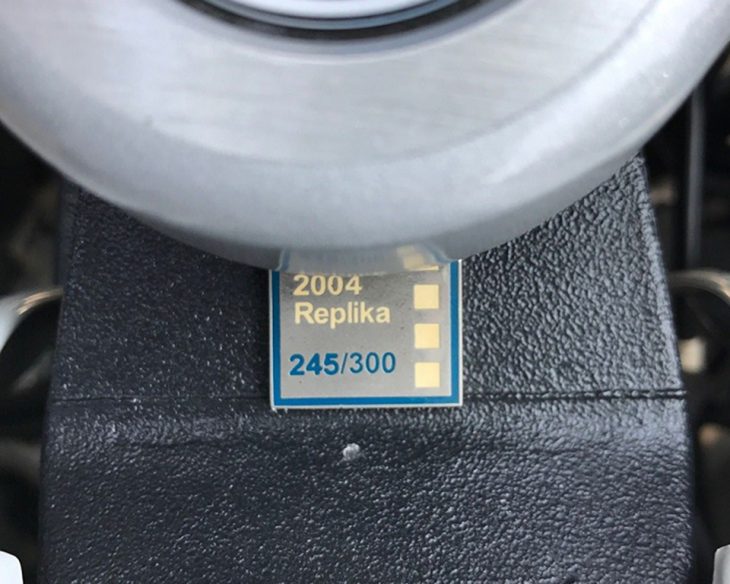 The $8,200 Buy It Now price is on the high side for a Boxer Cup, but this is a very clean, low-mileage example that has obviously been fastidiously maintained. 2005 and later bikes came with Laser cans to match the logo on the fairings, but the full Remus exhaust seen here is a desirable option and should give the flat twin a nice, throaty drone that will sound sporty but very different from a Ducati. As the seller mentions, this is a collectible you can actually ride.
-tad