Renamed the 955i in 1999 after the confusing introduction as the T595, Triumph's big triple had Lotus engineering under the bodywork.  A re-design in 2002 ( the 100th year of Triumph motorcycles ) resulted in 149 hp and a less generic fairing design.  The Daytona maintained the strong dual-tube perimeter frame and re-introduced the alloy single-sided swingarm.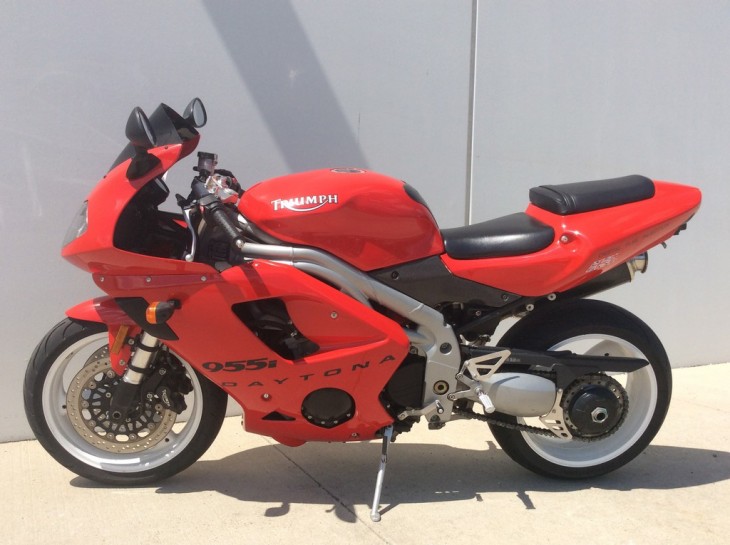 With forged steel crank and connecting rods, and forged aluminum pistons, the 955i could cope with 12:1 compression and nearly 11,000 rpm.  Handling the 155 mph are conventional forks and rear monoshock, kept in check by 320mm dual front disks with 220mm rear.  The fairings and carbon infill panels by transportation designer Gareth Davies hang together very well, the carbon complementing the black seat.  Close to 450 lbs. fueled, the 955i tested steady and smoothly powerful if not super quick.
Offered by a Milwaukee dealer, there are lots of photos of the Daytona and it looks very good.  Substantially stock, it does have an aftermarket 3-into-1 exhaust with carbon muffler, which is nice with the other carbon details.  Tires appear to be about half-life, on those racey white wheels.  From the eBay auction:
The Daytona 955i remains one of the few true superbikes to offer a rare combination of astonishing performance and maximum usability. Delivering 147bhp from its fuel-injected 955cc engine, the sheer drive from the second generation three-cylinder power unit remains one of its most alluring characteristics. Not to mention that the three-cylinder engine provides a unique sound that stands out in a crowd of four-cylinder sportbikes.
With just over 14,000 miles, this 955i is ready for a lot more fun.  The bodywork is in nice shape, with no apparent incidents.  No telling what the reserve might be, but if the service history could be developed ( or some maintenance negotiated ) this superbike might just be an excellent value.  All it needs is a white stripe, a larger Union Jack and maybe a roundel or two…
-donn