Before its recent resurgence as a classic, even a 999R could come under the customizer's gaze.  The air and eye flow more easily over this ultimate Ducati offering from 2005, beautifully presented by a leading northwest dealer.
Quite a bit more than the sum of its parts, the 999R was a portfolio of red and carbon, exquisite drivetrain engineering and special components.  The R is set apart from the rest of the line by the even more oversquare engine, with titanium rods and valves plus knife-edged crank.  The chassis has an adjustable headstock, and the beside hand and foot control adjustments, the seat console can be moved a little closer or further from the bars.  Glitter from Öhlins, Brembo and Marchesini were ti-coated, radially mounted, and forged.  2005 brought a revised swingarm but deleted the number plate on the triple tree.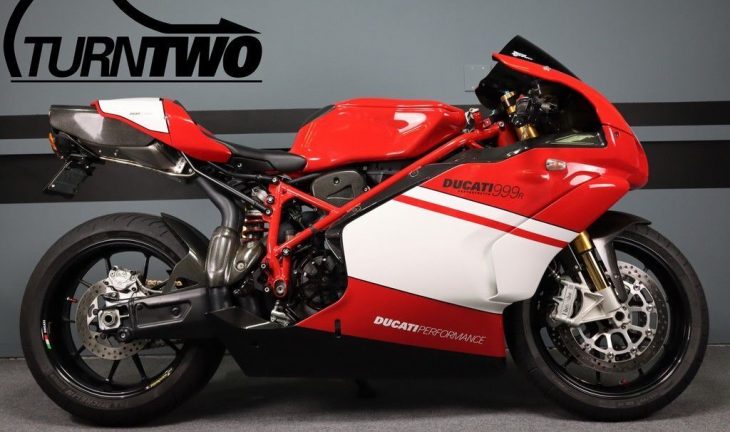 No info on ownership history, maintenance, or how the modified nose came about, but the rest of the bike looks excellent for its reported 11,135 miles.  The fairings and other carbon bits appear complete and undamaged, with other mods including a bar-end mirror, streamlined turn signals, fuel filler and stripes that are somewhere between the Xerox or Desmosedici.  The exhaust looks to have been coated, and the tail-ectomy deserves a closer look since the brake light can be a tricky detail.  Evidently paying by the word in the eBay auction –
Superbike with solo headlight fairing, Termignoni exhaust, and just 11K miles on the odometer.
Most collectors would take off points ( and dollars ) for almost every change from the factory original, but this 999R is asking over $20K so we'll have to see how it goes.  The overall condition doesn't seem like a totaled bike could've been the catalyst for the nose job, but that question is going to come up eventually.  The single headlight solution holds together well, and might lead the next owner to blast out even more miles.
-donn