Warning!
This post is in our archives. Links in this post have been updated to point to similar bikes available to bid on eBay.

Looks like this one found a buyer outside of eBay, but so rare it's still worth a peek…  -donn

Bimota DB2's make only an occasional appearance on RSBFS, expected with total production of just over 400.  The Tricolore is much more rare, and this rejuvenated example is in particularly nice shape.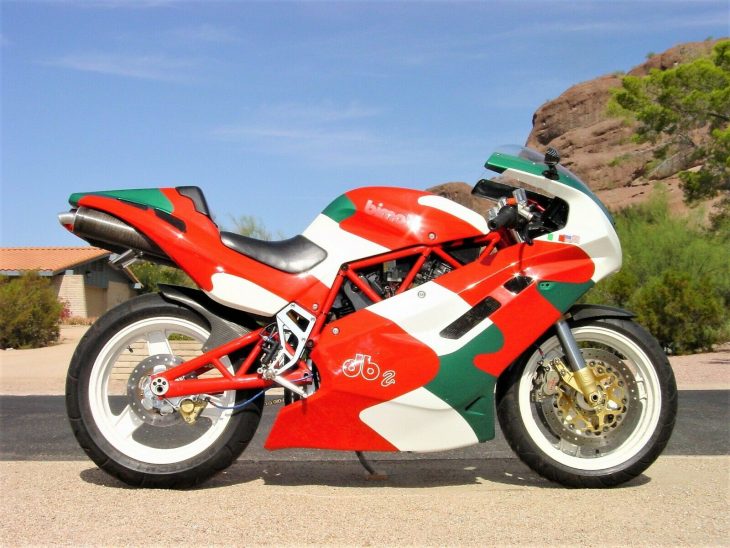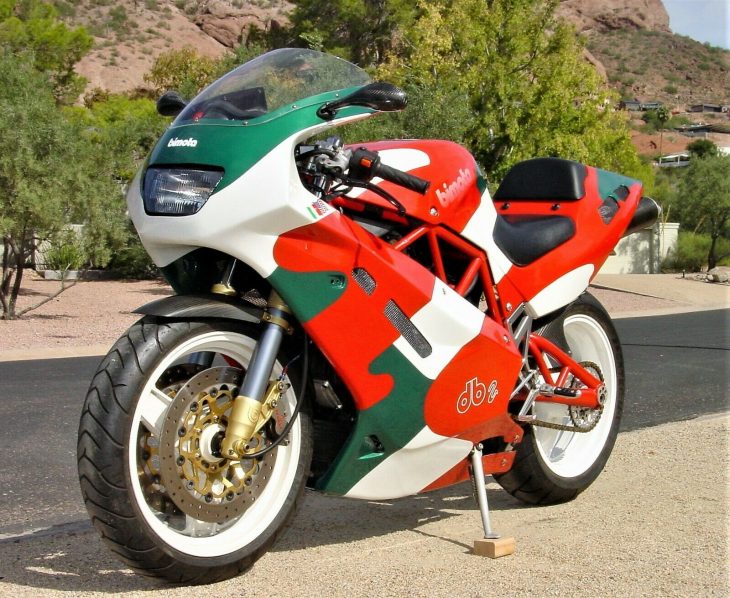 Bimota's second cooperation with Ducati used their 904cc desmodue, good for 86 air-cooled hp.  Showing their usual fabrication skills, Rimini whipped up a lovely chrom-moly lattice frame and similar swingarm.  Nothing if not light, the chassis helped the DB2 stay under 375 lbs. dry.  Generously sized 320mm Brembo brakes seem to fill the 17-inch front wheel, hung in 41mm Paoli forks.  Out back the Öhlins shock does it without a complex linkage, relying on a progressive rate spring for control as forces increase.  Fiberglass fairings revealed more than the DB1, and kept things easy to get to plus light.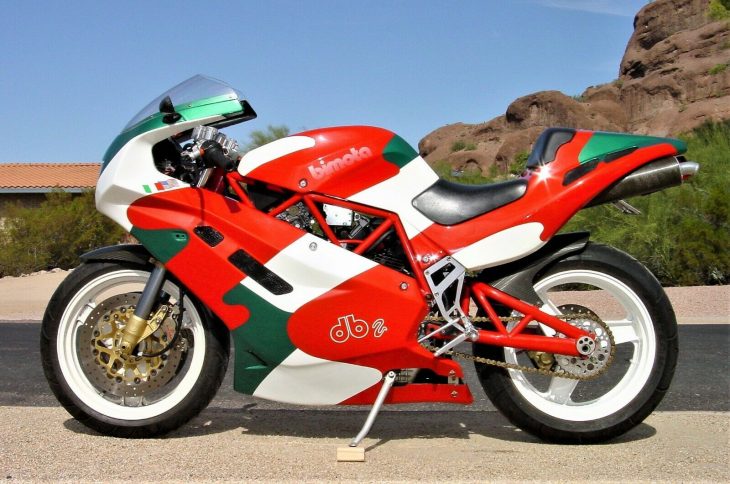 Sounds like this DB2 was on ice for a while and returned to service last fall.  The tail tidy looks good and retains most of the protection from the swingarm-mounted fender.  Not so sure about the lack of turn signals but they should be easy enough to replace if the new owner desires.  New master cylinders for brakes and clutch are a nice touch.  I'm almost thinking repaint but there's no comment on such in the eBay auction:
Properly stored (fluids drained, cylinders fogged, etc.) here in the dry desert in Phoenix since 2013. This past fall, I decided to go through it and get it ready for our winter riding season. I had new timing belts installed and a valve adjustment performed by the well-known Tom Hull Ducati (Tom is a former Ducati race mechanic). I had Tom pull the top end for inspection and he replaced one intake valve and guide and pronounced everything else in top shape. I did a compression check once all was back together and my gauge says 160psi in both cylinders so very good compression. I also replaced the rear master cylinder with a stock Brembo unit as the old unit was in need of a rebuild, and it wasn't much more to just buy a new one. Brake and clutch fluids are new (lines flushed) and a complete oil and filter change performed. Carbs were rebuilt with new diaphragms, needles, seats, etc. I also installed a new battery. Then I ruptured a disc in my back and have been unable to ride the bike comfortably since, so it's time for it to go.  

The bike is mostly stock with a few tasteful and functional upgrades. These include radial Brembo master cylinders for the clutch and front brake along with billet reservoirs and Kevlar lines. The engine was treated to a vented clutch cover and carbon timing belt covers. Bimota offered carbon mufflers as an upgrade option, and I believe this bike came with them from the factory (they were there when I got it). Rear view mirrors were replaced with carbon look ones (a pair of stock ones that I sourced are included) and the rear fender/license plate assembly was replaced with a rear fender eliminator "kit" (both done before my ownership). The front and rear turn signals had also been removed but the wiring and connectors for them are still there if you want to add some back (I do not have the originals). 
The bike comes with its original Bimota keys for ignition, gas cap and seat lock. It also comes with its Bimota tool kit, Factory Owner's Manual and factory rear stand (with both original thru pin and beautiful custom stainless side pins. I have copies of the original service and parts manuals for the bike as well. I also have a few spares including an extra headlight, an extra new K&N oil filter, and some miscellaneous bits and pieces. 

As with all Bimotas that are actually ridden, there is some minor spider webbing around some of the fastener points. There is also a small crack in the gelcoat next to the gas cap, but it is not structural and does not go through the fiberglass. (It got dinged when I had the tank/seat cover unit off for service.) If I were to keep it, I would replace the tires as they are the same ones it came with when I bought it some years ago. Other than that, the bike is "press the button, ready to go" and currently registered here in Arizona. It looks great and runs better! 
Early Bimotas are being snatched up now that there's a ( green ) way forward, and seller references a 2016 DB2 auction which brought $17K and Bonham's website confirms.  More important, you can ride this DB2, any worthy Ducati indy can work on it, and parts availability should only improve.  Reviewers praised the light weight, available torque, and rake of 23.5 degrees which made it a quick handler ( and required a steering damper ).  If the condition checks out it looks to be a very rare and nicely maintained winner.
-donn