This one is a touch older than the one I posted yesterday, but is even cooler with the vintage colors and logos.
1988 Honda VFR400 NC24 For Sale on Craigslist (California, $4250)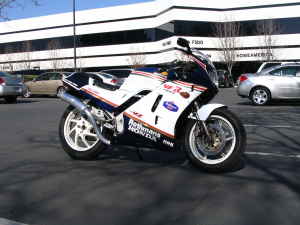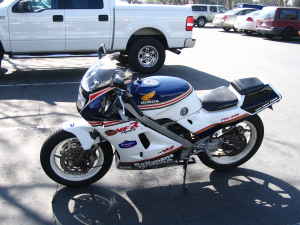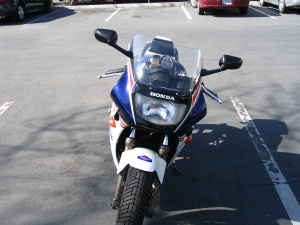 quote from Craigslist listing:
1988 VFR400 NC24 Japanese import. If you're looking at this add you probably know all about what this is and specs etc. This one is street legal and titled though for some reason the title lists it as a 1977 CB400F if this bothers you don't call me and complain – I'm not messing with it. Bike has 26,000 KM on it or around 16K miles on it. Motor is strong. Carbs have been gone through. Has "cheap" Chinese replacement plastic on it but tank is original paint. Some numb skull rattle canned the old fairings purple and pulled the stickers off! (I will slap them if I ever find them) I have the old plastic and will give it to whoever buys the bike. This one is de-restricted ( 2.2K resistor installed in lieu of speed sensor cct) which removes the 112MpH top end limit. I've got another ignition box on order which should remove current 12,500 RPM limit and set it to 14,500 – but I'm not going to bother trying it out as I want to live to see 50. New parts just installed – Chain, Battery, Plugs,fork seals,exhaust pipe treated and plated, fan temp switch etc. It's not perfect but I use it to go to work and back everyday. I'm getting too old to be squashed up like a pretzel for more than 30 miles so she's going to have to go. On the flip side of that – this thing is more fun than a barrel full of monkeys in the twisties and can seriously embarrass neophyte boy racer types (you know who you are!) I'm only half heartedly trying to sell this thing so unless you're seriously interested – please don't bother me – and no I do not want to trade it for your Chevy Blazer or anything else but money. Thanks
I quoted the entire ad because it so full of detail and killer commentary! Bike looks like a fantastic and affordable early example. How many of these could there be in the U.S. that are titled and alive?
dc