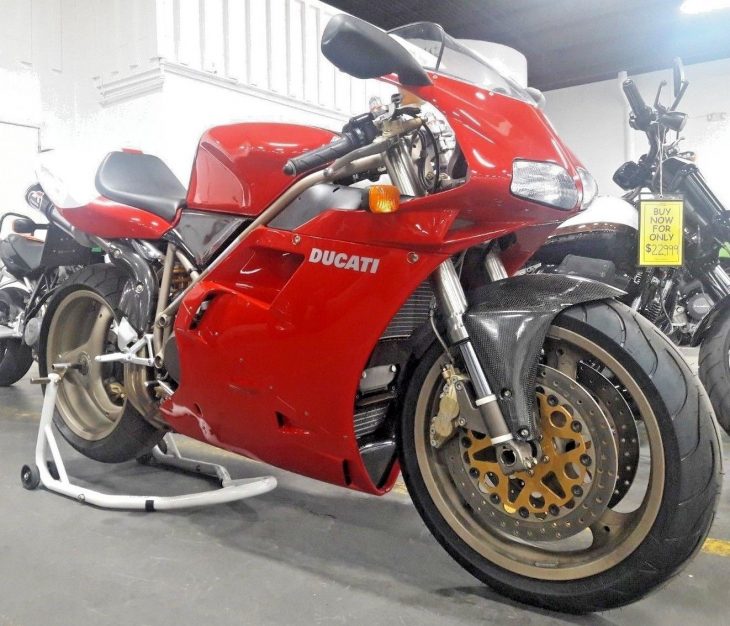 As homologation specials from Italy go, the 1998 Ducati 916 SPS isn't the rarest of them all, though the seller claims only 50 were ever "officially" brought to this country. As a matter of fact, this is the second of the 1,098 1998 916 SPSs that we've featured this week. What sets this example apart is the claim that it was originally imported to the U.S., and the fact that it hasn't even covered its break-in miles yet.
The 1997 and 1998 Ducati 916 SPS was the bike with which Duc introduced and homologated the stronger 996cc version of the 916 engine for World Superbike competition. It had more compression, new heads, bigger, stronger cylinders, titanium connecting rods and a lighter crankshaft. High-lift short-duration cams meant the motor still revved freely, notwithstanding its new midrange shove. Street friendly it was not.
The machine carried a lightened frame, Ohlins shock paired with a Showa fork and the close-ratio gearbox from the 748.
Despite this example's low mileage, there is rash on one of the mirrors, the brake lever and lower mounting point of the carbon fiber front fender, which indicates that those first few hundred miles got pretty exciting. The seller doesn't mention the rash, but it's there. Beyond that, the bodywork, gauges, wheels and exhaust look like new, and the bike appears to have been treated to a new front tire fairly recently.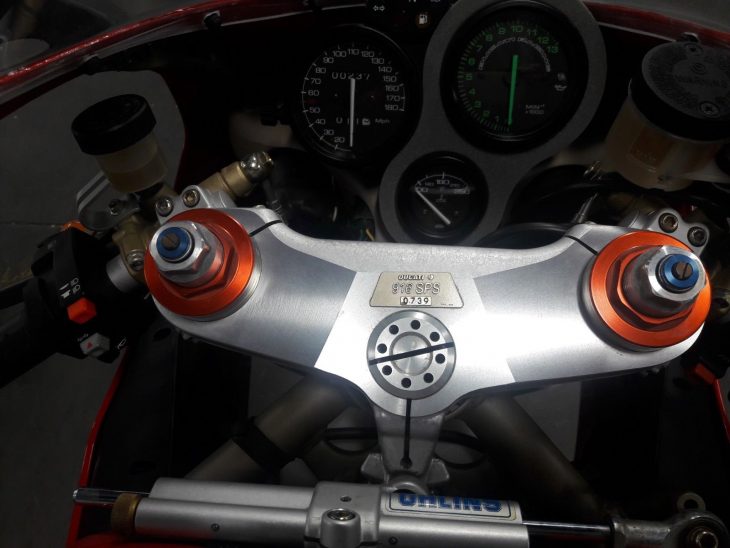 From the eBay listing:
You are purchasing a

1998 DUCATI 916 SPS SUPERBIKE RED LIMITED EDITION #739, 1 OF 50 IMPORTED TO USA.

MINOR SCRATCHES/ EXCELLENT CONDITION. ONLY HAS 237 MILES. FROM THE M. VANN COLLECTION.

OTHER BIKES FROM M. VANN COLLECTION AVAILABLE CALL FOR DETAILS.

CLEAN TITLE. VIN# ZDM3SB5V7WB001204

WE CAN HELP YOU ARRANGE FREIGHT TO ANY WHERE IN THE WORLD. (MUST ADHERE TO AND COMPLY WITH EBAY RULES)

WE HAVE HUNDREDS OF SHIPPING CONTACTS, SHIPPING CRATES AND PACKAGING MATERIALS TO PROPERLY PACK YOUR MOTORCYCLE FOR SAFE DELIVERY

BIKE IS BEING SOLD WITH RESPONSIBILITY FOR CUSTOMER TO PICK-UP. BUT FOR EXTRA CHARGE WE CAN HELP YOU SHIP IT ANYWHERE.

WE DO HAVE CRATES IN STOCK, CALL US TO GET A QUOTE. WE SHIP ALL OVER THE WORLD.

BUY AS IS.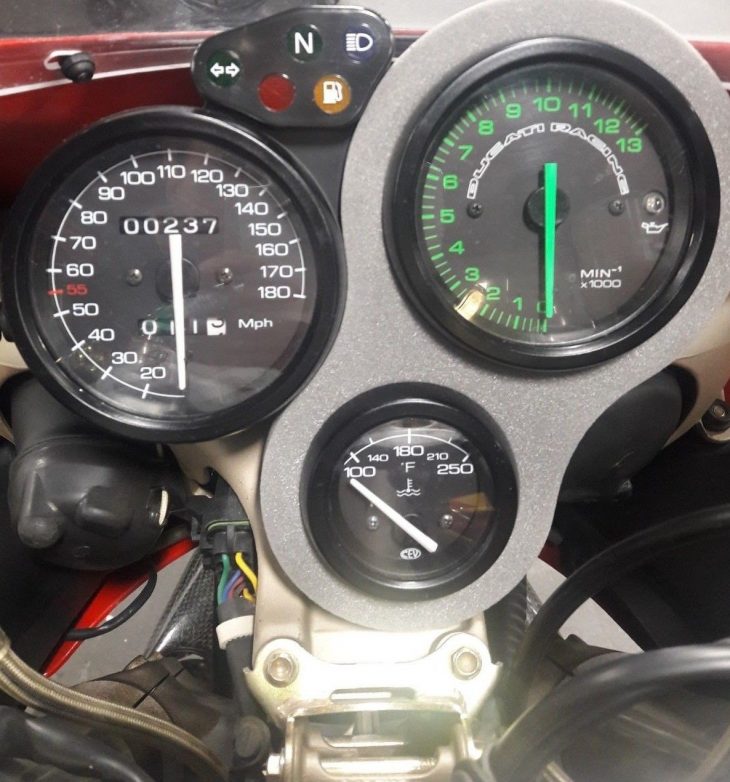 The Buy-It-Now for this bike is set at $39,000, which is aspiration even considering the mileage. Even if this is one of just a handful officially imported here, you can find very nice street legal SPS bikes for less than half this ask all day long.