Most often seen in much racier livery, the 1990 Honda NSR250R / MC21 was a comprehensive update from the previous  MC18.  This South African example creates a subdued excitement in black with grey accents, and quite original with 3,800 miles it's a great candidate for re-location.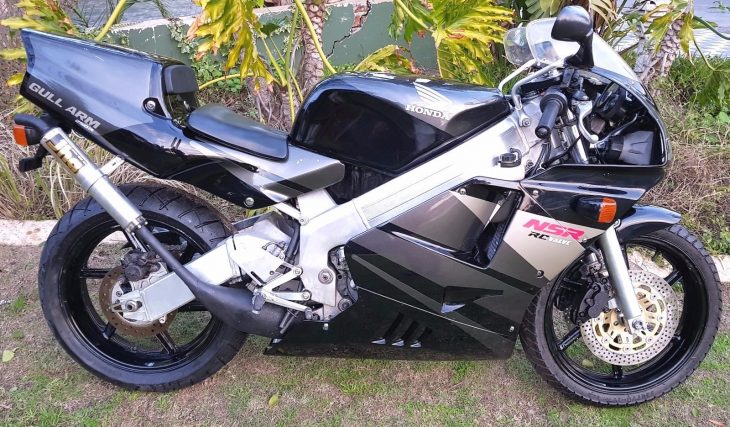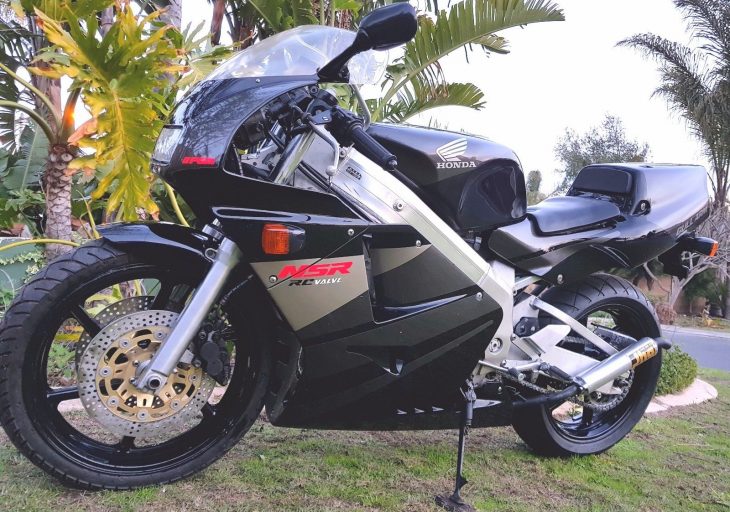 The 249cc two-stroke twin ( and its 45 hp ) on board the NSR250R remained quite similar throughout the nine year life of the model. The electronic control unit controlling ignition, carburetion and reed valves was frequently updated, and PGM-III incorporates throttle and gear position sensors in the interest of widening the torque band.  The revisions for 1990 included a beefier chassis and curved "gull" swingarm, which allowed more room for expansion chambers near the footpegs.  Wheel sizes were matched at 17″ and the rear was widened to 4-1/2 inches.
Coming out of Cape Town, this NSR250R has very low miles for its age and appears to have had careful garage mates.  Often gray market offerings have led a full life of junior licensees, and sometimes pictures only cloud the issue, but this one looks excellent.  Part of the ECU was tasked with restricting top speed and this has been worked around, as well as an aftermarket exhaust.  From the eBay auction:
Derestricted, jetted for sea level and fitted with full JHA expansions.The engine is in superb condition, starts first kick everytime even when cold.Low mileage combined with mind blowing performance makes this one not to be missed.The screen has some discolouration due to age. The tires were replaced recently as the original factory tires had plenty of tread but were cracked from being on the vehicle for 22 years. A complete service,including replacing brake pads and and two stroke oil has been done less than 500 Km ago.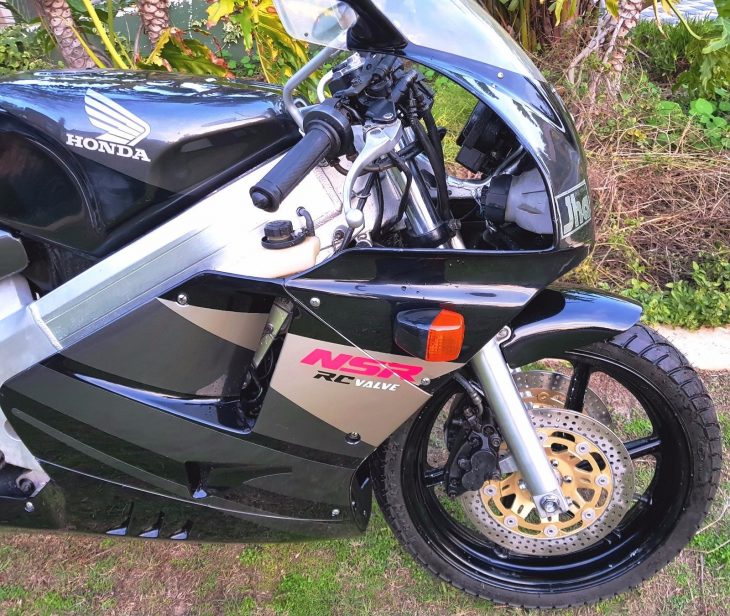 The world has certainly gotten smaller and the owner's shipping estimate seems to make sense even from that far corner.  Perhaps an inspection by a local shop could be arranged, putting some condition questions to rest.  Still the number of tasks to legally bring this bike to your garage shouldn't be underestimated.  This excellent NSR250R might be worth the effort for the collector with the right-sized opening in his garage…
-donn