Warning!
This post is in our archives. Links in this post have been updated to point to similar bikes available to bid on eBay.
In the world of import two strokes, you may be intimately familiar with RGs, NSRs, RZs and the like. What you don't hear much about is the MVX. One of the oddities of the popcorn set, the MVX represents Honda's engineering might coupled with a healthy dose of experimentalism. Unlike the RD/RZ/RG set with parallel twins (or later, the RG V-twins), Honda pulled a page from their GP racing manual and created a V-3 triple cylinder machine. With a configuration similar to the Ducati L-twin layout – but with two front cylinders – the MVX was no wider than a parallel twin while showcasing an extra cylinder. Balancing the odd number of reciprocating parts was accomplished via a slightly heavier connecting rod on the 3rd, upright cylinder. The result was 49 horsepower at 9,000 RPM, with redline starting at 10,500 RPM.
You would be forgiven to pass this off as a glorified moped – with flashy graphics but no street creds. After all, is that a drum brake up front?? In reality, what appears to be a drum brake is actually a clever inboard single disk. The centralized location eliminates the torque created by traditionally-situated single disk implementations, although heat buildup during extreme use would continue to plague the setup. Honda eventually adopted a conventional twin disk arrangement for the NS-series of bikes that were to follow.
From the seller:
The bike is imported from Japan.
Not registered yet in the U.S.
This bike is sold without title.
Low miles (2884km)
Engine number MC09E-1014852

The engine running to half a year ago, I stayed for a while. So, Cleaning of cab & spark plug. The color of the tank is slightly peeling off. Coating inside the tank

Part of the engine & frame that has been simple painted . A little cracked of single seat. The end of the stand is broken. Battery replacement required.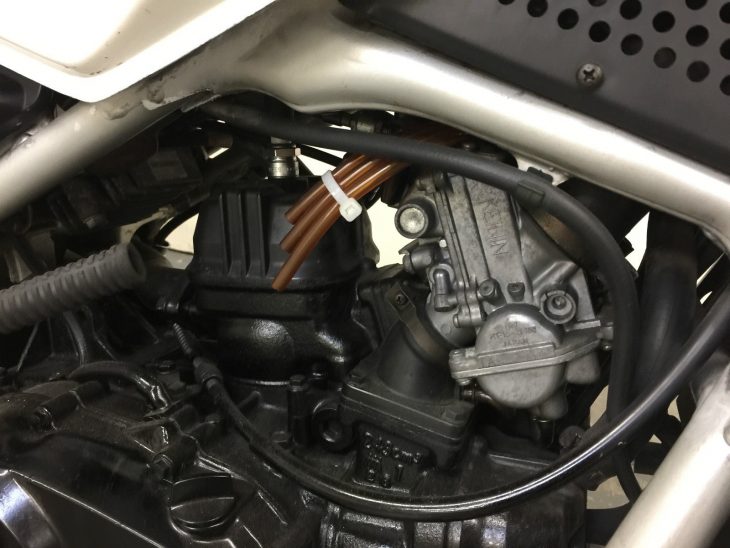 The seller has done a good job providing photos and video of the bike in question. Like the last bike from this seller, this MVX lacks any title. Given that the MVX never came near US shores (Japan and Pacific Rim countries were the sole recipients), getting this one licensed for road use might be a bit dicey. For its age and origination, this bike looks to be in great shape (which is not always the case with overseas imports). As always, RSBFS recommends that you do your homework and plan ahead if you have a hankering to act.
If you decide to act, better bring your wallet – the opening ask for this one is $5,800. We have not had enough history with these bikes to really derive a value, so it will be interesting to watch this one and see where it goes. The MVX is very rare in the US, but how much value does that add? What do you think? Does this 1983 Honda MVX250F tickle your fancy? Would you prefer this over a similar year two stroke from Suzuki or Yamaha? Check it out, then share you thoughts in the comments. Good Luck to the seller and all potential buyers!
MI