Redmond, WA – 25,106mi – $2,500 No Reserve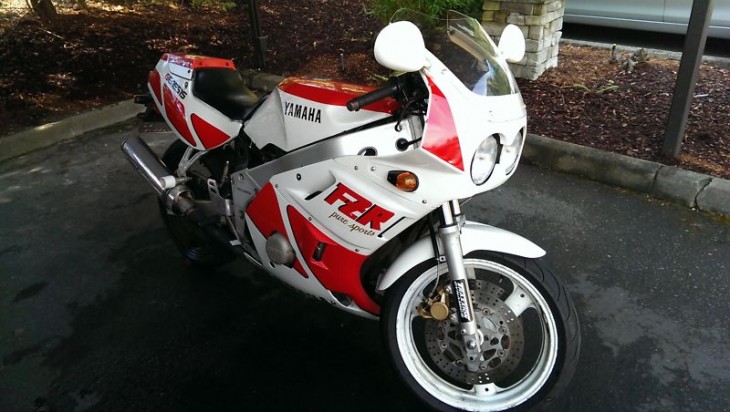 There is a reason that this bike is still considered one of the best handling bikes… because they are. And how does a 59hp inline-four blasting its way to 14,000rpm sound? Sounds great to me! You get all of Yamaha's trick goodies of the day including, but not limited to, the EXUP system, widening the power band. All tucked into a lightweight package and covered in classic late-80's Yamaha graphics.
This one comes to us from the great Northwest and could be a bargain, depending on what you are looking to get into. I wouldn't call this one show queen by any means, not yet anyway. But what we do have here is an awesome winter project. You could wrench on this thing while the rain falls and be ready to ride it when spring comes around again.
From the seller:
I am looking to sell my 1988 Yamaha FZR 400. Has 25,106 miles, and has been taken good care of since I bought her outside of the issues mentioned below. A lot of the issues listed below I inherited from the previous owner(s) and I rode as is. Mostly cosmetic issues – I don't have the time or the money to see her fixed up to the level of pristine that I would like, and so I want to pass her off to someone who would be able to do so. With a little bit of money and time, you will be able to take an already fantastic machine to another level. Handling in the corners is superb, and she has more than enough power and acceleration on the straights to put a smile on your face as you shift up at the higher RPM's. I also have a set of rear pegs, and stock mirrors that will go along with the bike.

This bike is by far the most fun I've had riding a motorcycle, and I am very sad to sell her but it is time to move on.

The Good (work I have had done):
Rare rear seat cowl.
Front fairing has new red decals (not shown in pictures).
Carb work: cleaned, o-rings and manifolds replaced.
Oil changed 300 miles ago, new air filter.
All fluids changed, spark plugs changed.
Rebuilt Stator.
New Battery.
New chain, sprockets, and brakes recently serviced.
New Fuel Pump.
Upgraded forks.
Aftermarket Hindle exhaust.
Larger rear wheel.
Tabbed until next May.
Clean title in my name.
Service records during my ownership.
Not dropped during my ownership.

The Not So Good (issues I rode with as is):
A little rough around the edges.
Trip odometer does not work (likely a stuck gear inside the clocks) and I have it set at 999; the overall mileage counter is functioning and accurate.
Scratches on one side of the tank and on the bottom of the lower fairings on the Yamaha logo.
Has an idling issue (probably a Jet or Carb screw fix – I just don't have the time).
Crack on the dash where the info lights are (neutral, high beam, etc).
No horn is currently hooked up.
No one has chomped on the starting bid of $2,500 yet, but it should happen. I would be all over this if I had the liquid assets, but that's me and I love FZR400's. This could be a real nice fixer-upper for the winter to have ready to ride when the sun starts to shine. I would put this bike in the low $3k range given the imperfections and work needed too make this awesome. If you're interested, you can check out the auction here, but act fast!
-JS