Warning!
This post is in our archives. Links in this post have been updated to point to similar bikes available to bid on eBay.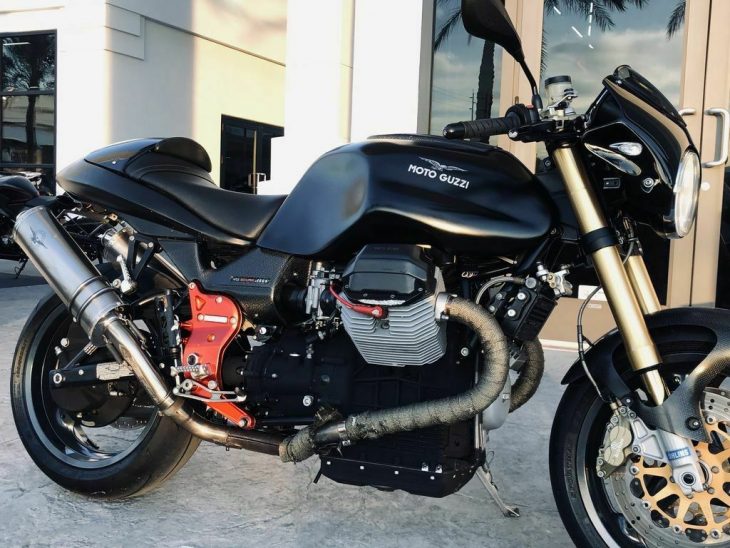 "Scura" is Italian for "dark," making this V11 Scura Sport Moto Guzzi's answer to the eternal question: "How much more black could it be?" And the answer in this case is, "None. None more black." The flat black treatment can look sinister or cheap, and sometimes both, but I think it works well here, showing off Guzzi's massive, nearly automotive-looking v-twin lump.
And before anyone decides to scoff at Guzzi's sporting credentials, keep in mind that they made very successful, if unconventional, sportbikes up until around 1980 and can claim many racing successes. That being said, their glory days were long past by the time the late 1990s rolled around, and Moto Guzzi wanted to do something about that with the introduction of an almost modern sports motorcycle. Enter the V11 Sport.
The styling was modern and retro at the same time, particularly if you opted for the absolutely lurid green and red color scheme that was meant to evoke the "Telaio Rosso" V7 Sport of the 1970s. I think the bike looks great in those colors, but it's not for shrinking violet types… Suspension was of good quality and adjustable at both ends, aided by an updated frame design. The biggest news was the new six-speed gearbox that may not have been absolutely necessary in a nearly 1100cc v-twin package, but was necessary in order for the bike to be taken seriously and offered significantly improved shift quality for the shaft-drive powertrain.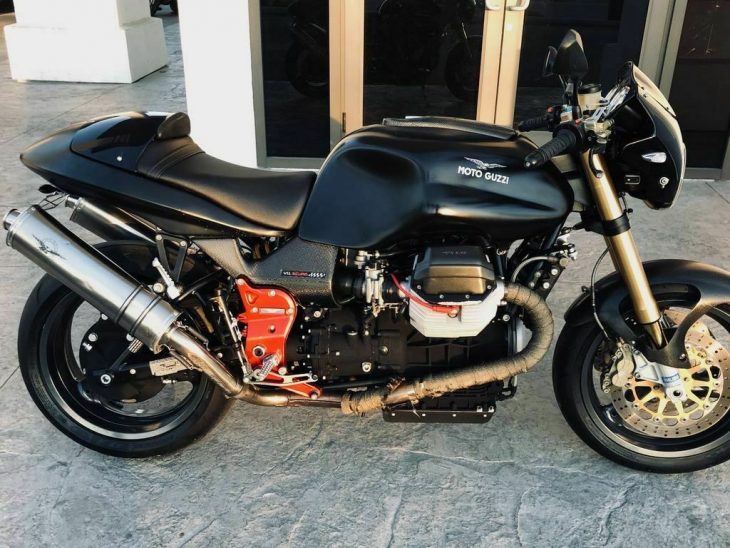 The V11 is fairly heavy for a sportbike, but it carries its weight well and handling is excellent, once you get used to the shaft drive and longitudinal crank's torque reaction. Unfortunately, Guzzi's famous stability didn't help at least one previous owner of this example: note the rash and dings on the right-hand exhaust and the fact that the right muffler is pushed noticeably inboard when viewed from the rear. At a glance, none of it looks too serious, but probably worth a closer look if you're interested in this bike.
From the same Las Vegas dealer as this week's Aprilia RS250: 2002 Moto Guzzi V11 Scura Sport for Sale
It's a divisive topic, but I personally don't mind heat-wrap on an exhaust, especially a murdered-out hot rod-styled bike like this one. But if you're asking nearly $7,000 for a V11 Sport, it behooves you to at least make sure it looks presentable: that bit of flapping wrap on the right-hand side looks pretty terrible. The carbon looks dark and shiny, but there is some serious damage/wear on the red frame plates. The turn signals aren't stock at either end, but are relatively tasteful and unobtrusive, and easily changed to match the new owner's taste. The exhausts are Guzzi-branded performance parts and so should be throaty without being obnoxiously loud. Overall, a pretty high price to pay for a decent but slightly shabby example of a quirky-yet competent roadster.
-tad