In four seasons with the factory Aprilia WSBK team, Max Biaggi presented two championships, a second and fourth.  Aprilia returned the favor with a – North America only – Special Edition commemorative which also shows off how far their carbon fibre fab skills had come.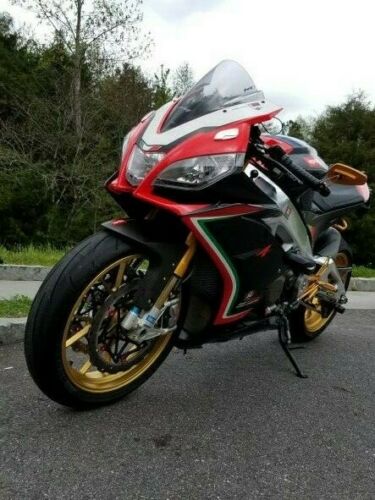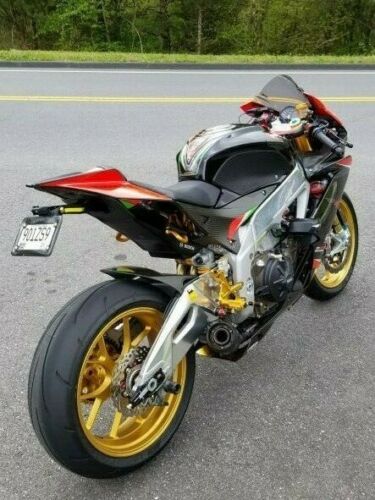 The RSV4 engine is a complex V-4 but has been a reliable winner since its intro in 2009.  The 65-degree V is way oversquare, using 13-to-1 compression, and 48mm throttle bodies each with two fuel injectors.  Taming the 180-odd hp is a suite of electronic aids, from the Euro-3 ECU with ride-by-wire throttle and three performance maps – to the Performance Ride Control system which encompasses traction, wheelie, and launch control.  A cassette type gearbox would make trackside gear selections a relative snap.  All Öhlins suspension are a regular feature on the Factory models and Brembo M430 monobloc brakes are feathered by Bosch ABS with race, road, and rain settings.  The fuel tank shape was massaged with WSBK rider feedback, and the forged alloy rims make room for a 200mm section rear tire.
Props to the seller for reeling off 17,818 miles on this RSV4, and keeping it in seemingly display condition.  Not sure how many of the carbon bits are from the Aprilia counter, but the matte finish is easy on the eyes and a lot more resilient than a glossy coat.  The extended warranty might allay some worries if it can be extended.  RSV4 fans might comment on just how the turn signals were re-incorporated into  the headlights.  Clearly too much too list, but the auction does it in style, with a link to most of the bling.  Just a few of the comments from the eBay listing :
X-tremely clean, highly detailed, well serviced and adult owned "weekend rider" – 17,800mi. and still under zero-deductible and transferable extended warranty until 1/1/2022 –

Matte finish Twill weave Carbon Fiber extras   E  V  E  R  Y  W  H  E  R  E   !

Front and Rear OEM CF Fenders, OEM CF Seat Side Panels, Full CF Belly Pan, CF Oil Cooler Screen Frame, CF Upper Chain Guard, CF Front Drive Sprocket Cover, CF Air Intake Covers, CF Tank Edge Guards, CF Air Puller Covers, Sliders and more…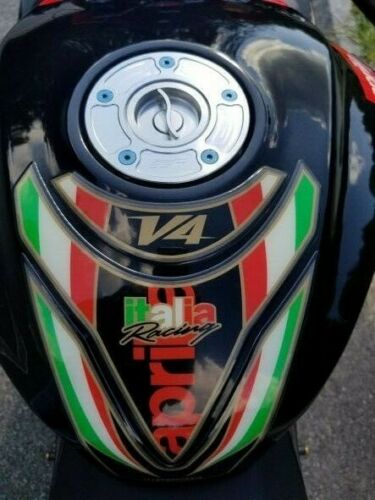 Max was at the far end of a twenty-year factory riding career, and went out on top after the 2012 championship.  Feeling out his early retirement, he pinch hit for Aprilia in 2015 and just last month set an electric bike speed record ( 283 mph ! ) at the 3 mile-long runway meant for the space shuttle in Titusville, Florida.   Aprilia continued their streak in 2014 with Sylvain Guintoli aboard, but ran into the wall of Rea after that.  Saddled with the longest model name ever, it's a very fitting tribute and a great value at half the sticker with no mods, this RSV4 looks good enough to show but too fun not to ride.
-donn