Warning!
This post is in our archives. Links in this post have been updated to point to similar bikes available to bid on eBay.
One of the most common questions asked of the RSBFS staff is "how much?" How much is my bike worth? How much should I pay for a grey market two stroke? How much this bike go up in value (note the assumption it will go up)? Value is an interesting indicator – not just of a particular bike, but also of the market as a whole. That brings us to this particular bike: A ZERO mile Ducati MH900e. We posted a quickie on this bike in the past, as part of a larger MH900e montage (see that post here). The interesting thing is that montage listed FOUR examples of the MH900e available at the same time. And this zero mile bike is still for sale. In fact, there is a second zero mile bike located in San Francisco for sale at this time (you can check that bike out here).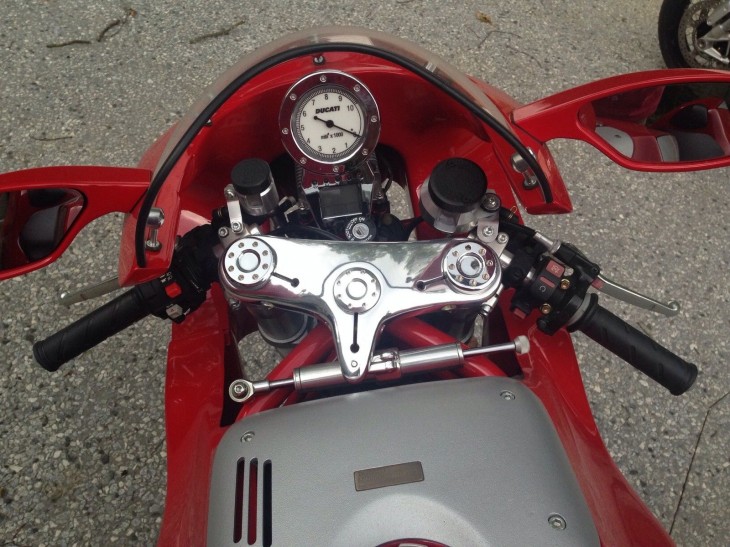 So what happened to the MH900e market? When it was first released via the internet as a Year 2000 wonderbike, the MH900e was a marvel. Investors bought out the entire first year bike run in a single day. It was predominantly investors and speculators that day, buying on the promise of a rolling work of art, built in limited numbers and with a foundation steeped in history. Planned for 2000 units total as model years 2000 and 2001, the final run did not complete until 2002. Speculation continued to follow the bike; after the initial sale, market prices for the MH900e went up significantly. From that time onward, prices rode the fluctuation roller coaster – dropping down until sales re-ignited and driven upwards until sales stalled yet again. Rinse and repeat.
From the seller:
If you are landing on this page you clearly know what you are looking at. You are bidding on a very special early 2001 MH900E with "100" miles. The reason for the quotation is because this bike has 0 miles on the odometer. My understanding is that the dealership has to pay additional fee's if they sell a brand new vehicle with "0" miles. Thus I believe it was recorded as "100" miles instead of "0" The title and registration (which has been paid for 2014) will reflect 100 miles on the bike. The bike is immaculate. The paint and body have been professionally detailed with mezerna polish and swissvax wax so the the bike looks better than the day it came off the dealership.

Bike comes with:
MH900E Stand
MH900E Numbered Shirt
MH900E Commemorative Numbered Plaque
MH900E Manuals
MH900E 2 Black Keys

For any collector, these items are a must to be included to retain top value for the bike.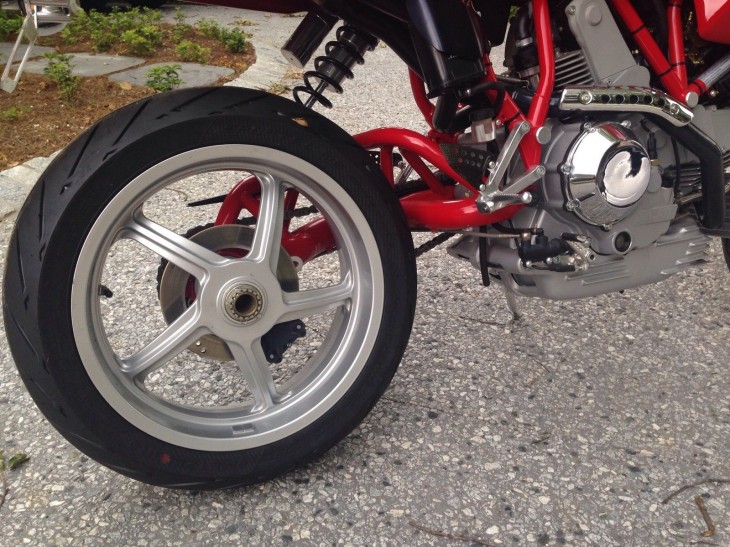 Some fun facts on the MH900e: The bike was designed by Pierre Terblanche (think 749/999), and was initially to have been assembled by Bimota staff. The implosion of the Rimini company in the wake of the vDue two stroke fiasco forced Ducati to bring the assembly back in house, resulting in the production delay. Another fun fact: this particular MH900e has been at auction again and again. At least six times by my count. And still looking for a home. Opening bid is $21k (!) It looks like market interest in this particular model is in the waning phase, top dollar prices will take longer to achieve, and prices will start to correct downwards. The MH900e will continue to be a special bike – but from current sales data we might have to wait a bit for it to become the "it" bike again.
MI