Today's eye candy is brought to you by the letter "B" and the number "2." That would be "B" as in Battle and "2" as in Twins. Straight from the The American Historic Racing Motorcycle Association (AHRMA) website: "The Battle of Twins concept was born in the late 1980s as modern Superbike racing became increasingly dominated by inline four-cylinder machines. BoT racing kept alive the thunderous roar of twin-cylinder machines from British, European and American manufacturers." Indeed the BOT concept has provided some very interesting racing across many different manufacturers (you do remember the HD entry "Lucifer's Hammer" don't you?), and was the proving ground of some great riders. This particular bike was prepared for Jimmy Adamo – a racer we sadly lost in 1993 at the Daytona 200. Fortunately the machinery lives on, which brings us to this gorgeously prepared Ducati racebike.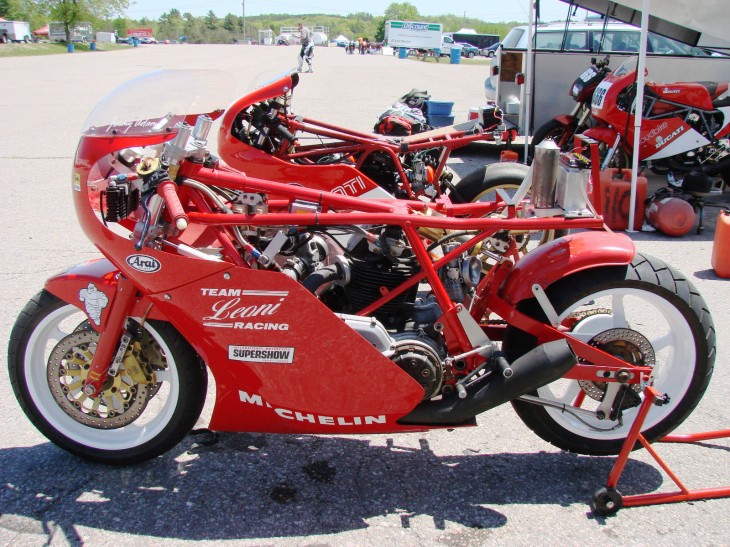 From the seller:
This amazing Ducati Mille BOTT racer has quite a history. Legendary Ducati tuner Reno Leoni built this machine for the late Jimmy Adamo to replace the Daspa-framed machine that he had been campaigning for many years. Using a rare, limited production endurance frame & swing arm, Tecnomagnesio wheels, a Double System air shock, Marzicchi M1Rs, and the team's seriously modified '86 Mille engine, the machine was tested by Adamo – but he elected to stay with the Daspa package.
Reno Leoni is a tuner with racing in his blood. He has worked with Jimmy Adamo, Mike Baldwin and Freddie Spencer just to name a few. He started his career back with NSU before becoming involved with Ducati and Moto Guzzi. If there is speed to be had, Reno could always find it; hit bikes had the highest trap speeds at Daytona year after year. This looks to be a pretty interesting piece of history. Toss out the history, and this looks to be one very cool Ducati bevel racer with excellent pedigree. Check it out here, and don't get too lost in the pictures!
MI