Warning!
This post is in our archives. Links in this post have been updated to point to similar bikes available to bid on eBay.
We seem to be celebrating an Italian theme on RSBFS this week. That is not too surprising, as pound-for-pound the Italians produce more lust-worthy hardware than most. I'm not discounting the ruthless efficiency of German machines, nor the bright spots in the Japanese flood of scooters; however if you tally up the total number of bikes produced by a given nation and identify what makes you drool, one small country stands out above the rest. Why? A unique combination of passion and performance would be the likely answer. Can we name a few brands that we might like to own? The list is long and glorious: Ducati, Bimota, Moto Guzzi, Moto Morini, Cagiva, Laverda, Aprilia and MV Agusta. That doesn't even count the bespoke builders of dreams: Mondial, Morbidelli or Ghezzi-Brian. Have I missed one? Probably more than a few. Nobody but the Italians are able to artfully blend the focus of performance with visceral good looks and color. Today's example is this gorgeous Benelli SEI 900.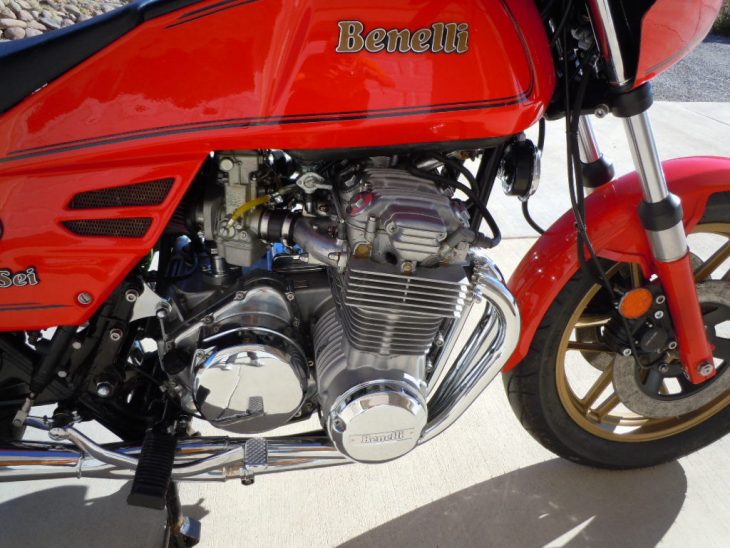 Look past the miles-deep pool of red paint. Shield your eyes from the sparkle of the chrome. Ignore the mags, the quarter fairing, the set and the stance. Strip everything away and go back to basics. In this case it is a fabulous 900cc inline six banger. The first to release a six cylinder into production – originally a 750 – the Benelli SEI 900 utilized a larger bore & stroke to provide additional motivational might. With a quarter fairing evoking a period Laverda or Moto Guzzi, the SEI was a technological, aural and visual bombshell of the time. Eschewing the 750's six-into-six exhaust in favor of a six-into-two, the SEI looked more like a normal motorcycle from the side, although from the front it was all but impossible to hide the width. This seller obviously cares about this bike and it's history, so we'll let him pick up the story.
From the seller:
There is a good article that says this is probably 1 of approximately 80 Seis 900s imported to the US. "By the end of production in 1989, fewer than 2,000 examples of the 900 Sei had been built; some sources claim no more than 80 of them made it to the U.S. market." (Motorcycle Classics, May/June 2015).

1983 BENELLI SEI 900
Built June 1982, titled 1983
VIN: ZBNB0AB00DP011261 Engine No: BGB011248
History:

Original owner (name unknown) bought and rode the bike a little over 9000 miles and then parked the bike in his collection. No significant changes were made. In 1987, second owner (Sterling, MA) bought part of the collection including this Sei 900. The second owner was told it did not run so he stored it in a shop intending to restore it, but never rode it. He sold it to me in mid-2014. I cleaned the carbs, etc. and it started!

I did a complete 1 year effort to do a ground up restoration; inspecting and replacing anything needed except one thing: it has the ORIGINAL BODY PAINT!

Mechanically inside this bike looked like new, still crosshatches on cylinders, great compression, good shifting, etc. Fortunately, the tank was very clean. Outside it had some rust on the frame, wheels, and rear drive chain.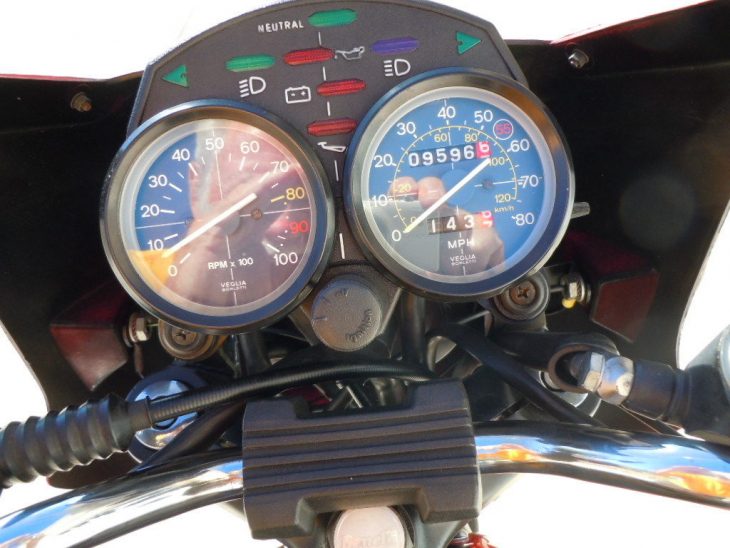 Key restoration items include the following:

– Powder coat the frame and wheels
– All new wheel bearings and brake seals/pads
– Replaced the starter gear and shaft and 2 bearings in the transmission
– Honed cylinders and light valve grind
– New seals and gaskets throughout
– New fork tubes and dampers
– Rebuilt carburetors
– 1 new badge (original missing)
– New seat cover, fuel cocks, and rubber parts
– Re-chromed original exhaust system and other chromed parts

Majority of these parts were original Benelli replacement parts bought from Benelli-Bauer GmbH in Germany.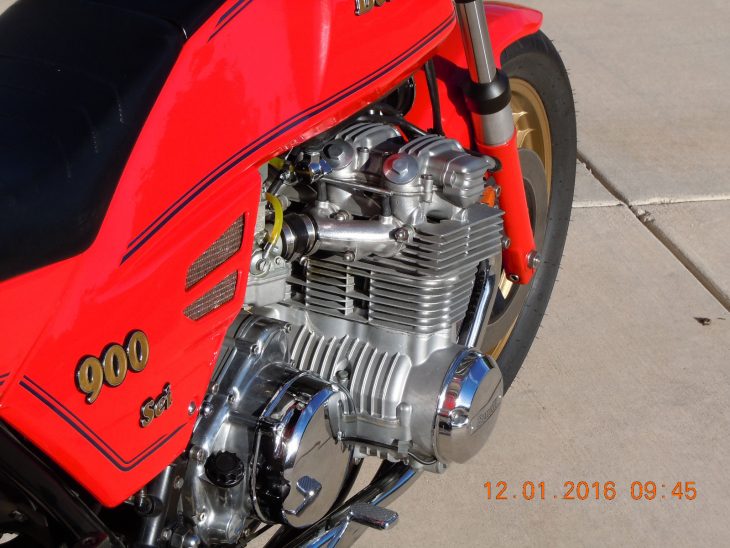 Upgrades not original style parts include:

– New complete electronic ignition system
– New regulator/rectifier system (original alternator like new)
– New rear shocks
– New rear drive chain and sprockets
– New tires and battery
– K & N air cleaners
– Some new stainless steel hardware

It had 9,272 miles on it when I bought it; it has 10,008 miles now.

Runs and rides absolutely GREAT! Starts instantly, although a bit cold blooded (needs a few miles to warm up). Pulls evenly and shifts fine. And yes, it is as smooth as the books and reviews say.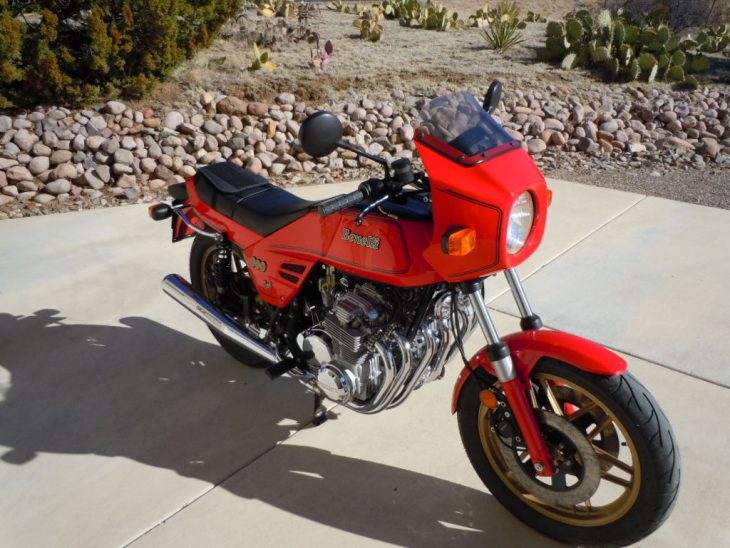 Sure, in comparison to some Japanese, upgraded-spec, chain-saw razor with pipes and slicks, this SEI is a flat dog. If your idea of riding involves pre-mix and a quarter liter of squish band, feel free to look away. But somehow I doubt a true enthusiast can look at this and not be in awe – even a little – at what Benelli has created. Once owned by the legendary DeTomaso namesake, you can be sure that performance (such as it may be defined) exists within. This seller has done a tremendous job on the restoration of this machine, as well as the presentation. There is strong interest in this auction, and I'm sure a new owner will be celebrating the arrival of a dream very soon. If you're into Benelli (or even if you've only just discovered these marvelous machines), act quickly. Very few SEIs came stateside, and very, very few are in this level of condition. Check it out here, and let us know what you think. Viva Italia indeed!
MI