Warning!
This post is in our archives. Links in this post have been updated to point to similar bikes available to bid on eBay.
Every post will be sent right to your inbox every morning when new posts are made. We will never sell our list or spam you. Plus you can click links to bid or buy right from the email and skip the site entirely. Subscribe to Rare SportBikes For Sale today!
Even if you're an Italian bike fan, this one might have flown under your radar. But that's what we do here at RareSportbikesforSale.com: let you know that interesting bikes like the Moto Guzzi V65 Lario exist. I especially love 80s Moto Guzzis because they're generally pretty durable and very affordable. They won't set the world on fire with their performance, but they're quirky, stylish, and pretty good handlers, if you allow for the fact that it's a 32 year old motorcycle on 16″ wheels.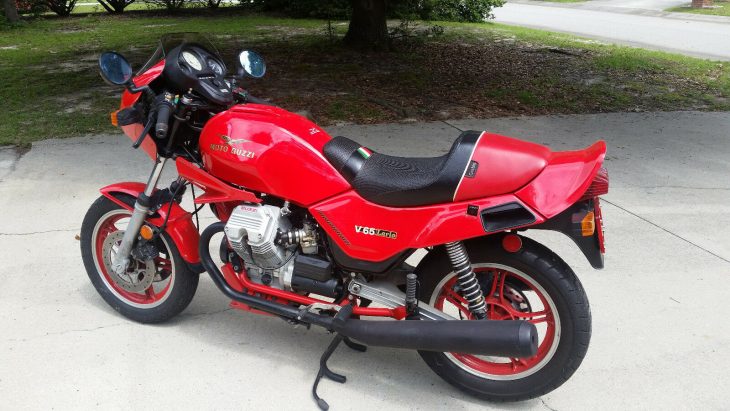 The bike could work up a decent turn of speed, with 60hp and a five-speed gearbox that meant the bike could do an honest 110+ with good handling for the time. Oddly, Moto Guzzi's 643cc "middleweight" was a more mechanically sophisticated machine than their big Le Mans. It was still air-cooled, but had four-valve Heron-style heads, with the four valves operated by pushrods and rockers, similar to the setup used in the later four-valve Daytona. Heron heads, if you're not familiar, have flat surfaces instead of domed or hemispheric combustion chambers, with recesses cut for valves and spark plugs. Instead, Heron-head engines generally use dished-top pistons to allow room for the fuel/air charge. This means the heads are easier to produce, and Heron heads have been used in a number of automotive applications, including Jaguar's V12.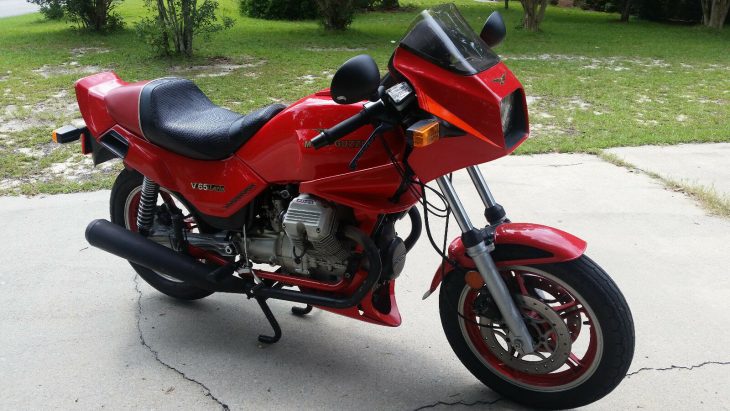 Unfortunately, the 4-valve "small block" Guzzis have a reputation for catastrophic failures. Digging around the Guzzi forums, the problem likely stemmed [ahem] from the two-piece valves that tended to fracture, although the cam and valve springs have also been blamed. Who knows? You might get lucky and the bike will be fine, or a combination of softer valve springs, a set of Suzuki 250N valves, and careful use might see you through, but… caveat emptor.
Hopefully by now that's either been an issue and rectified, or never will be a problem, but I do get a bit nervous when I see a low-mileage example come up for sale. Easy to check though, with those cylinder heads sticking out proud of the bodywork like that, and the owner may be aware of them being checked recently or repaired. Bottom line: if you buy one, try out the updated valves and springs recommended by the Guzzi message boards and ride it with your fingers crossed until it breaks, then see about finding a two-valve engine from a different model. I believe the 750cc Nevada engine is a popular choice for this, if you can find one.
I love the huge, white-faced Veglia tachometer on a bike that probably doesn't even need a tach, the padded "safety" dash, and the button key. If you've never seen an original Guzzi key from the era, the fob basically folds over once the key is in place, forming a sort of knob you turn to switch on the ignition [see above]. Bodywork is swoopy and very 80s, but will provoke questions wherever you go. First and most common: "Moto Guzzi? Who makes that?"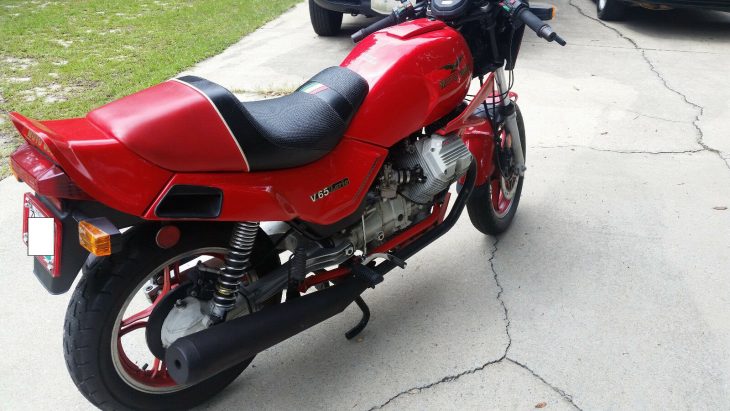 This isn't pristine, but is in very nice condition and should make a great, quirky weekend ride if you want something interesting and don't have a ton of cash to splash. If you're looking for a budget classic, the V35 and V50 are obviously not as fast, but sweet-handling and much more reliable. All-in-all, it's a funky little bike, but there are reasons they don't go for very much and have low miles. If you like to tinker, it might be worth a shot.
From the original eBay listing: 1987 Moto Guzzi V65 Lario for Sale
I bought this bike in 1993 and I am the second owner. Very low miles always starts up no problem, idle is a little rough when cold but fine when warmed up, carb balance is difficult to maintain on these even with the right tools. Previous owner had megaphones on it and said he had changed jets to suit, I put the original exhausts back on and messed with jets but couldn't find any better set up than what it has now, it runs great accelerates very well  and it is pretty fast for an old 650.

The only issues I have had are leaking fuel lines and carb/intake connections, all of which have been replaced.

There are a few cosmetic issues that I tried to show in the photos, mainly with cheap plastic and paint. The fairing has a crack across it which has been repaired with a fiberglass patch across the back leaving a small step, this could be buffed and painted but the crack is only visible from the underside. The belly fairing also has a stress crack down the front; nothing has been done to it. Some of the engine paint is peeling under the carbs due to the fuel leaks and on the bevel gear housing; the front forks have a few scratches due to tag stickers and their removal. Some of the red wheel paint is flaking but this is an easy fix.

The air cleaner box has been removed and K&N filters installed and the seat replaced with a Corbin single. The only other mod was to replace the remote choke lever assembly with individual carb mounted levers. I have the remote assembly.

It has the original tool kit, a few spares, including the megaphones, at least two keys and a clear title.

I can deliver to a shipping point within 50 miles of Columbia SC.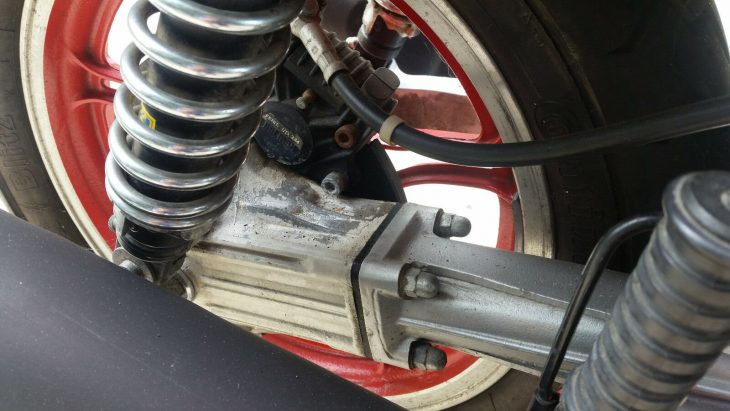 The price is right, the bike is funky, and it makes Italian v-twin noises, although there's more sound than fury. The biggest limiting factor could be the 16″ wheels: rear tires are particularly hard to find in the correct sizes, and some of the bigger Guzzis suffered handling issues when fitted with the smaller hoop. They look a little strange too. 18″ wheels supposedly fixed the bigger Gooses, so maybe that's an option here, if you don't like the way the Lario goes around corners. Parts may also be hard to come by, although these days you can probably get used bits from Europe via eBay.
-tad