Simi Valley, CA – 8,000mi – @10,500 BIN
We have had a nice little streak of two-strokes here on RSBFS and I am never one to mess with the streak. The Honda MC28 was the pinnacle of the NSR250's as it was the last generation. It featured PGMIV technology as well as the Proarm swing arm as seen on other Honda models of the time. This is what 250 two-strokes are all about!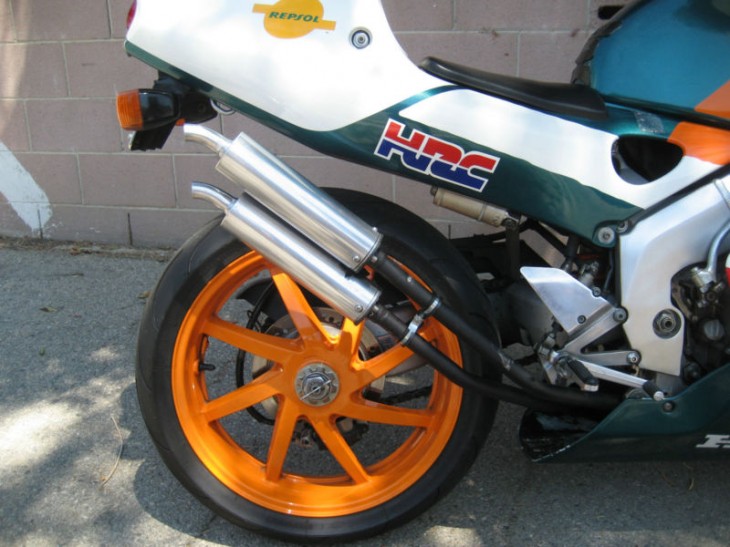 I bet you are thinking, wow a titled and registered NSR250SP Repsol for sale right here in the US! Don't worry, I did the same for a couple seconds. But alas, it was not the case. This doesn't look like an SP Repsol as there are some slight graphics difference and mainly the wheels being orange and not black that came on the SP. However, it is damn close and still a good looking and awesome NSR250.
From the seller:
THIS BIKE IS IN GREAT CONDITION. IT HAS 1200 MILES ON A NEW FACTORY TOP END. ENGINE IS IN PERFECT CONDITION. FEW SCRACHES ON BODY, 2 SMALL CRACKS IN FRAME, A FEW PAINT KNICKS ON FRONT WHEEL. IT IS A SIX SPEED TWO STROKE RACER WITH CALIFORNIA LEGAL PLATES AND REGESTRATION. IT HAS THE 030 CARD FOR POWER, NIKON CHAMBERS, MODIFIED AIR BOX WITH WIRE HARNESS. IT HAS A SINGLE SIDED SWING ARM, DRY CLUTCH AND RUNS ON UNLEADED GAS. IT ALSO HAS LEGAL HORN,TURNSIGNALS,LOCKINGGAS CAP AND LOCKING TRUNK. IT HAS NO SPEEDOMETER OR ODOMETER. IT COMES WITH STOCK CHAMBERS,STOCK AIR BOX REAR PASSENGER PEGS, REAR WHEEL STAND AND PIT BULL FRONT WHEEL STAND. (SEE PHOTOS). IT WAS PURCHASED USED FROM A NAVY SEAL THAT BOUGHT IT IN TAILAND. THE BUYER WILL PAY FOR ALL SHIPPING CHARGES. FOR ANSWERS TO ANY QUESTION PLEASE E-MAIL
It seems like a tidy little smoker. And with a California registration, it could be ready to ride legally. I would like to know if there is a title or just a bill of sale with the bike. The seller is definitely looking for a premium price for an NSR. If it were a real MC28 SP-Repsol, then yes $10.5k is a good price. But as it sits now, I think it is a little over priced. I could see this thing moving in the $8k range. You can check out the auction and decide for yourself here.
-JS