Warning!
This post is in our archives. Links in this post have been updated to point to similar bikes available to bid on eBay.

6.7.2019: This bike has SOLD! Congratulations to buyer and seller! -dc

Welcome to the next installment of a new RSBFS feature, where we take a once a month trip out of our normal realm and look at some of the other amazing bikes the world has to offer when you leave clip ons and fairings behind. Last month we took a look at a TDR250 and this month we're kicking things off strong, with a unicorn supermoto from an esoteric Swedish bike maker! -dc
The 2011 Husaberg FS570 graced our shores for just one model year, which is a shame, because it could have left the mark that the likes of the Husqvarna 701 Supermoto did just a few model years later.
The FS570 is essentially a big-bore dirtbike with some suspension tweaks and 17-inch sportbike wheels front and rear clad with sticky Michelin skins. The brakes were by Magura, and featured a four-pot radial caliper up front. The best part of the FS570, clearly, is its chameleon-like ability to be most things to most people, with just a few mods here and there. Granted, nobody is saying a new set of wheels for what was an $11,000 bike when new will be cheap, but it's certainly more cost effective than buying a similarly high-end dirt bike.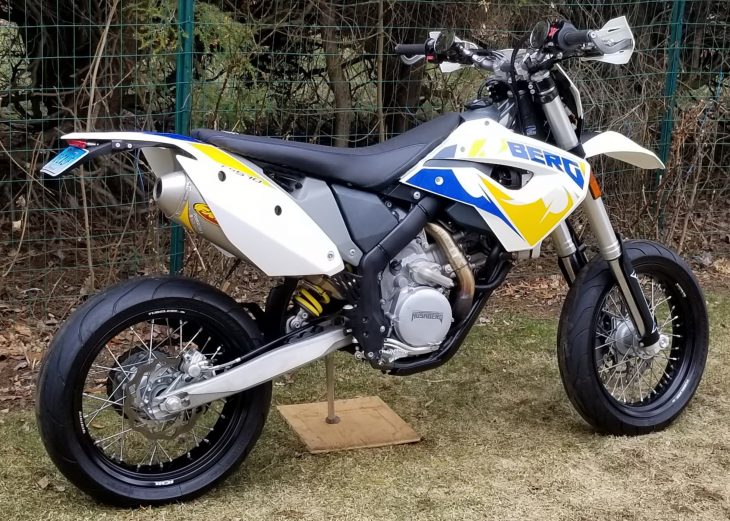 The big 'Berg made just shy of 60 horsepower if the forums are to be believed (official horsepower ratings are non-existent) out of the 566 cc laid-over thumper. In a chassis that weighed 257 pounds dry, this bike is fully capable of taking it to sport bikes, especially on tighter tracks or canyons. The Husabergs shared WP suspension components with KTM, and the swingarm was the same unit as the one on the KTM 560 SMR. They were initially intended to be the ultra-premium range from the Austrian company, but were eventually let go when Big Orange bought Husqvarna a couple years later. No need for two Swedish dirtbike companies that start with H in your portfolio, it seems.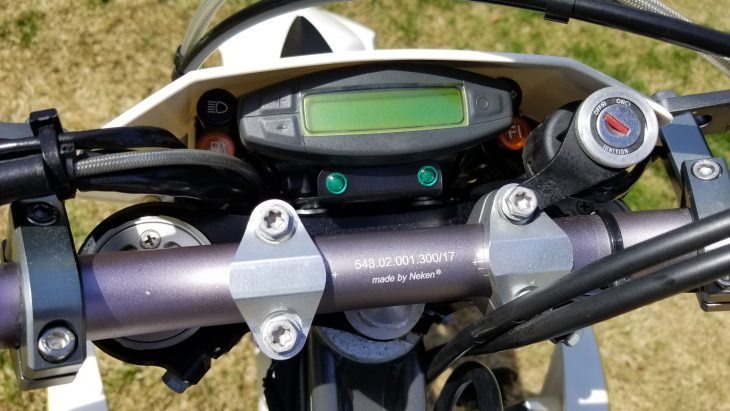 From the seller:
Factory, street legal supermoto, only sold in the US for 1 year, but if you're looking at this, you probably know all about it. Guaranteed to be the only one around. Stand out from all the other bikes!
-Clean title in hand
-Only 2900 miles
-Oil changed regularly, every few 100 miles or so.
-Valves checked 2 times. Still at factory specs. No adjustment ever needed.
Mods:
-Husaberg Race Map installed by Town & Country Cycle Center in Hamburg NJ
-FMF Powercore 4 slip on
-Upgraded fuel pump from Cycle Works
-Husaberg radiator fan kit
-Zeta handguards with LED turn signals
-SM mirrors
-Seat Concepts seat
Also comes with the original mirrors, exhaust, unmounted new parts include all new factory bodywork & seat, Shinko 705 tires,
& a brand new Fisher seat. (the most comfortable seats made!)

Located in Fairfield, CT. Will accommodate shipping but all associated costs are buyer's responsibility.

Price: $7,000
With less than 3,000 miles on the dial and a new exhaust, race map and fuel pump, we suspect this thing will pull a little past the factory horsepower ratings. With comfort upgrades like a seat concept seat and Zeta handguards, this thing is as ready for short commutes as it is the track. As a bonus, it comes with all the stock takeoffs. With regular valve checks and oil changes, this bike is ready to make everything else in your garage seem like a compromise.