9.27.14: This Featured Listing sold in just 1 hour, a new RSBFS record! Congratulations to both buyer and seller! If you have a very good to excellent condition sportbike, that is priced to sell, contact me about purchasing your own Featured Listing. -dc
Aprilia has a history of producing bikes that feature shall we say functional aesthetics. From the bulbous but incredibly effective original RSV through the dangerously angular restyle and the pterodactyl-ous Dorsaduro and brutally-ugly Tuono, their bikes may not be pretty, but they sure do the job, and they do it with tons of charisma. And the current Aprilia RSV4 certainly follows this trend of looking functionally over-styled, with a strange, finned tailpiece and triclopean face.
This particular example features the very trick Austin Racing exhaust (from the UK, not Texas) and race-replica colors to celebrate Max Biaggi's Rossi-free success in World Superbike. It's a very clean, tastefully upgraded bike with less than 2,000 miles on the clock.
The RSV4 features one of the most comprehensive and cutting-edge electronics suites available on a motorcycle at any price, coupled to one of the best-sounding motorcycle engines ever built. Everyone loves the sound of the Yamaha R1 with its flat-plane crank, but it basically sounds like it wants to be a V4. Just like the one in the Aprilia. It's powerful, flexible, exciting, and sounds amazing, even with a stock exhaust. But who has one of those, anyway?
I'm torn as these are simply awesome machines, with performance and pedigree. But I do wish the style was just a bit more subtle… But if it isn't beautiful, you can't argue with the tiny dimensions. It's an amazingly compact motorcycle, and hugely effective, winning comparison tests all over the world while the race bike tears up World Superbike. You can find bikes with more straight-line speed, or ones that are more user-friendly, or cheaper. But it's simply the best overall package available anywhere.
From the seller: 2011 Aprila RSV4 APRC SE – Max Biaggi Special Edition
Bike has less than 2,000 miles on it, and to be honest, I've been having so much fun on my Honda Grom, my Aprilia just sits around.
Full service recently completed by MotoCorsa here in Portland, OR.
Updated with Titanium Austin Racing Exhaust
Special ECU mapping by AF1 (well known in the Aprilia world)
Austin Racing fold-up levers and mirror block-off plates
Bike is immaculate and was well-loved.
Additional photos available upon request.
Bike comes with all original equipment, including a special edition Max Biaggi motorcycle cover!

Priced to sell at $14,000.00!!! SOLD!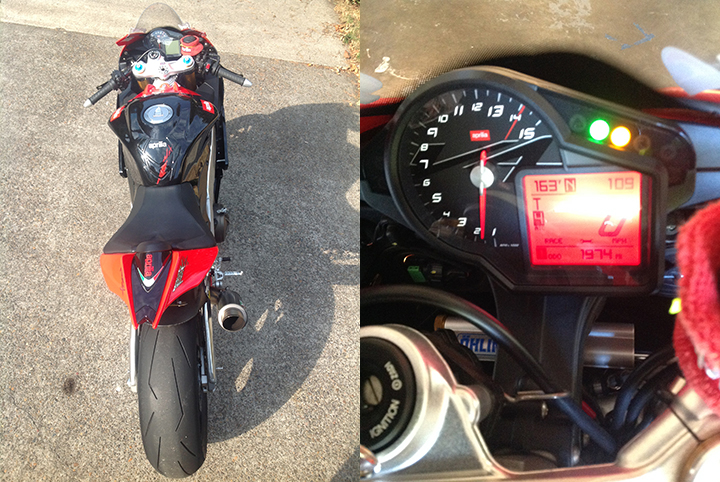 I love this bike and at $14,000 this is a screaming deal. Just pull off the Max Biaggi bodywork and hang it on your office wall, fit this with some black race bodywork, and ride the wheels off it. Or just park it in the driveway and rev the hell out if it to impress your neighbors.
-tad