Update 6.17.2020: This bike has been sold for a little while but I'm behind on my updates. Congratulations to buyer and seller! -dc
In these trying times there is tremendous fear as to what might be to come. Worried about raiding your retirement account to purchase that perfect collectible specimen of a RC30 / OW01 / Mh900e that you are not likely to ride? Then how about setting your sights a little lower – as in lower seat height, lower capacity, lower investment risk and lower entry point. The only things that are not reduced with this plan are the cool factor and the fun. Today's 2005 Aprilia RS50 is the perfect example of this "less is more" philosophy. This is an awesome little bike that allows you to channel your inner Max Biaggi and ride at 10 tenths without risking everything. It looks great and would make a fantastic addition to your man cave or garage. But please don't miss out on riding – there is absolutely *nothing* like riding a slow bike fast. Those who have tried it would tell you about it, but they can't stop smiling long enough to talk.
Featured Listing: 2005 Aprilia RS50
The RS50 is not your average little moped. For those raised on MB5s, AR50s and YSR50s (you know who you are), this Italian wonder is a mini GP bike on steroids. Under the full MotoGP fairing enclosing an aluminum, liquid cooled, single cylinder Motori-Minarelli engine (later units were built by Derbi), the RS offers some pretty advanced technology including a full aluminum frame, 17 inch cast wheels with a large 300mm front disk, and 40mm forks. Dry weight slips by under 200 lbs. Power – if you have to ask – hovers around 10-ish provided the tach is pointed at the 1:00 or 2:00 o'clock position. And that is where the fun lies with riding a bike such as this; nothing teaches you corner entry speed, conservation of motion, gearbox management, tachometer awareness and – perhaps most importantly – how to tuck in tight.
From the seller:
2005 RS50 with 1412 miles. Bike is all stock except for Leo Vince V6 pipe. Great condition overall except for a few minor scuffs here and there. Starts, runs, everything works as it should. New Mitas tires. New Antigravity LiON Battery. Comes with 2 keys, 1 liter of injection oil and a new Naraku 70cc BBK never fitted. Bike ready to go and is located in Cary NC

Clean & clear NC title in my name. $1900 or best offer.

The US has never truly embraced the small-bore racing set. We don't have license restrictions like they do in Asia and Europe. American riders tend to cut their teeth on bigger bikes, and as a result they see small motorcycles as entry level. But if you can work the sliver of a power band and minimize the limitations of the format, you can scare yourself silly while having the absolute time of your life. Anybody with access to a karting track knows they need one of these. And regardless of your age/weight/displacement preference, this is something that will make you a better rider. There is simply so little room for error that by simply tooling around on this type of bike you become more focused and aware. You want to improve your skills? The line forms right here.
And the best part of today's offering is how accessible it is for nearly everybody. I don't know how to say it gently, so I'll throw it out there: this bike is priced to sell. The seller is a fan of the site, and is looking to change out his current stable a bit. So if you want to become a better rider, learn skills that directly transfer to a bigger bike, feel like Rossi without ever breaking the speed limit, or simply want an uber cool piece of artwork, reach out to Roy. He is one of us and gets it. There is not a lot of power here, but this one will move quickly. Check it out, and Good Luck!!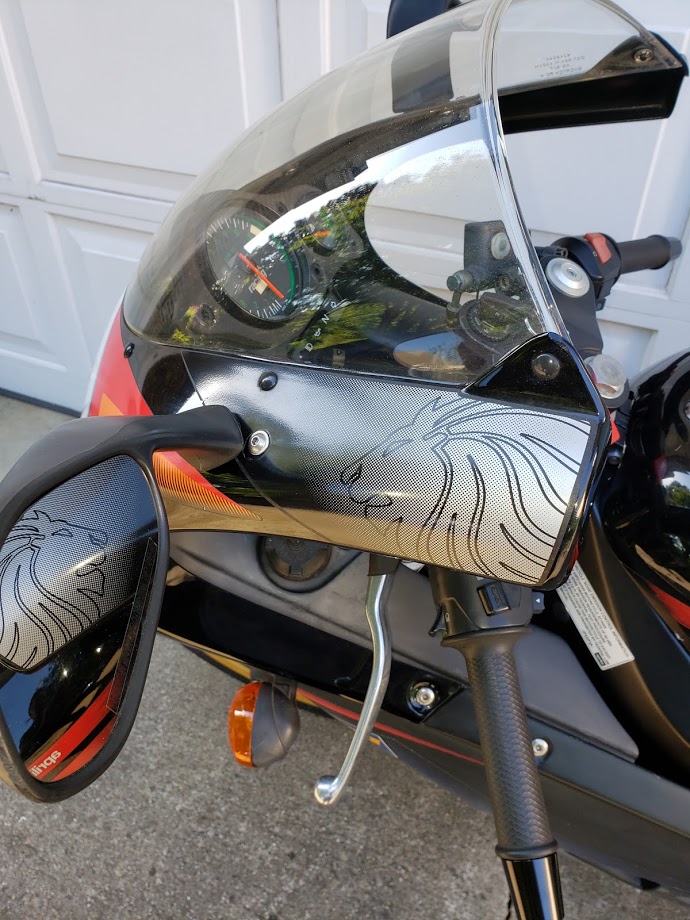 MI