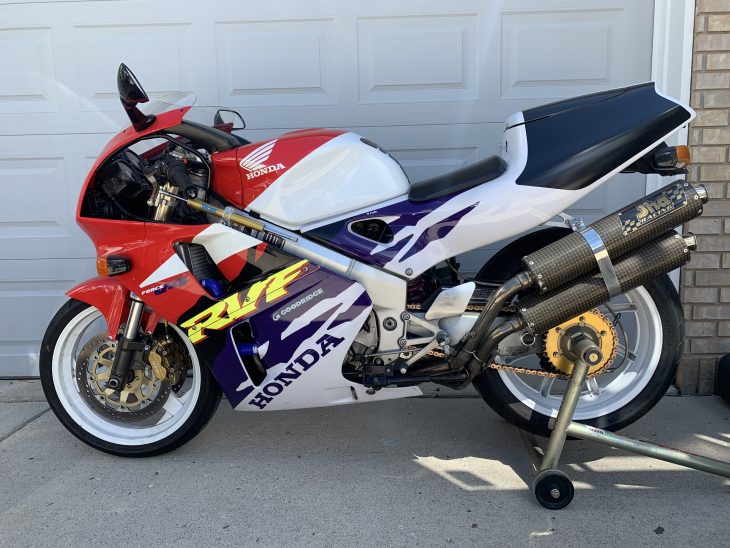 Honda's second generation small V-4 took the successes of the VFR-400R / NC30 and modernized them for the late 1990's.  Having never been sold new here, all are gray market imports with metric speedos.  RSBFS reader Jae has this super-clean example tuned for the high country.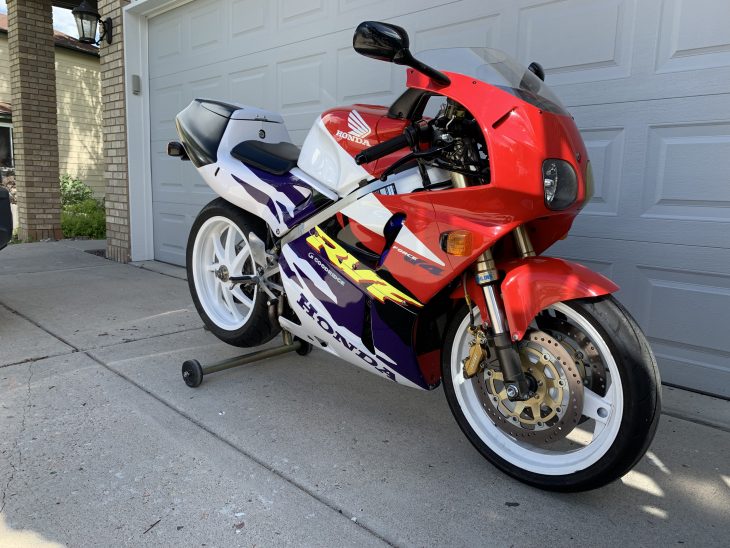 Sticking with the winning formula, Honda made evolutionary changes for the NC35's 1994 introduction.  Carburettors were updated to a 30mm semi-flatslide design, with velocity stacks aimed down the intake.  Rake and trail were unchanged but the frame was re-designed.  Inverted forks were installed, and the single-sided swingarm recieved a major update.  17″ wheels are found front and rear, easing tire choices for the future.  The styling templates the iconic RC45, and the riding position is more relaxed than some other small sports.
With just under 11,000 miles, Jae and the previous owner have been careful custodians of this NC35 if not long distance riders.  Most of the mods are deep under the fairings:
– Current and clean Colorado title and registration (registered & titled as a "2000 Honda NC35".
– VIN is: NC351103563
– 17,400 km (10,800 miles)
– Motor has fresh oil, oem air filter, recent valve adjustment
– Bigger capacity upper radiator
– new Samco radiator hoses (fresh coolant last summer)
– Penske shock (emulsion version with ride height adjustment)
– 5.5″ Kosman widened rear wheel (fresh new tire)
– Dymag magnesium front wheel (new tire)
– JHA shotgun full exhaust system from Japan (with new exhaust gaskets)
– Tyga steering damper (sorry, stuck on a few Ohlins stickers but no real Ohlins parts…)
– Solo rear cowl (stock passenger seat included)
– new gold chain, rear sprocket (520)
– Titanium nuts/bolts sprinkled throughout (rear spindle pincher, rotor bolts)
– Braided steel brake lines front & back (newer RC51 gold Nissin front calipers w/HRC pads)
– Magura HC1 radial brake master cylinder
– Jetted for Colorado elevation
– As far as I know, I am the 2nd owner in the states. Previous owner (~2008) was a Porsche mechanic from Denver)
– misc small box of spares (passenger pegs, oem brake master, original rad, etc)
– I can throw in a spare set of oem wheels (powercoaded white) if full price is paid
– shipping (or pickup) will be have to be paid/arranged by buyer…

* Needs nothing to ride as is, perfect to start the summer!
Jae asks $10,000 USD and can be contacted – here –
Originally presented as a junior sportbike in markets with progressive licensing, the RVF-400R's wide powerband, crisp handling, and distinctive engine sound gained the attention of cognoscenti worldwide, and it's a sought after track day machine.  Thankfully Jae's hasn't been subjected to that, it's been nicely updated and maintained.  Not to mention being an RC45 lookalike without the vacation-home pricetag !
-donn