6.23.2019: This bike has SOLD! Congratulations to buyer and seller! -dc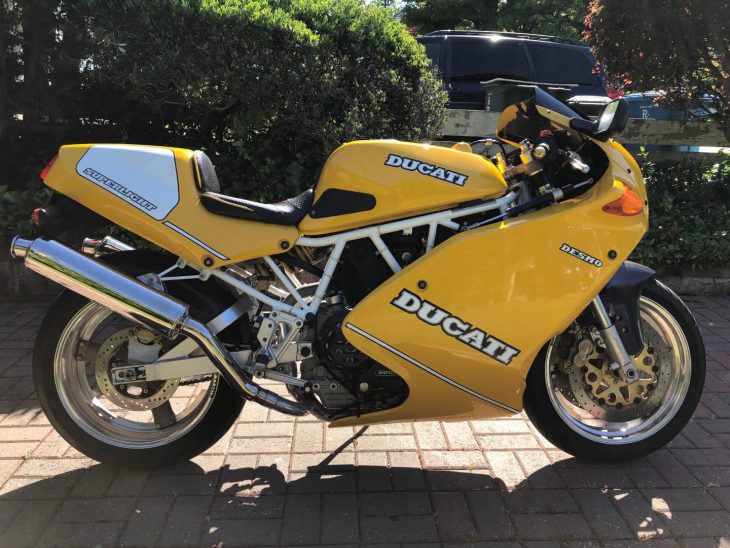 Everyone has their personal definition of what's essential and what's superfluous, but for many, the early 1990's Ducati SuperSports had everything you needed and nothing you didn't.  The 900SL Superlight had one less seat and several kg.'s less weight thanks to some carbon appointments and Marvic composite alloy wheels.  RSBFS reader Steve has similarly added nothing to his Superlight that isn't required, but made a few choice upgrades.
Ducati introduced the 900SS in 1990, and though it was a solid seller, Ducati took the opportunity to make a limited edition.  Planning to release 500, the factory bowed to the market and eventually produced over 900 Mk. 1 examples, just a couple of hundred destined for our shores.  The air cooled 904cc L-twin had newer Mikuni carburettors and scored 78 hp and 62 ft.-lbs. torque.  Upside-down Showa fork and rear monoshock were both fully adjustable on the Superlight.  Floating rotors differentiate the 320mm Brembo front brakes, with Gold Line four piston calipers.  Innovative Marvic wheels used an aluminum rim and magnesium centers.  Carbon mudguards and alloy swingarm walked the weight reduction walk.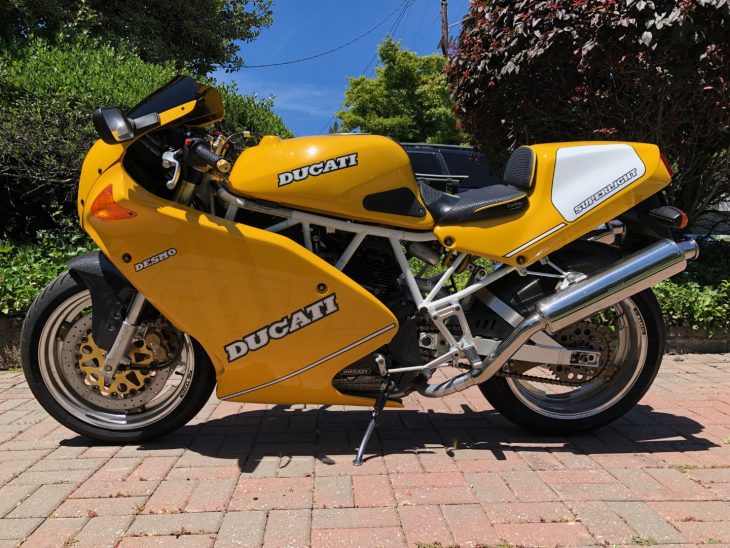 Steve has eased the 904's breathing with a K&N air filter and Staintune exhausts.  A Corbin seat firms things up for the rider, and braided lines do the same for braking performance.  Cosmetics are excellent and belie the 16,589 miles.  A few not-installed ugrades and NOS parts are included as Steve notes in his comments:
1993 Ducati Superlight #826

This is the cherished Superlight MK1, of which only 952 were made worldwide, 200 for the U.S. market. If you're familiar with this bike and model year, you'll know that it's meant to be well ridden and properly cared for as there are not many left in this condition. The bike is in great condition and still has many original parts, unless otherwise noted.

The bike is located in Northern California, always garaged and covered. The previous owner was a collector located in Texas. The bike was serviced by AMS Ducati out of Dallas, TX during that time. No significant modifications have been made, keeping it in original condition. Some minor changes are as follows:

Open airbox (see photo)
Staintune Slip-on Exhaust
Braided brake lines
Yoyodyne Clutch Slave
Corbin Seat
Motobatt Battery

Comes with a few extras:

OEM Blank Key
NOS Handgrips
NOS Seat
Upgraded CA Cycleworks Coils (Unused, not installed)

Also have some performance parts that will be made available to the buyer as well. Ohlins shock and FCR41 carbs, not included with sale.

Asking: $13,000 USD 

Going on twenty-five years old, the Superlight had the friendly handling of the SuperSport line, but with nicer appointments and a number on the triple tree.  Though second fiddle to the 916 back in the day, the Superlight's tractable power and limited numbers have made it a very sought after SuperSport.  Steve's has been nicely preserved and wants only a caring new owner.
-donn