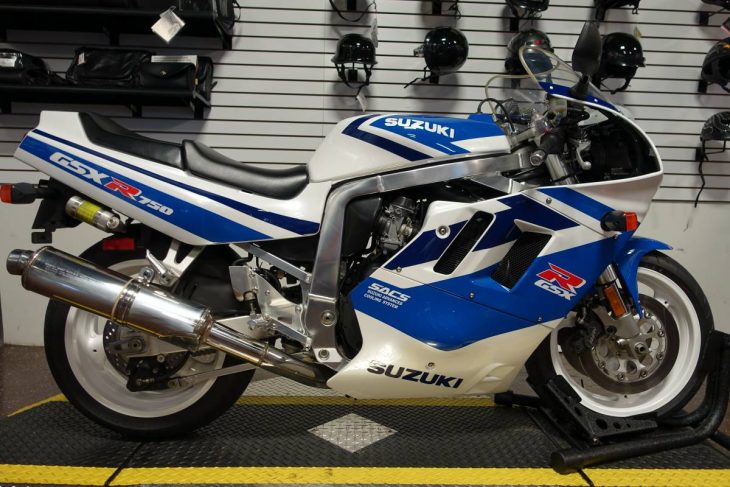 Not often seen on RSBFS outside of low-mile introductory-year models or factory racers, the GSX-R750 is the legend that launched a million amateur race teams.  As any long runner, the model has had its great and meh years, and this is an interesting one – 1992 was the last year of the air/oil-cooled GSXR.  The rest-of-world folks got a water-cooler that year, but the U.S. got a final year of the proprietary SACS two-stage oil cooling but new looks.  This lightly used example has been returned to former glory at a Gulf Coast Florida shop, and is ready for a show and / or ride.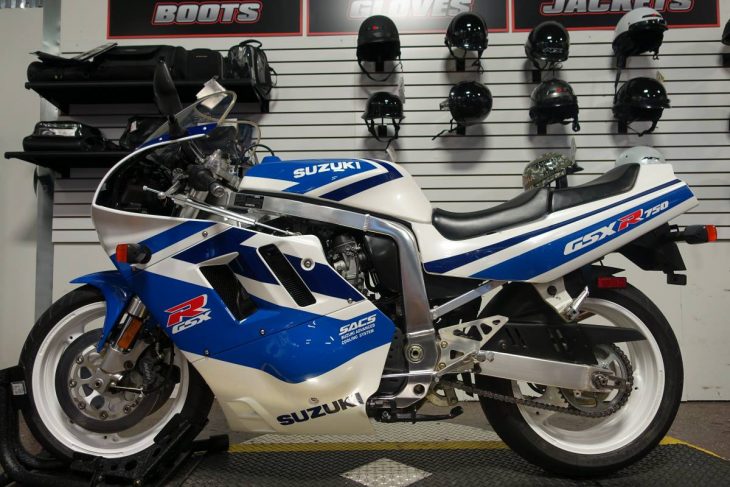 After a 1990 engine and suspension update, the GSX-R750 revisions were light for 1992 and the "M" got a new valve train design using a rocker arm for each valve and supplied 115 hp.  Great handling from the alloy frame, 41mm inverted forks, and Full-Floater monoshock rear remained, fully adjustable for those with set-up knowledge.  Stoppage was excellent with 4-piston 310mm front brakes and 280mm rear.  The roomy new fairing was more aerodynamic as well as more comfortable.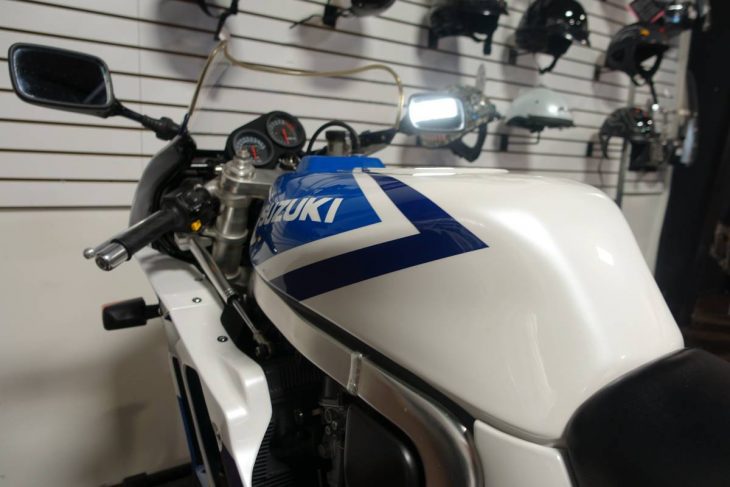 With only 5,700 miles this Suzuki was a find, but the fuel system and cosmetics had taken the brunt of the twenty-plus years of downtime.  The owner describes the uncompromising way they were addressed:
When I got it didn't need a thing. Well me being me I couldn't just leave it alone so I started with the fuel system ) just as a precaution ( and knowing old fuel systems real well ) I didn't want to wait until it failed so I ordered four new OEM rebuild kits and complete fuel shut off , all new fuel lines for the shut off as well.

Also the ones that connect each carburetor, all new from Suzuki, ( NO ) aftermarket parts were used.  I did clean the tank with Yamaha tank clean.  Having said that it didn't get to the very top so the lip of the tank still has some left over dust from rust but only on the lip the rest of the tank seems ok .

It looks rusty on the inside but that's just how that product works.  I fitted the bike with new Pirelli Diablo's front and rear I also kept the old tires ,OEM I think, ( I'm not riding on tires from the 90's .

So that lasted about three months and I thought this bike would look its best if I had it painted the factory 1991 colors.

I called the best painter the sport bike world has ever known and asked if he could fit it into his schedule. He agreed, so me being me the colors had to be as close to a perfect match as possible. I also wanted every decal to be as exact as possible so he made all the decals himself. In the end the paint is better than new using only the best paint and materials.

The wheels I had powder coated to match. Then fitted with new seals and bearings, again all OEM Suzuki. This bike didn't have a scratch on it when I got it and it still doesn't. All other parts are original to the bike.
The owner also offers a Photobucket slideshow with some before, during, and after pictures here.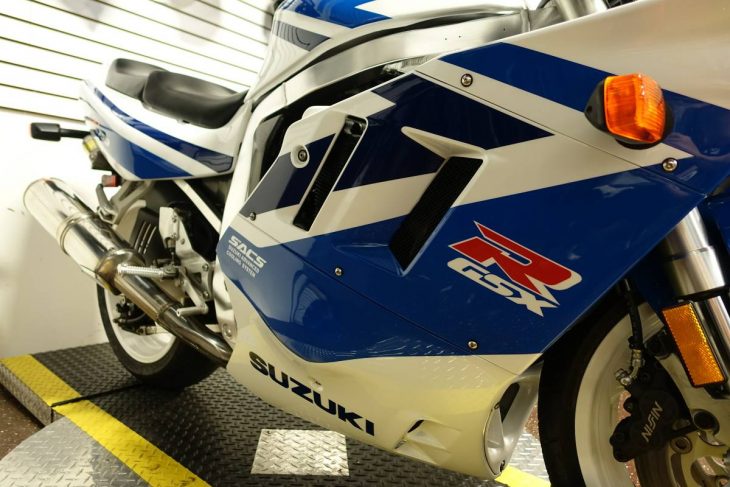 The idea of rebuilding and tuning four carburetors has likely scared off many would-be classic sportbike riders, but a pro has taken care of that here.  As well the paintwork, looking super and original, when so many are scarred up or rattle-canned.  Starting with an undamaged low-mile supersport from the last year without a coolant system, this owner has been careful to return to the stock looks and retain all the smaller parts.  This adds to the value now and as time goes on.  The owner asks $6,000 and Steve at Southwest Cycle can be reached at (239) 898-3050.
-donn