Update 3.17.2018: The seller has notified us that the transaction is now complete for this Hurricane and in fact sold quickly after being posted for just 4 hours. Congratulations to buyer and seller! -dc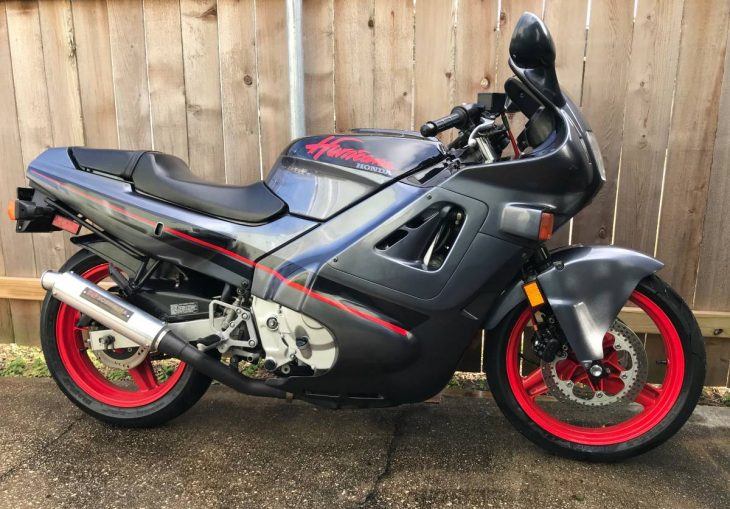 If Suzuki's GSX-R codified the sportbike formula for the masses, the Honda CBR600F Hurricane represented the next evolution. Introduced in 1987, and known in the UK as the "Jelly Mould" due to the smooth, aerodynamic bodywork, the bike featured a steel frame that persisted up until the introduction of the CBR600RR, but that was somehow never much of a handicap. Sure, it meant that later iterations of the bike were at a technical disadvantage when compared to aluminum-framed rivals, but the CBR always had that user-friendly quality for which Hondas are justifiably famous. And at around 440lbs full of fluids, the original Hurricane was still a good bit lighter than its contemporaries and it handled beautifully, rivaling the Yamaha FZ600 but with a far more refined engine.
Mechanically, the Hurricane signaled a shift for Honda away from the V4 engine configuration. It still made sense for more focused racing machinery but, for a mass-produced motorcycle like the CBR, an inline four was easier to package and less complicated to manufacture. That inline engine displaced 598.5cc and was much more oversquare than generally seen at the time, with a bore and stroke of 63mm x 48mm, something that was allowed by the bike's liquid cooling. It produced 85hp with the help of a 4-into-1 exhaust and could push the slippery machine to over 140mph, with triple disc brakes that could pull the bike down quickly and safely from those speeds.
The impressive top speed was made possible by the bike's sleek styling: after Ducati pointed the way towards the future with their fully-enclosed Paso, Honda took the ball and ran with it, taking advantage of the aerodynamic and manufacturing advantages, since the bike's mechanical parts could also be conveniently hidden out of sight without concern for tucking wires and hoses out of the way or a need to "beautify" the mechanical parts. And, while Ducatisti resisted the Paso's modernity, Honda fans embraced the future and the new Hurricane sold in droves.
Today's Featured Listing is a low-mileage survivor with just 12,000 miles on the odometer and an asking price of $3,750. It appears to be in very nice, original, unmolested condition, excepting a Yoshimura exhaust the seller claims has been on the bike since new, so it may not be OEM, but is at the very least period-correct.
From the Seller's original Craigslist post: 1988 Honda CBR600F Hurricane for Sale
Up for sale is my 1988 Honda Hurricane! She runs and rides fantastic.

If you are looking at this ad, you know how rare these are to find in this condition and this color scheme with low mileage.

It has an original Yoshimura complete exhaust system that was installed when new. She is ready to go with a new battery, fork seals, new OEM chain, fresh oil change, re-built master cylinder and re-built carbs. She is mostly original except I did replace the brake lines with braided ones when the brakes were rebuilt. She has a couple minor blemishes in the decals and tank but it has never been dropped or laid down.

The title is clean and in hand. I do not need any help selling the bike and ask that only serious buyers reach out to me. I am not in a hurry to sell her so no low ball offers and no joy rides. I am happy to send additional pictures and or video upon request.

Thank you for looking!
Certainly, Honda sold plenty of their seemingly simple, but still revolutionary Hurricane when they were new. But, like so many older Japanese motorcycles, they were used and abused, raced and thrashed and ridden hard, then put away wet. At some point, as values decreased and they were sold on down the line, they needed some sort of maintenance the owner couldn't afford or justify, and they were left to rot. But a few are still around and have been restored or cherished by their original owners, and they may still be affordable, but that can't possibly last.
-tad