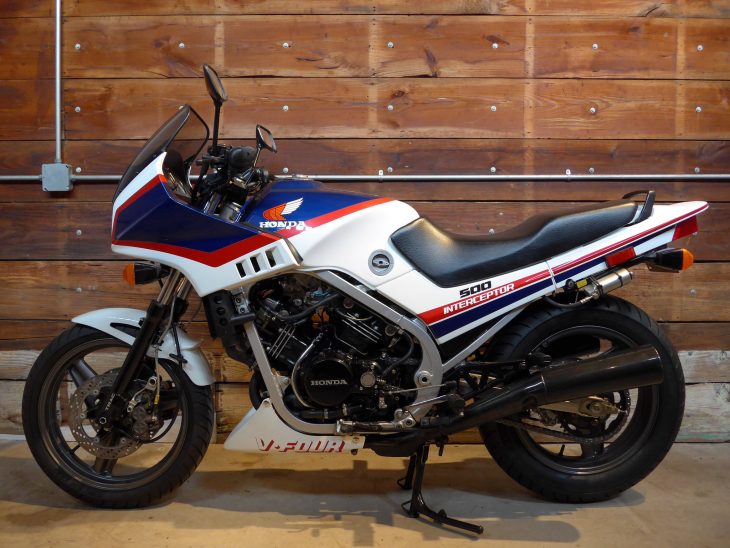 The seller of this 1984 Honda VF500F Interceptor has taken phenomenal care of the bike over his ownership, but perhaps the best part of this bike was not available in 1984. It rolls on wheels from a CBR600F, which means it accepts modern 17-inch rubber, but doesn't lose space for useful amenities like a center stand.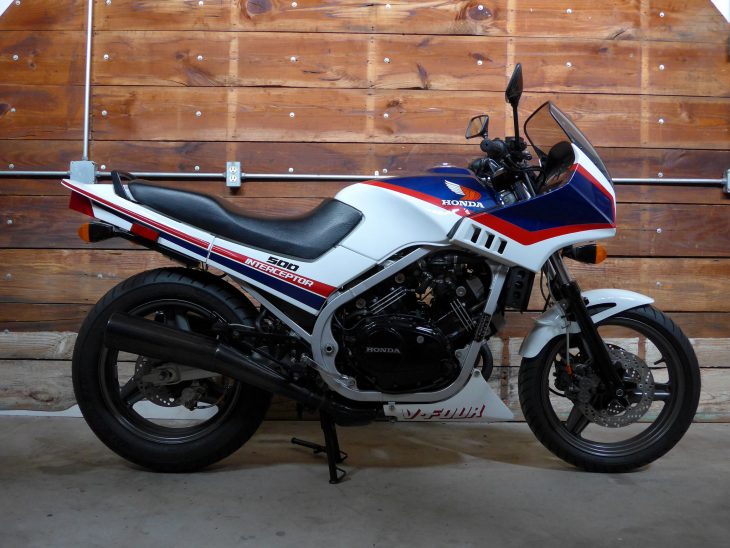 A damn sight trimmer than its 750cc stablemate, the Interceptor 500 made its name with sublime handling characteristics and its more-than-adequate 68 horsepower from the torquey V4. The seller further enhanced this bike's cornering talent with the shock from a CBR400 F4i, which no doubt keeps the rear more planted than the original piece.
There is a long list of spare and NOS parts available with the bike, though not all of them will be automatically included in the sale.
From the eBay listing:
Hi, I'm listing my '84 VF500F for sale.

It is super mint with very low mileage (5,894 miles) and a lot of interesting features including a pro CBR600F wheel conversion ($1,500) and a pro F4i shock upgrade ($400).

Both projects were posted in detail on VFRD (member 'InvisibleCities' since 2010) and on VFRW (member 'invisible cities' since 2009). I ran the bike for one summer and then did these upgrades. I am selling the bike as I live in NYC and store the bike in PA and simply don't have the space to bring it here. I honestly don't think you will find a nicer example of a VF500F out there. If you have ever had the opportunity to ride a 500 Interceptor they are super fun with a perfectly balanced engine and light nimble handling. I also have a lot of NOS and gently used VF500F parts which I would be happy to sell separately to the purchaser (oem head gasket kits, seals, valve springs, gently used cdi units, coils, complete engine heads with mint cams and one set of very clean carburetors – I even have a nos '84 gas tank if interested).

The tank on this bike has zero rust and was professionally sealed with an epoxy liner ($300). I purchased a NOS tailpiece for this bike from David Silver Spares ($250) as the original had surface scratches from removing/installing the seat – paint matches perfectly. Front fender is also NOS ($200).

The carbs were completely disassembled and pro rebuilt by Mike Nixon ($405). Carburetors have not been filled with gas after the rebuild so there is no risk of them being gummed up. They are ready to go and were benched synchronized by Mike. They also have the correct jets and needles installed. I would recommend syncing these with manometer to dial in 100% when you re-fuel and start up the bike.

Goodridge (made in the UK) stainless steel brake line upgrade ($120). Pro rear fender eliminator kit ($40). Pro modified sprocket cover ($200).

Top rated 140/80-17 Rear & 110/70-17 Front Avon Roadrunner tires with zero miles ($200). The bike maintains its original steering geometry with these tires & the CBR 17" wheel upgrade. Bike also keeps the centerstand which is not possible using the F2 wheelset upgrade offered by DMr. I felt it was important to keep this – the centerstand is very easy to use on the 500 and allows for easy maintenance as well as stable parking.

Honda GN4 oil & OEM filter installed with zero miles. New Honda air filter & Honda coolant. New Honda hydraulic fluid.

Bike needs nothing (except a battery – as it is not being stored with one). This is your opportunity to purchase a really fine example of this legendary bike.

Please send a message with any questions.

Bike is located in PA, 17033. Clear title. Original owners manual is included.

Gas flushed from system – no battery included. Bike is stored in a Carcoon Bike Bubble which will come with the sale ($535).

Happy to help coordinate shipping.

Thanks for looking!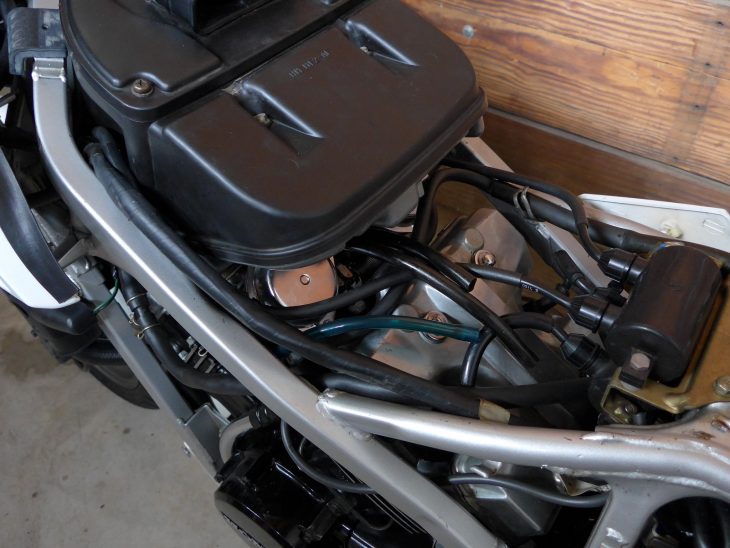 At $4,500 buy-it-now, the seller is looking for KTM RC390 money for a well-sorted classic with acres of style and panache. He has applied new and new-old-stock parts to fabulous effect, and the bike's flawless paint and metal surfaces belie its 34 years.