There are no points for second place. Unbeknownst to Kawasaki and Honda, both manufacturers were developing the Next Big Thing in the 1970s, an affordable, reliable, inline four-cylinder motorcycle displacing 750cc's. Unfortunately, Honda's CB750 was first to market by several months, leaving Kawasaki with the unenviable choice: be the also-ran, or delay their machine to come up with something special. The Z1 that followed may not have been first, but the 903cc engine meant its performance blew the CB750 into the weeds, and the Kawasaki Z1R seen here was an evolution of that muscular 70s machine.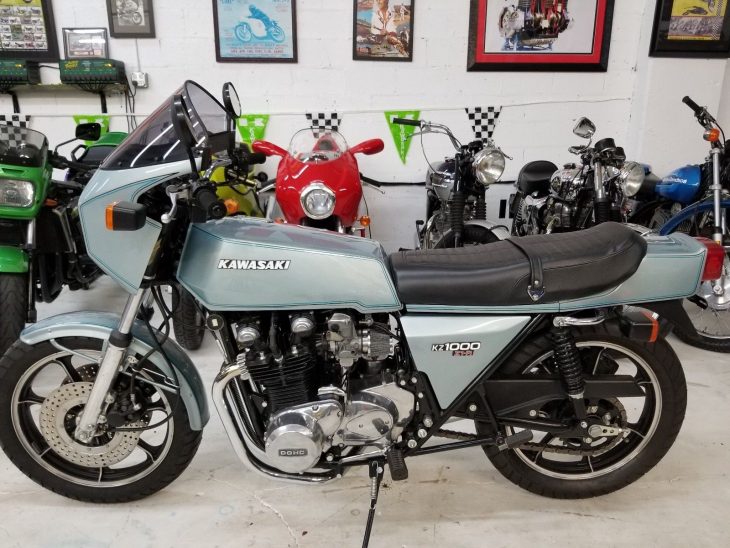 Of course, by the time the Z1R was introduced, the overall package was pretty long-in-the-tooth, with a dual-shock rear suspension and spindly front forks. Most of the updates were cosmetic, with more modern, angular styling and cast wheels. Frame reinforcements and triple disc brakes improved handling and stopping, and a displacement bump to 1015cc took care of the straight-line performance enhancements. The 550lb wet weight and long wheelbase mean that it won't exactly carve corners, but that same long wheelbase should make it easy to blast away from stoplights in a howling cloud of tire and exhaust smoke.
While the Z1R may not have been cutting-edge when it was new, time has been kind to it and the crisp styling and classy silver-blue color look very sharp today. Like all 70s muscle bikes, the Z1R has definitely been increasing in value, perhaps as a result of its association with its even wilder sibling, the turbocharged Z1R TC. The seller refers to this as a "nut and bolt, frame-off restoration" and it certainly looks the part.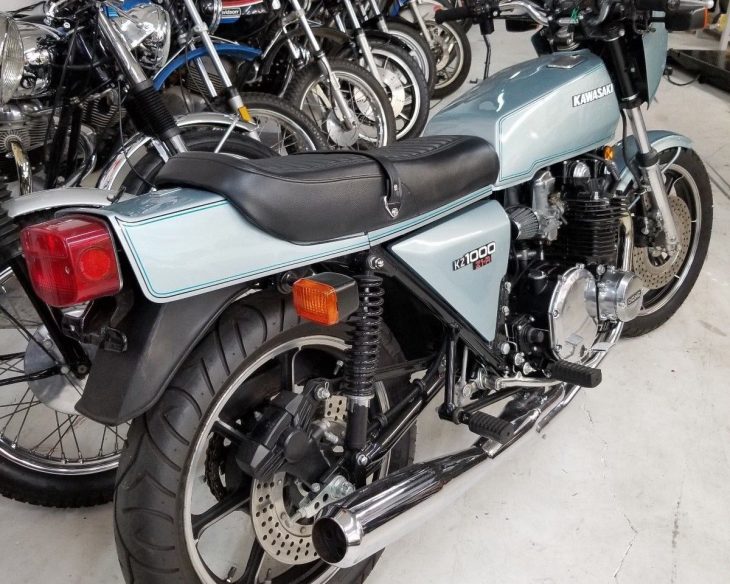 From the original eBay listing: 1978 Kawasaki KZ1000 Z1R for Sale
Coming out of my private collection (only because I just restored another 1978 Z1R) is my matching numbers 1978 Kawasaki Z1R with 9,300 original miles in pristine restored condition. This was a full nut and bolt, frame-off restoration with no expense spared, with over $20,000 in parts, labor, and paint refinishing.

The engine was completely disassembled and bead-blasted, then rebuilt to factory specifications with new: pistons, rings, camshafts, cam chain and adjuster, transmission undercut, multi-angle valve job, bearings, seals, carburetors were rebuilt and synchronized, all the hardware new old stock "NOS" or re-plated/zinced/re-chromed.

The frame was bead-blasted, treated, and powder-coated in a matching "OEM" black finish. The forks and brake calipers/master cylinders were completely rebuilt. The wheels were bead-blasted and powder-coated back to "OEM" standards with new tires, "NOS" cables, and wiring harness.

The bodywork was meticulously refinished using the "OEM" paint code and looks like it did when it sat on the Kawasaki showroom floor. The tank and side cover emblems are new old stock "NOS." The original Kawasaki 4-into-1 Z1R exhaust has been replaced with a very similar late 70s triple-chromed 4-into-1 exhaust that looks stock but sounds better. 

Every single part, nut, and bolt has either been replaced with new, rebuilt, or refinished to the highest "OCD" restoration standard. She looks, starts, and runs just like she did in 1978. Please don't hesitate to call or text me with any questions or concerns: 954-816-0806 Bob.

This immaculate, show-winning Z1R is worthy of any motorcycle museum, and will be your pride and joy, sitting in your private collection.

Don't miss out. Tell your wife these bikes are appreciating 15% or more each year and you can get it in time for Christmas.

Happy Holidays and Merry Christmas!
Honestly, I haven't crunched the numbers, but I'd bet he's right about that rate of appreciation: the values of 1970s superbikes have been steadily climbing for years now, and with plenty of folks who owned these when they were new looking to relive a lost youth, I don't see that changing anytime soon. Plus, if you do need to sell the significant other on your intended purchase, keep in mind that long, flat 1970s seat should make it a viable date-night ride, compared to a more modern sportbike!
-tad