Continuing our look back to the 1980s, how about a true homologated race bike from the era? Check out this very clean Honda CB1100R. Born as a racer, but built in limited numbers as a street bike for homologation purposes, the CB1100R is the forerunner to such amazing Honda machines as the RC30 and RC45.
From the seller:
Here is a chance to buy a homologation race bike. 1982 Honda CB1100RC

If you're looking at this auction, you probably already know what this is. Not many of these come up for sale, because not many were made! The Honda CB1100R was basically a race version of the CB1100F, with higher compression, better brakes, stronger in the important areas. Used in the superbike race series in Europe and in Australia, these bikes were built in small numbers, but large enough to qualify them as a 'production' bike. In reality, these bikes were taken out of the crate and raced. in 1981, 1200 CB1100RB bikes were produced but the bike had a tendency to lift at to speed because of the fairing design. In 1982 this was improved, and 1500 CB1100RC machines were produced with a full fairing, anti-dive front forks, and a unique cockpit. In 1983, the paintwork and some other minor changes were made and 1500 CB1100RD machines were produced.

This is a 1982 Honda CB1100R-C, an unrestricted version originally from Holland. Bikes in Germany and France were restricted, UK and Holland had unrestricted bikes.

This is a very clean example. Mostly original except for the exhaust system, which came from a CB1100F bike. it fits just fine but does not have the reverse cones that the original 1100R had. The exhaust is also slightly smaller than the original. This is now really a collector's bike, but they do ride exceptionally well for an eighties bike. I have taken one of these over to the Isle of Man and the bike will reach speeds of 135mph fairly easily, but then if you want to go fast, buy a modern bike.
Powered by an air cooled inline four cylinder, the CB1100R found success racing primarily in Europe. This bike was never officially imported into the US by Honda – America would have to wait until the CB1100F indtroduction in 1983.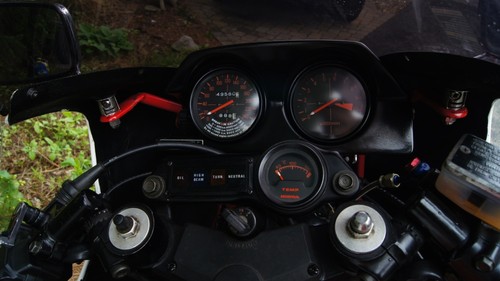 This bike is being auctioned off right now – and the reserve price has already been met. Currently listed at $9,999, this bike is going to a new home inside of a week. For your chance to check it out while its hot, click the link and jump over to the auction. This is a great piece of history – Honda's first homologation special – and would be a find addition to any collection. Good Luck!
MI