916 SPS Cliff Notes: the SPS features a motor that actually displaces 996cc's, Ohilns rear shock , Brembo calipers, discs, pads and braided lines, two injectors per cylinder, bigger valves, a lighter crank, stronger cases and an EPROM chip which all combine to give an additional 20hp over the stock 916.
If you're in the market in North America, you're lucky enough to choose from 2 that are currently available:
1998 Ducati 916 SPS #909 available on eBay for $11,500 buy-it-now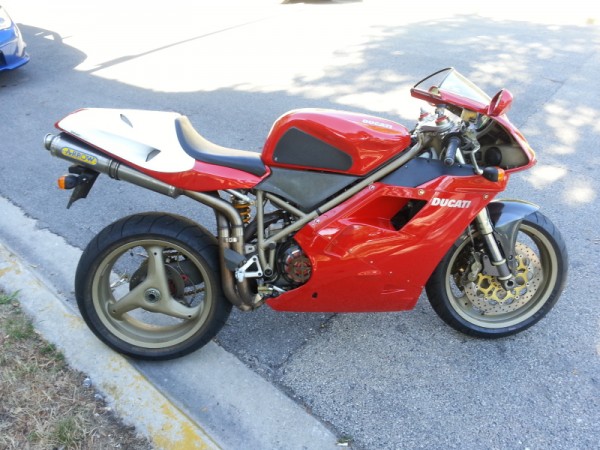 Complete service history, and sales receipts, and signed waiver (original buyer promising not use it on public roads–yeah, right ), along with owners' manuals. Clear title. 12,675 miles. Last full service on 5/29/09 at 9,812 miles at MCC Ducati in Villa Park, IL by previous owner. Outstanding mechanically and cosmetically. Original SPS bodywork except tank, which was rashed on the track (Sharkskinz were mounted, so OEM fairings were safely in my storage area). The only blemishes are two miniscule marks on the frame/steering damper mount from the right clip-on breaking (pictured). Everything else is outstanding. New Pirelli Corsa III's. 520 conversion–top of the line DID ERV3 chain and AFAM/Renthal quick change carrier w/15T front/40T aluminum rear. STM crankcase breather. CF airbox, V-piece, fender, license plate mount. Arrow 50mm titanium exhaust w/titanium cans. Billet rear caliper mount.
---
1998 Ducati 916 SPS #817 on Ducati.ms
For sale my beloved 1998 916SPS, ca 15,000 miles. All services done by a certified Ducati mechanic.

All carbon bodywork by Carbon Dream, painted flat red (by a Mercedes cert. body-shop Gilson Autobody, Sparks Nevada). The flat finish is from the Mercedes paint book. Have the original monoposto SPS tail (comes with). Custom leather mono seat.

Discacciati brake and clutch billet master cylinders, custom double brake lines. 1098 Brembo monobloc, narrow band rotors. (these brakes have monster stopping power)

Ohlins forks (R.&T.) and rear shock with traxxion control valves and 190lb (rider) spring. Cyclecat top triple (the original with plaque comes with)

Magnesium Marchesini wheels, carbon fenders (M.S. Production rear and a German made front) Carbon M.S. Production light bucket.

New 54mm Full F.by F. exhaust system (just installed, I switched the stickers to Termis because I like it that way), makes it sound "arrabbiata", carbon cans.
Ducati Corse Magnesium "cut-out clutch housing with Barnett steel lined clutch basket. Not a "garage queen" but a well appointed example nonetheless.

There is more stuff that I am probably forgetting, but there it is.
1998 Ducati 916SPS $ 10,000
dc