The Ducati Triple 9 series launch was a bifurcating event. Designed by Terblanche as a radical departure from the iconic 916/996/998 series of bikes, the 999 was instantly vilified as ugly and lacking design focus. The intervening years have been kinder to the design approach, however, and the 999 now stands out as a unique performance machine that does not adhere to the traditional cookie cutter Ducati appearance. These two R-spec machines represent the highest spec Ducati available during this era.
1. 2005 Ducati 999R with 4,290 miles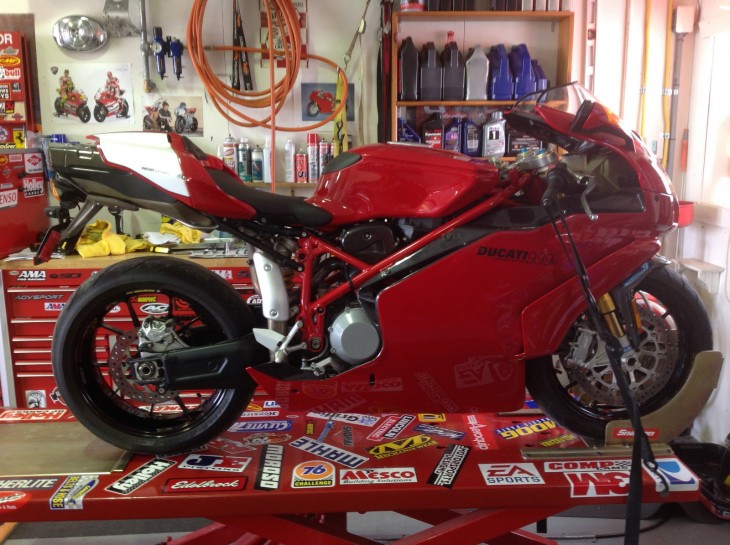 From the seller:
I have owned this 999R for 4 years. I am thinning out my collection, so this along with a couple others is up for sale. Stored in a fully conditioned building, covered, and ridden very lightly by a 52 year old not interested in killing himself on his many motorcycles. I do all maint. like clockwork- change oil with Motul every season regardless of mileage. This bike starts, runs and looks perfect. Battery replaced with Shorai superlight. Rubber is Pirelli Diablos. Plenty of tread left. If you are reading this, you know about the R series, and their collectibility. Hard to miss with a Ducati R series bike.
This particular example looks great – and with a price of $14,800 OBO is the lower priced of the two bikes listed here. Could be worth a look.
---
2. 2005 Ducati 999R with 3,880 miles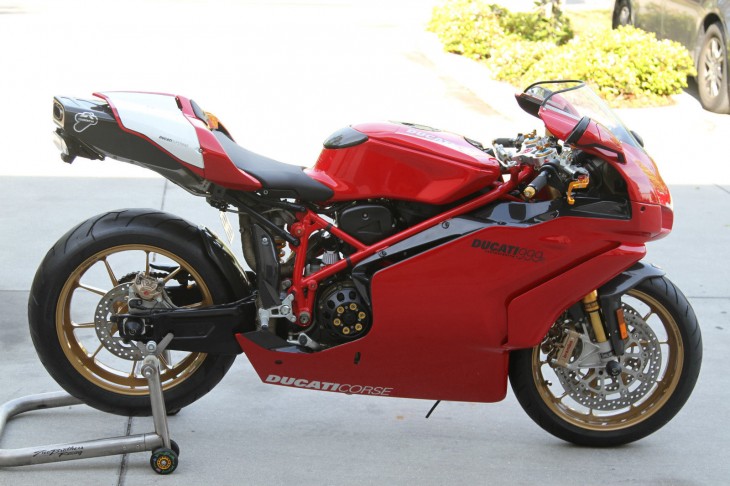 From the seller:
Up for sale I think one of the last unmolested Ducati 999R,with only 3880 miles on the dash,2005 model, excellent condition,easy ridden,never abused and disrespected in any way ,very well taken care.There are no stories of falling over in the garage, parking lot or on the grass.It is in perfect condition mechanically and esthetically,never been ridden hard or in rain,always stored in a climate controlled garage hocked up to a battery tender.The bike it was previously owned by 63 years old guy..I think is one of the cleanest Ducati 999R out there.There are a lot of upgrades installed on the bike,almost $ 45.000 invested,of course price of the bike included .Feel free to check out the pictures:Practically the bike is like new condition with some of the original stickers still on it.Here is your chance to purchase this gem for a fraction of the new price.
The seller claims "unmolested" status, yet the bike has an impressive list of upgrades: Termignoni exhaust, EVR slipper clutch, upgraded bars, bar ends, master cylinders and levers, lots of carbon additions, gold colored wheels and much much more. Check out the auction for all the details on this one. Asking price: $17,800 or best offer.
---
These two 999R machines represent nice examples of the breed. Compare, contrast and drool as you see fit. This particular design is perhaps not the best loved among the Ducati faithful, but with heady performance and striking looks there is no denying that this bike makes a statement. Does one belong in your garage?
MI