More UK Teasers:  1989 Kawasaki KR-1R And 1993 Gilera GFR125 SP
————————————————————–
I know it is a tease for those of us in the U.S., but I couldn't resist posting these two beauties.  I bet you could count the number of these bikes in the U.S. on one hand.  So sit back, dream and enjoy the pictures.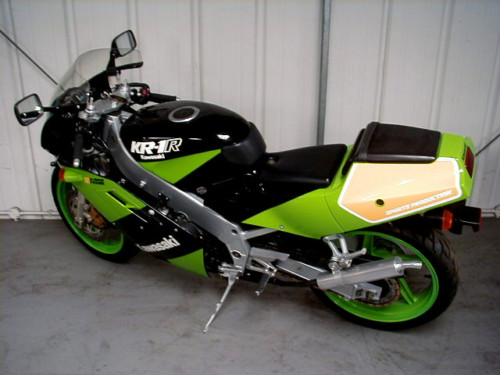 First up is an ubber rare KR-1R.  Yep, not an "S" but  an  "R".  I couldn't verify the number but the seller claims less than 200 were produced.  If you've followed some of our posts on the KR-1 you know that even though it is possibly the most dated 250 stroker, it is also has possibly the strongest engine out of the bunch.
You know if it came from Japan in the late 80's to the early 90's and said "Sports Production" on it you got some extra goodies.  Kawasaki gave you larger carbs and a close raito gearbox with the "R".  The rest of the specs are shared with the KR-1S.
Just a generic picture but sure demonstrates someone has taken good care of the bike.  It only has 6300 miles on it.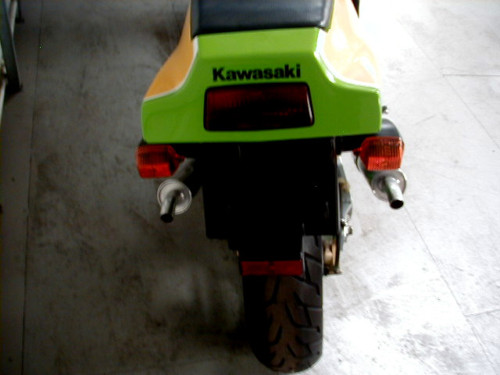 The business end.  Any other two stroke owners had someone pull up next to them and yell at them that something is wrong with their bike because it is smoking?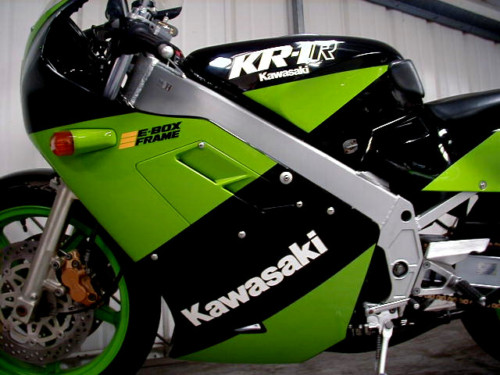 This would sure go nicely in someones two stroke or Kawi collection.  The asking price is close to $15,000 in our depressed dollars. 
——————————————————————-
Maybe I'm off on my numbers, while trying to find some info on the GFR I came across a post by an owner here in the States that claimed 100 of these bikes were imported here.  I'm pretty sure I saw one at the Barber Museum, 99 to go.  A reply from someone in the UK claimed they are rare even there.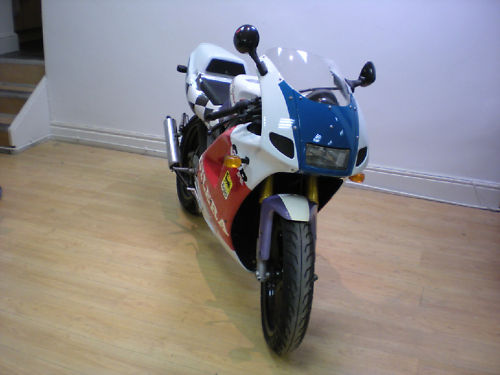 Claimed horespower is 31hp.  Riders claim a little more pep than an Aprilia RS125 of similar age.
This is what the teenagers that purchased the GFR were dreaming about: this was Gilera's 250GP bike in the early 90's.  Ridden by the like of Jean Phillipe Ruggia and Carlos Lavado.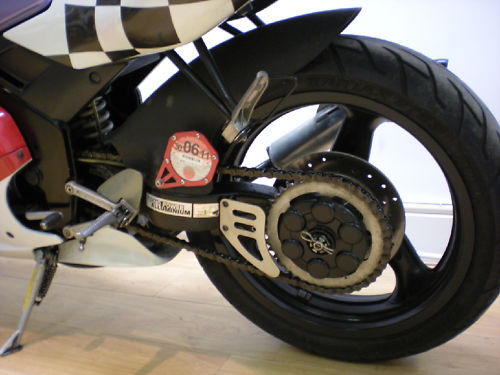 The little Gilera packs a few surprises.  Can't say I was expecting a single sided swing arm.
Hmmm, what do we have here?  Is one for a reserve?
I wonder what parts are like to track down.  Gilera is owned by Piaggio but  I couldn't find much (meaning any) info on the status of the company itself.  The mileage is low, less than 10,000, the price is high, almost $5,000.  I like it though, its' lines are modern and it really doesn't look its' age. 
Ian