Warning!
This post is in our archives. Links in this post have been updated to point to similar bikes available to bid on eBay.

The Italian-Japanese Connection: 1992 Gilera Saturno Bialbero
I think we have the understatement of the day from the seller of this bike.
Here's one that you don't see every day,if at all in the USA
Gilera isn't a household name and this particular model is another one of those bikes that I didn't know even existed until finding this auction.  The Saturno Bialbero was born from a collaboration between Gilera and their Japanese importer.  The result was an ultra light weight single.  You've probably never seen one because only 1100 were produced and most were sold in Japan.  A few made it to the UK and at least two made it to the USA.
The engine is a larger version of Derbi's "Dakota" engine, a 4 valve 350cc single.  It was enlarged to 492cc and stuck in the trellis frame you see.  Power output is claimed to be 45hp.  Not that impressive until you consider the bike only weighs 330 lbs.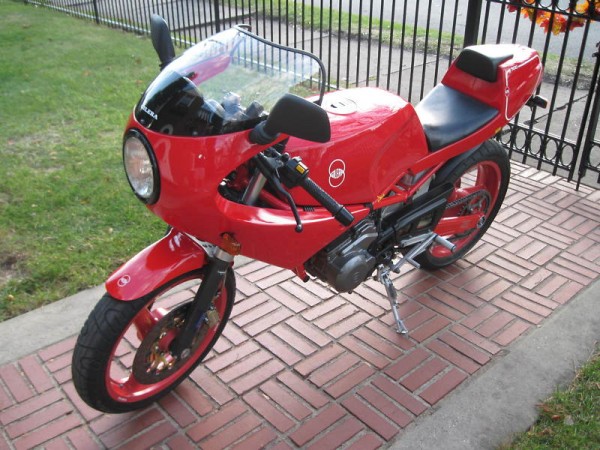 Other goodies include Marzocchi suspension and Brembo brakes.  Wheels are brought to you by Marvic.  Pretty cool little bike if you ask me.  Basically Derbi's version of a modern cafe racer.
The story from the auction:
Here's one that you don't see every day,if at all in the USA!You are bidding on what might be the ultimate modern big single-a 1992 Gilera Saturno "Bialbero" in great condition.I have never seen another one stateside,although they do pop up in the UK & Germany,along with Italy & Japan once in awhile.This particular bike has a clear Pennsylvania title,and runs very strong!

I obtained this bike,along with another matching bike that was converted to a race bike,back in May of 2009′ from a broker on Long Island.He was selling the pair for the widow of the owner who had these shipped over from the UK to his summer home here in the states.After passing away,she enlisted his help in selling these,and I purchased both.After a couple of winters,I am happy to say that this street model is ready for many summers to come.Please bid responsibly,and any withdrawn bids will be blocked from further bidding.

This particular bike was gone through last winter after all the fluids had been changed,along with the timing belt.At that point,she fired up immediately,and pulled strong.This past spring,when leaving the house,I noticed a "knocking" sound,which turned out to be a bad bottem end bearing.Time for a rebuild.I had the motor completely gone through by one of the premier mechanics in Western PA.,and he rebuilt the motor from the bottem end up.New crank,rod seals,valves,springs,etc. which were sourced from Bob Wright Motorcycles in the UK(Thanks Bob!).He has practically everything for these,and gets the parts to your door within a week!Everything else was measured for tolerance during the rebuild,and she now runs as she should.I have put about 150 miles on her since,with no issues.All receipts and documentation are included.The only mod from original was the addition of a K & N filter to replace the airbox,but I have the original one that goes with it.The bikes mileage is actually in kilometers(22,769),which converts to 14,148 miles.

Cosmetically,the bike looks great-a solid 9 out of 10.These bikes are one of the most beautful bikes ever produced,and you can spend hours just looking at the details.It really is a "poor man's Bimota".The bodywork is very clean,and there are some scratches here & there on the frame,but nothing that distracts.The Marvic wheels have a little fade to the red paint,but they all do that.It is definatelly too nice to have the bike repainted,and I wanted to keep it as original as possible.The mirrors on the fairing were replaced with a pair of Napoleans,as the originals were MIA.

The bike has both electric & kick start,and both work great.The front brake is a full floater(Brembo Goldline),and the rear is the original Grimeca.Braided stainless lines front & brear.Factory aluminum rearsets & clipons give the bike a nice tucked in stance,and she handles like she is on a rail.Pirelli tires have plenty of tread left.All lights,signals,switches work great,and the bike recently had it's PA State inspection.

If interested,I will offer the winning bidder the opportunity to purchase the converted race bike,as there are a lifetime supply of spares with it including an aluminum alloy race tank,along with another rebuilt crank assembly.I'm sure that we can work out a deal!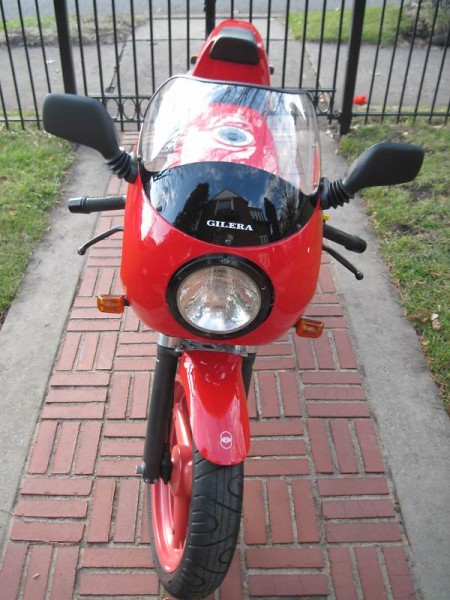 Did you catch the end there?  The winning bidder will get first dibs on buying the converted race Saturno Bialbero the seller has.
I know I'm in the minority here in the States but I love little bikes.  I wish there were more of us out there so  the manufactures would take a chance on a high spec,  small cc bike like this one (Supermono anyone?).  There are a few of us that love cc challenged bikes as the bidding is quite active on this bike.  .
IK