Bimota managed to carve out a nice little niche in the sportbike market by taking existing engines from established manufacturers and packaging them in their own sexy Italian style.  The Bimota SB8R might be the epitome of that idea.  Starting with the positively stonking 135hp 996cc v-twin from Suzuki's Tl1000R, Bimota surrounded it with a twin spar frame that was half aluminum and half carbon fiber and then draped it in striking carbon fiber bodywork.  The giant carbon fiber air inlets seem to be a "love it or hate it" part of the style, but either way, they are certainly a trademark design element for the SB8R.  The generous use of carbon fiber and other weight savings tricks resulted in a motorcycle that still had the great power of the Suzuki but weighed almost 75lbs less.  That's a recipe for fast any way you cut it.  Production was very limited with only 150 total units sold, so act fast if you want one of your very own!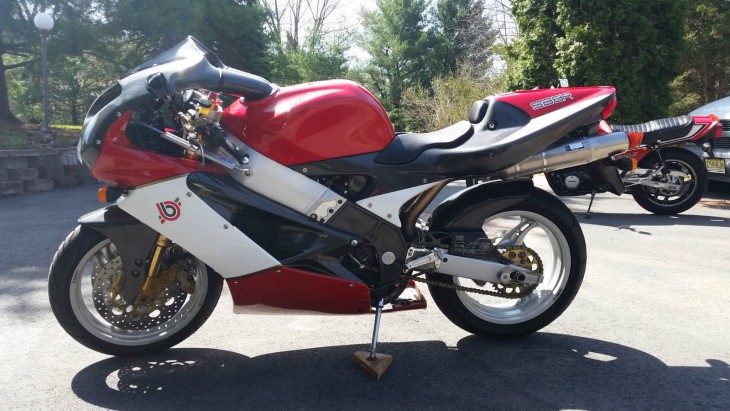 This beautiful Bimota appears to be in near flawless condition.  The seller also list a few minor modifications that he's made in his eBay listing seen here: 2000 Bimota SB8R for sale
any ways the bike has had recent oil and fluids changed  and is in near perfect condition. I will say it is as I bought it from the importer , which I got it right out of the crate. so anything you think or see that is not right, well, its the way it came.

with the flowing exceptions.

stainless steel brake lines installed from brand new

moto corsa exhaust installed at brand new.

digital fuel trimmer, installed at brand new.

SB8RS bimota rearsets installed slightly after purchase

clear clutch cover and custom made flywheel with Barnett Kevlar clutch set, installed slightly after purchase.

one tooth smaller front sprocket and billet sprocket cover. installed slightly after purchase.

recent brisk sparkplugs

recent shorai battery.