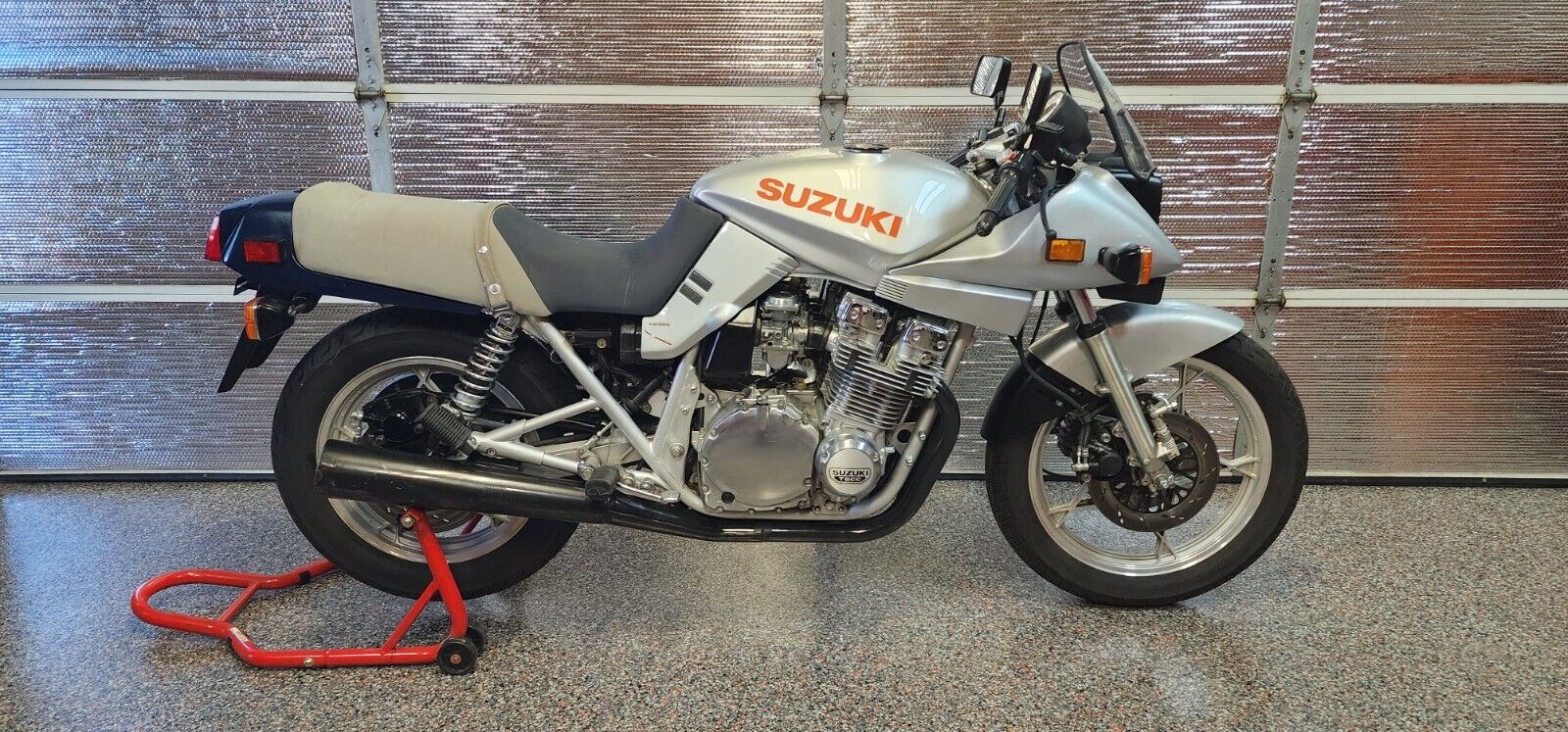 Now here is a bike that should need no introduction. The original 1980s bad boy, the 1982 Katana 1000 redefined sport bike and style in a manner that only Suzuki could pull off. Dominated by engine yet defined by the striking Hans Muth designed styling, the Katana put Suzuki – for a brief moment in time, anyway – in a completely different league than other sport bike and UJM manufacturers.
Based significantly on the existing GS1100 series, the Katana was more of a styling exercise than a brand new design. Existing chassis, engine (with a slightly smaller bore & stroke), tranny and other running gear were lifted from existing sources. But it was the minimalist approach to the bodywork that really set the Katana off from its peers. From the exposed rectangular headlight to the tiny windscreen, the aggressive beak nose, to the short tail, the Katana made a brash statement. Of course the DOCH 16 valve mill was still quite stout, and the 1,000cc original model was thought to be slated for homologation and racing – which never quite panned out. Still, the Katana was 90 horsepowers of substance to match all that style.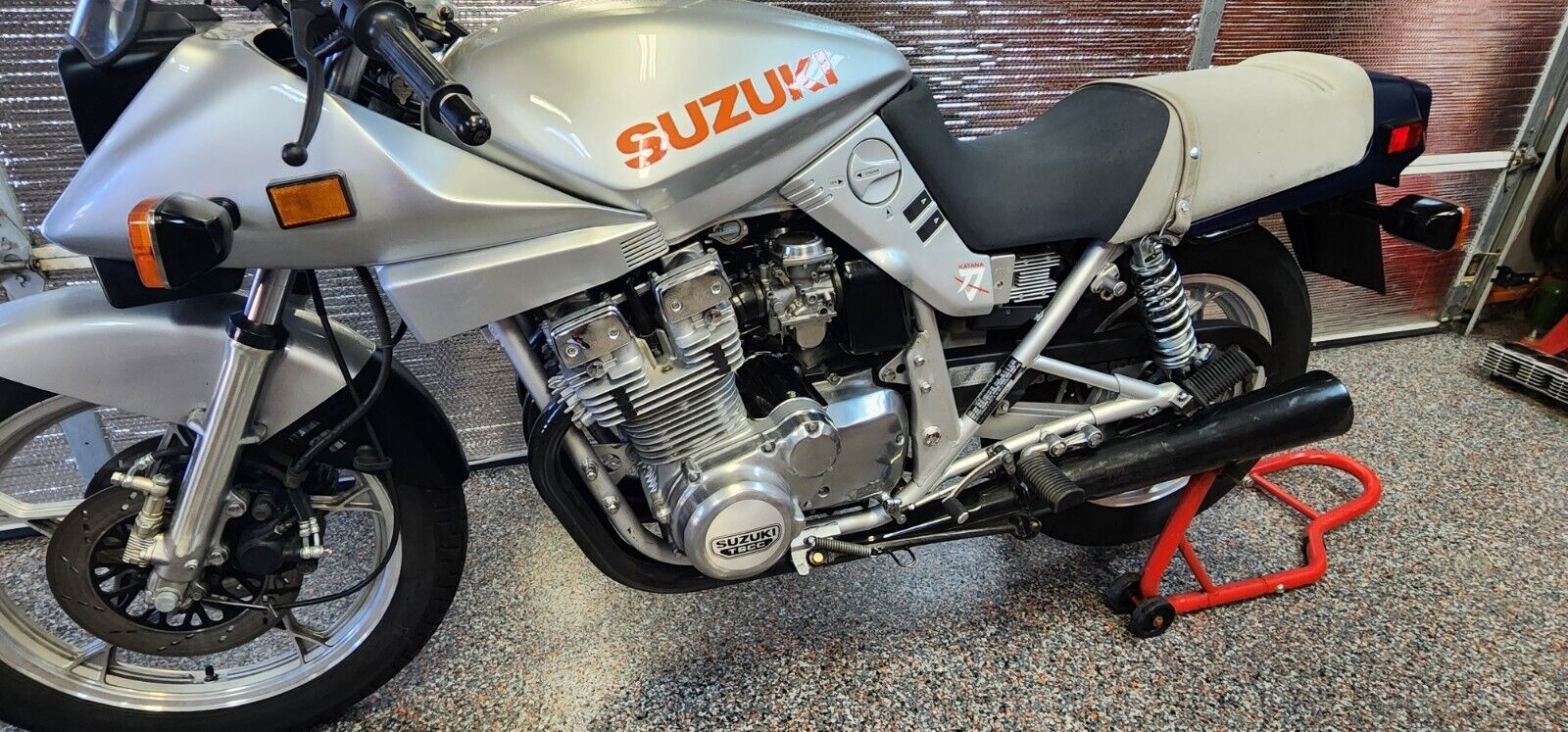 From the seller:
The 1982 Suzuki Katana 1000 was a radical bike when it hit the states. Really nothing before it looked like it.

These bikes are a big deal with collectors. I thought the CBX market was insane but the first gen Kat market is even crazier. Arguably the 1982 is more desirable as a collector but the 1983 is a bit better bike being a 1100 and a more attractive color scheme IMO
More from the seller:
Which brings us to this bike. The 1982 was not made in huge numbers, and many of them were modified with unreversable changes or ones that are difficult to change back to stock. Not this bike! I have been searching for an 82 Kat for a long time when I came upon this one. Only 7400 miles! But what was really amazing is that is was unmodded. Has factory exhaust and seat cover! Stock exhaust for this bike are near extinct and although there are replacement seat covers, they are vinyl and not suede like the original. I have seen auctions where decent, original seat covers go for $1000 or more, and last year an original 82 Kat exhaust sold for $2400! The factory airbox intact too as well as factory turn sigs.. This bike is as stock as you can get.

Really the only flaws on the bike are some dime sized grinds on the exhaust but these must have been a tip over or very low speed crash, as there are no other visible damage spots on bike.

Gauge cluster is intact and working too, which usually is not the case on these bikes. Tires are in very good shape but are not original, bike just went thru a complete service including oil/filter change, new plugs and air filter, valve lash check and chain adjust. Also syched the carbs and added new battery.

Paint was decent but not great so had a full 2 stage respray done in factory brilliant silver that had to be ordered from the UK. New OEM style decals too. Tank has been sealed with Red Kote and has a brand new petcock.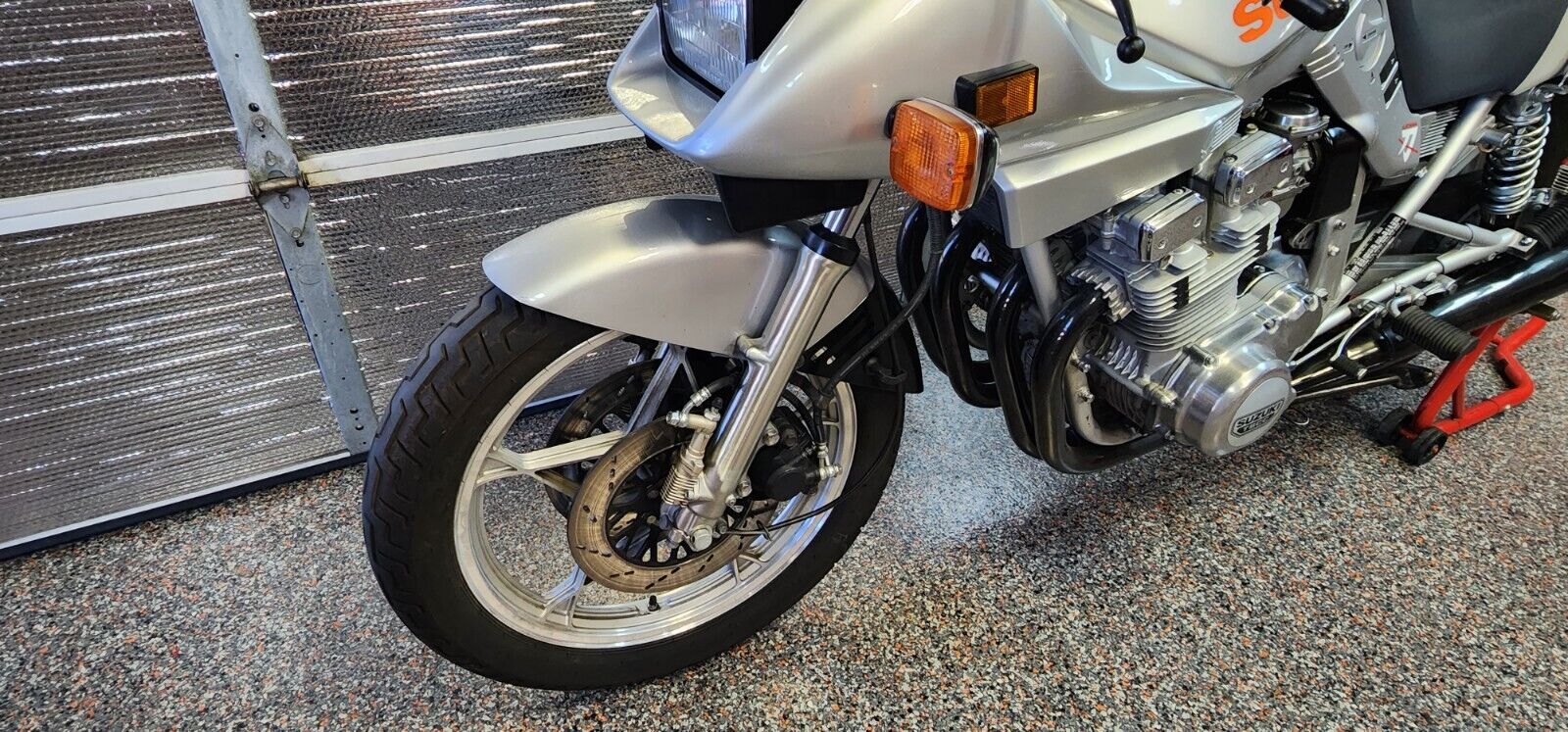 More from the seller:
This is probably the lowest mile 82 all original Kat 1000 available right now. One brought over $20k recently and there are some others priced higher with more miles. I bought the bike right and would like to pass it on to someone who will cherish it and understand what an icon it is in sportbike history. If you think that's a lot of money for a 40 year old Japanese motorcycle then you do not understand what you are looking at.
We do not see too many clean and original examples of the Katana these days. The best of the bunch are often restoration projects consisting of NOS parts of bits taken from other bikes. We tend to find more modified bikes as well, given that the black chrome movement of the 1980s did not hold up well to elements and repeated heat cycles. Today's bike is not perfect, but does appear to represent an honest Katana that has been spared many of the maladies that we often see. The seller notes a respray, and has been open about other flaws. The pricing is set accordingly, with a Buy It Now set for $15,500. That is not as high as we have seen for some bikes, so it will be interesting to see if anybody nibbles. You can check out all of the details here, and Good Luck!!
MI