Today's Hesketh V1000 is a bit older than we usually feature here on RSBFS, but it's certainly rare, valuable, and exotic. By the time 1980 rolled around, the British biking industry was in bad trouble. Previously, they were known for their powerful engines and excellent roadholding, but the Union Jack been eclipsed by a Rising Sun… Bikes from the Japanese Big Four may not have handled quite as well but they were fast, dead-reliable, and very affordable. The Hesketh was developed to "save" the struggling British motorcycling industry, although who knows how an exclusive, handbuilt, high-performance motorcycle would ever have done that. Of course, Hesketh was already experienced building high-performance machines: readers may be more familiar with their Formula One racing efforts between 1973 and 1978 that featured driver James Hunt.
The new machine was built around a 992cc, four-valve, 90° v-twin motor and was up and running by the early 1980s. Unfortunately, the finished bike was overweight, very expensive, and unreliable, with the rear cylinder subject to overheating due to limited airflow. The company died its first death after building just 150 machines. Revived as a luxury sport-tourer with a full-fairing, the updated Vampire sadly didn't improve much on the previous V1000's weight and reliability issues, and just 40 were built before the company went under again, although they were subsequently revived and still make the occasional bike and parts to keep existing machines on the road.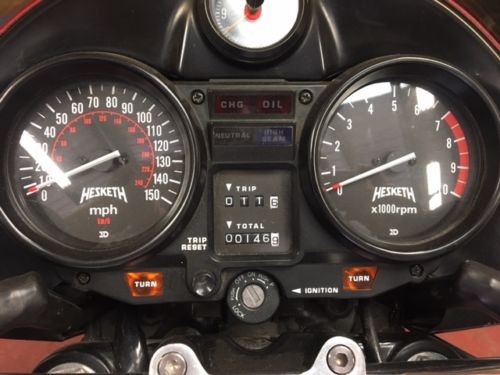 From the original eBay listing: 1982 Hesketh V1000 for Sale
This is a very rare opportunity to purchase, probably the finest registered Hesketh in existence! Having only been discovered last year in a private collection an previously unregistered this bike is unique in its condition and mileage. It was manufactured in May 1982, Frame number 369, Engine number 176. Bodywork finished in Red with black lining, wheels finished in Gold. Mileage reads 146 miles. EN10 modification has been done.

Currently registered in the United Kingdom with all UK documents. Purchased in 1982 for the princely price of £5250 inc tax. The bike has been inspected by Hesketh club  officials 
and there is no doubt of it authenticity. We can assist with shipping to the USA but please investigate shipping costs and any import  taxes as this will not be included in the sale price. Although every assistance will be given.
The bike is currently in the UK, but anyone looking to purchase a Hesketh likely won't be put off by something as trivial as that, and the 1982 date of manufacture should at least make importation relatively easy. So what is something like this worth? Well a couple years back, there was one up for sale with a $20,000 Canadian asking price and this example is likely one of the nicest, lowest-mileage examples in existence. Unless you just bought one recently: shockingly, the last handful V1000 examples were only recently produced by the factory, although as you'd expect, no prices are listed on their website. Their current models use a narrow-angle, S&S-style v-twin with pushrods and two valves per cylinder, which probably simplifies production for the small company so they can focus on really cool pinstripes and snazzy polished aluminum bits. It seems like a step backwards for the very exclusive brand, but obviously performance will be better than the V1000 and I'm glad the change will allow Hesketh to continue producing motorcycles. For fans of the brand who prefer something more traditional, bidding on this one is up to about $15,000 with a couple days left on the auction.
-tad